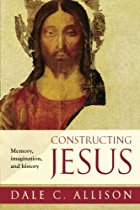 Having just read the first chapter of Constructing Jesus: Memory, Imagination, and History by Dale C. Allison I can finally comment on what surely strikes most people as a curious statement to come from someone who claims to be a historian. In reviewing Allison's opening chapter McGrath claimed that Allison was contending that
Even fabricated material may provide a true sense of the gist of what Jesus was about, however inauthentic it may be as far as the specific details are concerned.
This certainly does capture what Allison writes of his approach to finding "the historical Jesus" in the Gospels.
Allison considers the results of a wide range of studies on human memory and considers what these must mean for the accuracy of the Gospels, given the assumption that the Gospels are records of what was passed down about Jesus via fallible memories of those who had met him.
Allison even writes:
All this is why fictions may contain facts; an accurate impression can take any number of forms. Even a work as full of make-believe as the Alexander Romance sometimes catches the character of the historical Alexander of Macedon. Similarly, tales about an absentminded professor may be apocryphal and yet spot-on because they capture the teacher's personality. The letter can be false, the spirit true. (pp. 13-14) read more »