. . .  Israel has become the [Pentecostal] movement's totemic moral centre, epitomised by the IDF fantasy camp where foreign Pentecostals can come and act out their dreams of shooting Muslim 'terrorists' and living in a militarised, walled-up ethno-state. In other words, somehow, 'Israel' has become shorthand for a fiercely Christian worldview. And here, given the direction of travel in Israel's own politics so far this century, we have to come back to the new wave of nationalist populist movements around the world.
— Hardy, 252f
The Jewish State as a Beacon for Christian Freedom in a Troubled Neighbourhood
Package tours to Israel are big business for Prophets and Apostles, particularly in the West and Korea, where they offer all-inclusive trips to reconnect with the historic roots of Christianity. Some 300,000 American evangelicals undertook the pilgrimage to Israel in 2016 alone.15 Not long before the pandemic, I joined one such tour group at an IDF 'fantasy camp' in Gush Etzion, a Jewish settlement in the occupied Palestinian West Bank, not far from Bethlehem. Something of an amusement park for the faithful, Caliber 3, run by active members of the IDF, markets itself as "the leading Counter Terror & Security training academy in Israel". It came to prominence in 2018 when Jerry Seinfeld took his family there on holiday, controversially posing for a publicity shot with the former commandos who run the camp.
Here are some of the visitor comments that proudly flash in the centre of the camp's website: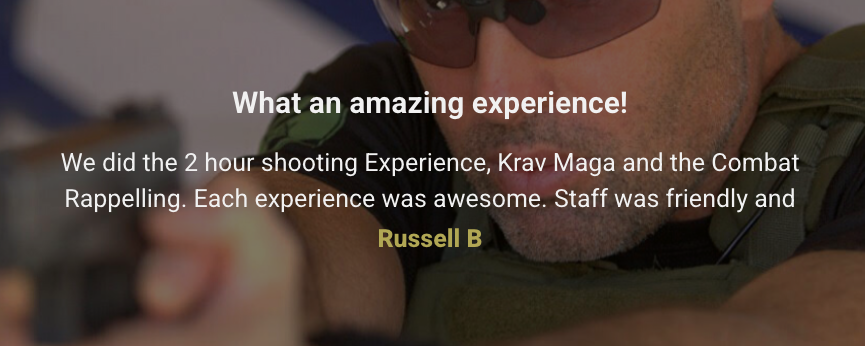 I joined a tour group on their expedition led by Ross Nichols, a Louisianan who doesn't identify as either Christian or Jewish, but believes that "Christianity was not the religion of Jesus, rather a religion about him." . . . Nichols has assembled his own belief system from the religious currents of what he considers his two homelands. A self-described "ardent Zionist" who is active in the anti-Boycott Divestment Sanctions movement, his mission is to "present the Jewish State in a positive light."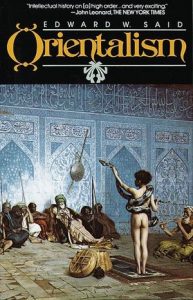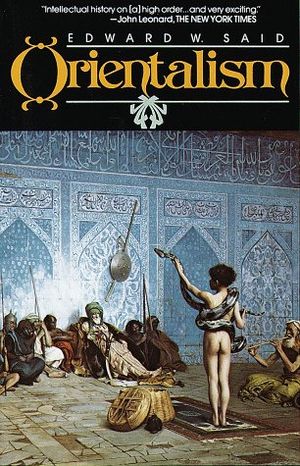 I turned back to Edward Said's Orientalism . . . . I recall he spoke of the bifurcation of anti-semitism since the Second World War: the despised Arab had taken the place of the "ghetto-bred Jew" while the "Jewish people" had become "dehumanized" in reverse — they were now effectively angels who could do no wrong and any faults were merely the side-effects of over-zealous good intentions.
— Trying to understand today's antisemitism
See also   The Bifurcation of the Semitic Myth and Post-WW2 Antisemitism
Hearing Nichols in full flow, it wasn't hard to understand why some Jewish people are uncomfortable with the 'Israelite-mania' emerging from some parts of the religious right. Instead of being dehumanised with the anti-semitic tropes of old, there is an element of superhumanising, imbuing Jewish Israelis with an almost magical quality that doesn't have much to do with them or their interests as individuals. "Every Jew is a miracle," Nichols told his flock as we milled about the gift shop, "so we are seeing not just one miracle, but miracles all over the nation of Israel."

Out on the range, we undertook a gentle warmup with commanders in full IDF kit, who issued us with fake guns and real slogans to memorise. "What is the foundation of the Israeli Defense Force!" shouted Moshe, the chiselled special forces leader. "Love!" we yelled back, "The IDF is built on morals and values!" The word 'Palestinian' wasn't used, but the identity of "the terrorists" we were' pretending to hunt down went without saying. Likewise, the assertion that these "enemies" have "forfeited their right to life" went without challenge. But who has time for politics, when you've got a wooden gun and a pretend marketplace to defend?
Not exactly carrying ourselves like an elite fighting force, we milled around in the small training ground, one woman fretting about where we could eat during Shabbat, another man in a Krav Maga shirt quizzing the commandos on combat. A sudden BANG, and we were jolted from our formation by a man running at us with a knife. We scattered like bowling pins as trained soldiers crashed through our sagging lines. They took the bad guy down, and everybody cheered.
After a series of drills with air rifles, dogs and fake explosives, Moshe asked why the mostly American tour group would come here to shoot things, when they can go shooting in America any time they like.
Everybody laughed, because that was the joke. The 'fantasy' in 'this camp wasn't about firing a weapon or taking down a 'terrorist'; it was the modern state of Israel itself, with its walls and checkpoints, its constant state of militarism. It was the overwhelming sense of a march towards victory that would, at some point, finish here.
From Hardy, Elle. Beyond Belief: How Pentecostal Christianity Is Taking Over the World. Hurst, 2022. (246-248)