This post follows on from Historical Background to President Trump – the Republican Party's Shift . . .
Enter the Christian Right
The Christian right . . .
. . . was the term widely used during the 1980s to describe a religious social movement, while today the operative term in both self-presentation and in most media coverage is evangelical. The former carries with it a more overtly political dimension and a specific historical context, while the latter is a fuzzier term. For that reason, I prefer the term fundamentalist in characterizing movement leaders and organizations. It can be a term of disparagement, but in fact has greater analytic rigor, thus making it a more serviceable tool for analyzing this segment of American Christianity. (Kivisto, 92)
Fundamentalism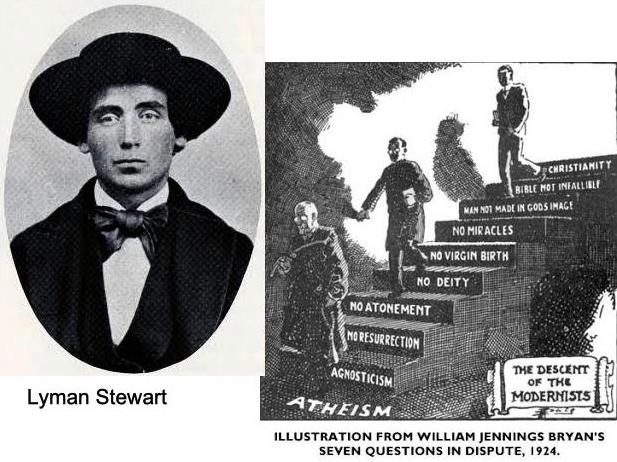 By the term fundamentalist Kivisto is referring to movements that grew out of those who in the 1920s named themselves "fundamentalists" and who identified their ideas with The Fundamentals (biblical inerrancy, miracles, etc) essays published and funded by Southern Californian oil millionaire Lyman Stewart. The Fundamentals identified a good many enemies of "truth":
socialism
feminism
Darwinism
Roman Catholicism
Mormonism
modern spiritualism
humanistic psychology
the Social Gospel
and theological liberalism
Very often fundamentalists felt obliged to enforce their views on society through political and legal action. Recall the Scopes "monkey trial" of 1925.
Martin Marty, who led a major American Academy of Arts and Sciences project on fundamentalism, offered a succinct account of what fundamentalism is and what it is not:
"it is not the same thing as conservatism, traditionalism, classicism, or orthodoxy, though fundamentalists associate themselves with such concepts."
"most fundamentalists do not conceive of themselves as being antiscientific or antirational on their own terms. . . But most fundamentalist movements dedicate themselves to representing alternative and, in their eyes,

'proper' science and reason."

"fundamentalists are seldom opposed to technology as such, or to many of its specific artifacts. Technology, one might say, helped make fundamentalism possible."
"

fundamentalists are not always

poor, uneducated people who rationalize their

hopeless lower-class circumstances through a

religious movement. "Deprivation theories" are among the more discredited explanation today in respect to Fundamentalism. Indeed, many such movements prospered in America as old religious conservative groups moved into the middle class, and it is among the university-educated and professionally mobile Jews, Mormons, Muslims, and others that fundamentalism grows."
We never see the term fundamentalism

applied to movements which are not

absolutist. The enemies of fundamentalisms

everywhere are relativism, pluralism, ambiguity.
(Marty p. 21)
In identifying the core components of fundamentalism, Marty begins by stating that it "is always reactive, reactionary," forever responding to "perceived challenges and threats" posed by a "force, tendency, or enemy" that is "eroding, corroding, or endangering one's movement and what it holds dear." As such, fundamentalism is about defining boundaries, and defining them in bright, not blurred, terms: the world is us against them, with them being a sometimes shifting target. This means, Marty continues, that fundamentalism "is always an exclusive or separatist movement" predicated on beliefs that are defined in absolutist, black-and-white terms. It is for that reason that fundamentalists are dismissive of interfaith or ecumenical understanding and dialogue, opting instead for an oppositional stance against anyone who does not share their worldview. Marty concludes that fundamentalists are inherently absolutist, and, "With absolutism comes authoritativeness or authoritarianism" (Marty, 1988, pp. 20—21). (Kivisto, 93f)
Sociologist Martin Riesebrodt points out that fundamentalists, in their rejection of the world, either elect to withdraw from it or to control it. The latter option often means they seek to impose their beliefs and practices on the world through political activity of various kinds.
The strain of world mastering fundamentalists engaging in American politics since the middle of the past century includes such now largely forgotten figures as Carl McIntyre, a dissident Presbyterian and fervent anti-communist crusader — engaged as he saw it in a civilization struggle between the Christian West and the atheistic core of Soviet communism. He was hostile to anyone seen as fellow travelers, which included groups such as the ecumenically oriented National Council of Churches, making his views known to a radio audience via his "The 20th Century Reformation Hour." He and like-minded fundamentalists represent the precursors to the contemporary Christian right. (Kivisto, 94)
1970s Movement Mobilization and Christian Nationalism
If the Southern strategy pushed the Republican Party into the camp of white nationalists, the Christian right's self-understanding is shaped by an ideology of Christian nationalism.
The two most well known leaders were Pat Robertson and Jerry Falwell. Both evangelized extensively through mass media. Robertson created Regent University and the American Center for Law and Justice, "which aimed to shape legislative agendas and fight judicial battles". Falwell founding Liberty University in 1971 and Moral Majority in 1979.
Certain issues have been constant ever since the 1970s:
attempts to overturn the Supreme Court's 1973 Roe v. Wade decision legalizing abortion
challenges to the separation of church and state by pressing for school prayer and abstinence-only sex education
Underpinning all of the particular issues preoccupying the Christian right is the conviction that the United States is a Christian nation and that, as the name of Falwell's organization indicates, the movement represents the beliefs of a majority of the citizenry. At the same time, the Christian right sees itself as under assault from enemies who threaten the cultural integrity of the nation. If the Southern strategy pushed the Republican Party into the camp of white nationalists, the Christian right's self-understanding is shaped by an ideology of Christian nationalism. (Kivisto, 95)
These "world mastering fundamentalists" set themselves against "liberals, Hollywood, the media, the American Civil Liberties Union, and often, academics", those they deem to be "enemies" who, because they are "hostile to religion and . . . are antipopulist" are therefore "fundamentally un-American". [Compare the post on Americanism as an ideology and the treason of "un-Americanism".] With such an outlook they (the fundamentalists) "reveal their anti-pluralist and thus intrinsically anti-democratic view of politics" (Rhys Williams).
The two targets at the top of the "un-American" list are atheists (more recently those identifying themselves as spiritual but not religious are likewise of serious concern) and Muslims.
The current animus toward Muslims reflects a long history of hostility to other religions, including anti-Semitism, anti-Catholicism, and anti-Mormonism. (Kivisto, 96)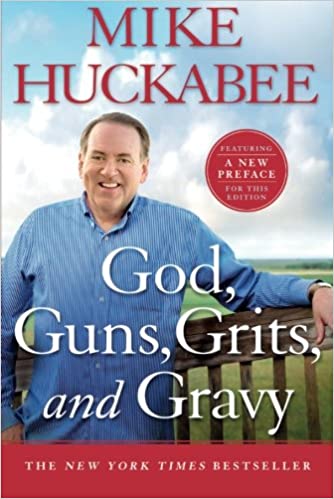 The world according to Huckabee
The assertiveness — indeed, the militancy — of the insistence on defining America as a Christian nation belies fear that it either no longer actually is or soon may no longer be so. This perspective is on display, for example, in Republican politician Mike Huckabee's 2015 book, God, Guns, Grits, and Gravy, which bemoans the growing secularization of the nation and the gulf between people of the heartland and liberal elites: the significant linkage in his book's title involves God and guns, and it is also worth noting that Huckabee was also a program host at the Fox Network for several years. (Kivisto, 96)
The world according to Huckabee is also the world according to the National Rifle Association (NRA):
The world according to Huckabee is also the world according to the National Rifle Association (NRA). The organization was founded shortly after the Civil War in response to the realization by Union officers that their soldiers were terrible marksmen. From that beginning, it developed into an organization devoted to hunting and sports shooting, and defined as part of its purpose to promote gun safety. It was not opposed in principle to gun laws, and thus supported bans on machine guns and sawed-off shotguns under the provisions of the National Firearms Act of 1934. By the 1960s a shift was underway to redefine guns in terms that evoked racial tensions, fear of crime, and other perceived threats to life and limb. Guns were portrayed as essential for law-abiding citizens to protect themselves, and thus any attempt to limit access to weapons was condemned. Michael Waldman, President of the Brennan Center for Justice at New York University and former Director of Speechwriting in Bill Clinton's administration, in an article on the rise of the NRA, quotes from an article that appeared in Guns & Ammo magazine that claimed that gun control advocates were "criminal-coddling do-gooders, borderline psychotics, as well as Communists and leftists who want to lead us into the one-world welfare state."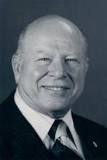 The person who led a coup that ousted the old NRA leaders at a contentious convention in Cincinnati in 1977 was Harlon Carter. Once he was elected executive vice-president of the organization, it was transformed into one that would oppose any gun control measures. Its absolutism riveted on an embrace of the Second Amendment, which had not loomed large in the NRA prior to this hostile takeover. As Waldman points out, "The NRA's lurch to the right was part of an abrupt shift across the Republican coalition."
Wayne LaPierre, who took over the role once held by Carter, pushed the NRA even further rightward, its work lobbying to prevent any gun control legislation seamlessly merged with its becoming, in effect, a lobbying arm of the gun industry. And it has been successful, as meaningful gun reform has been stymied since 1996 despite the rash of mass killings that succeed in temporarily — but only temporarily — capturing the nation's attention (Yanker, 2014).
The demographics of both gun ownership and opinions about gun control reveal a stark divide. More than twice as many whites own guns compared to blacks. Likewise, Republicans and conservatives by more than a 2:1 ratio are gun owners compared to Democrats and liberals (Morin, 2014). Furthermore, survey data collected in 2012 found that sizeable majorities of African American Protestants, Catholics, the religiously unaffiliated, and mainline Protestants favored the passage of stricter gun control laws, but only 38% of what the study identified as white evangelical Protestants agreed. Moreover, the more likely respondents were to describe themselves as a "pro-life" Protestant, the less inclined they were to support gun control legislation (PRRI, 2013; see also, Cox & Jones, 2012). They do so despite the fact that, as David Hemenway, Professor of Health Policy at Harvard, has made clear, there is a scientific consensus that "strong gun laws reduced homicide rates" (Hemenway, 2015). And they do so despite the fact, reported by the Centers for Disease Control, that more than 60% of gun-related deaths — approximately 20,000 per year — are suicides (Desilver, 2013).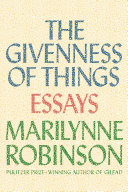 Why do so many members of the Christian right believe that guns save lives? For the same reason that they believe that the crime rate has been rapidly escalating during the past quarter of a century, when the opposite is true. For the same reason that they are convinced that immigrants are entering the country in unprecedented numbers, in the process of taking American jobs, further increasing the crime rate, and undermining the national culture. For the same reason that they think Islam is not a religion, but rather a radical political movement intent on destroying western civilization. The reason is fear, the flames of which have been fanned by white nationalism and Christian nationalism, thus pushing its adherents ever further toward the extremist right. To comprehend this from the other side of the Protestant divide, one can turn to Pulitzer Prize winning novelist and essayist Marilynne Robinson, perhaps the most astute apologist of liberal Protestantism. She argues, "fear is not a Christian habit of mind," going on to contend that "it is potentially a very costly indulgence to fear indiscriminately, and to try to stimulate fear in others." Thus, pointing to reports of a growing number of Kalashnikovs being purchased in the country, she notes that during the Cold War the fear was that these weapons would be used in a "land war between great powers, that is, that they would kill Americans. Now, since they are being brought into this country, the odds are great that they will indeed kill Americans. But only those scary ones who want to destroy all we hold dear. Or, more likely, assorted adolescents in a classroom or a movie theater" (Robinson, 2015, pp. 125-130).
(Kovisto, 97f — bolded highlighting is mine in all quotations)
Connecting to Trump
Trump's connection to the religious right needs to be understood by the juxtaposition of two facts
Fact One: he is religiously illiterate
his limited acquaintance with Christianity was at the hands of Norman Vincent Peale, whose "power of positive thinking" amounted to what his biographer Christopher Lane calls "religio-psychiatry," a vacuous amalgam that was hooked on to a version of Christian nationalism. Peale was roundly criticized by theologians such as Reinhold Niebuhr and by the psychiatric profession. In terms of his politics, he was an opponent of the New Deal welfare state and his strident anti-Catholicism led him to depict the candidacy of John Kennedy as a threat to the nation.
Fact Two: he needed to pander to this segment of the Republican base in order to win both the nomination and the election
it is not surprising that a mutual attraction developed between Trump and various big names associated with the prosperity gospel such as Detroit megachurch pastor Wayne T. Jackson and Florida-based Paula White and latter-day incarnations of the power of positive thinking such as Joel Osteen. First, all of these religious entrepreneurs share Trump's salesmanship directed at an audience they know how to impress, and his embrace of a luxury lifestyle. Second, at the level of their respective business ventures, the parallel between their organizations and the Trump Organization is striking. And, for that matter, for the more overtly political leaders of the contemporary Christian right, there is another parallel worth noting. Just as Trump's closely held and opaque family business is intergenerational, with the fourth generation being groomed to take over, so too are several of the prominent Christian right organizations lucrative family operations passed from father to son — from Pat to Gordon Robertson, from Jerry to Jerry Falwell, Jr., and from Billy to Franklin Graham.
Falwell Jr endorses Trump:


Falwell quoted in Politico:
In my opinion, Donald Trump lives a life of loving and helping others as Jesus taught in the great commandment, he said
and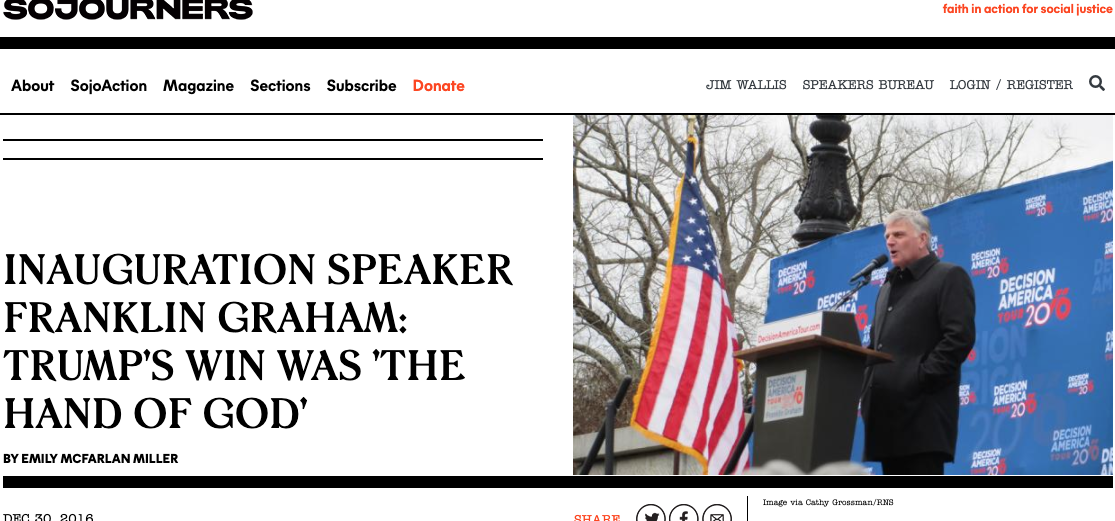 Then James Dobson: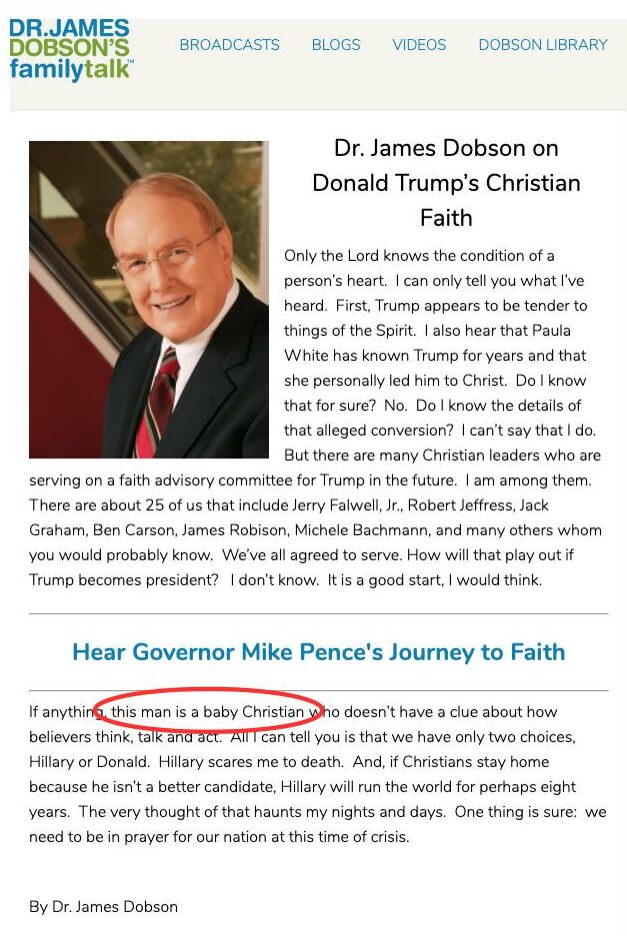 So here we are. . .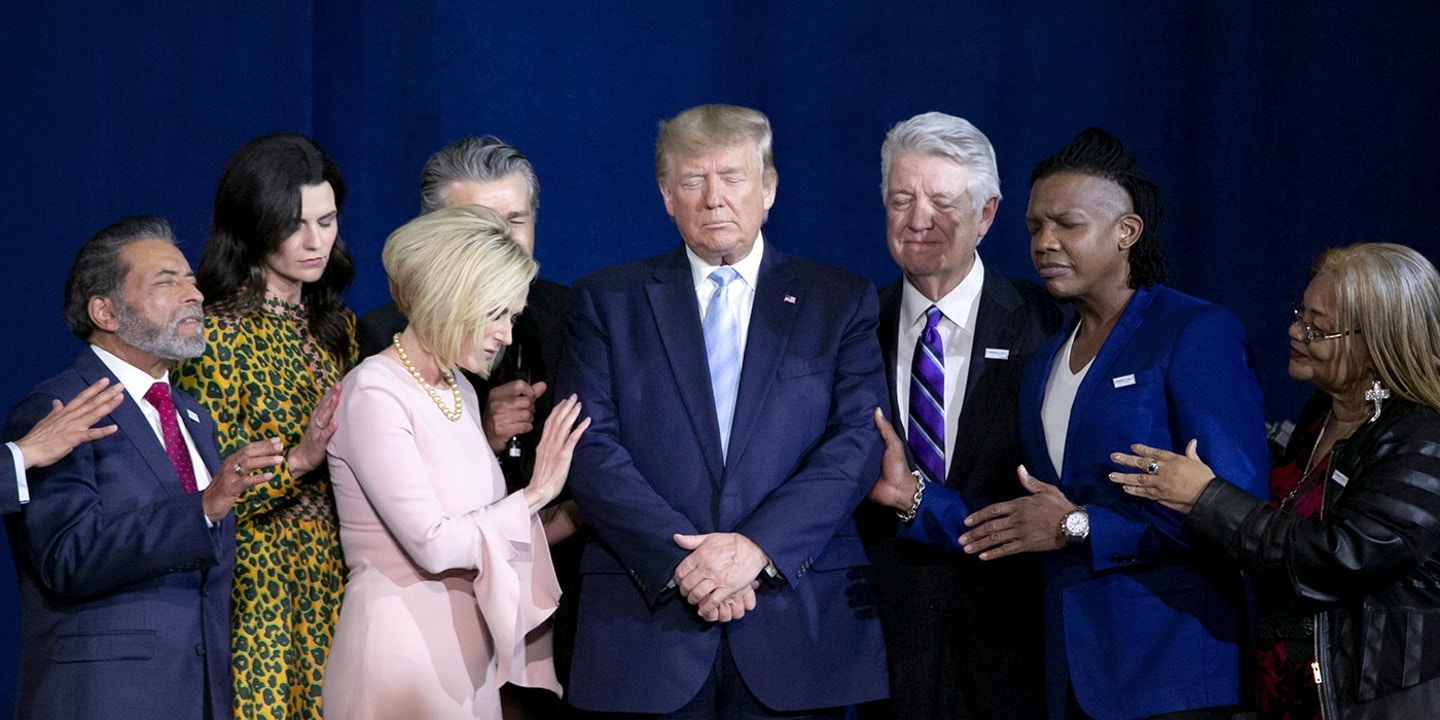 Next, the Tea Party and reactions to Obama's presidency.
---
Kivisto, Peter. 2017. The Trump Phenomenon: How the Politics of Populism Won in 2016. Bingley, UK: Emerald.
---
The following two tabs change content below.
Neil Godfrey
Neil is the author of this post. To read more about Neil, see our
About page.
Latest posts by Neil Godfrey (see all)
---
If you enjoyed this post, please consider donating to Vridar. Thanks!
---