This post follows on from Historical Background to President Trump – the Republican Party's Shift . . .
Enter the Christian Right
The Christian right . . .
. . . was the term widely used during the 1980s to describe a religious social movement, while today the operative term in both self-presentation and in most media coverage is evangelical. The former carries with it a more overtly political dimension and a specific historical context, while the latter is a fuzzier term. For that reason, I prefer the term fundamentalist in characterizing movement leaders and organizations. It can be a term of disparagement, but in fact has greater analytic rigor, thus making it a more serviceable tool for analyzing this segment of American Christianity. (Kivisto, 92)
Fundamentalism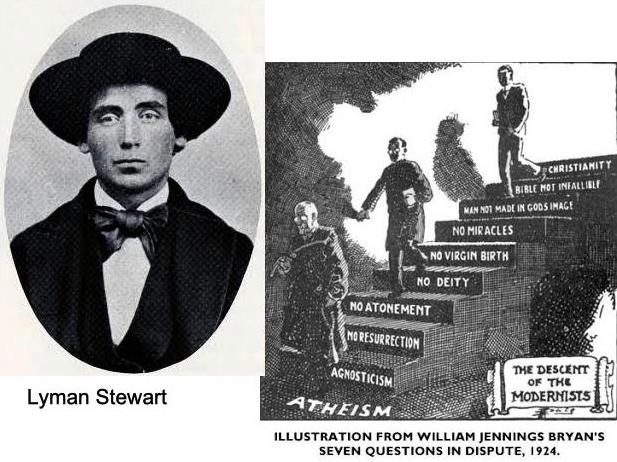 By the term fundamentalist Kivisto is referring to movements that grew out of those who in the 1920s named themselves "fundamentalists" and who identified their ideas with The Fundamentals (biblical inerrancy, miracles, etc) essays published and funded by Southern Californian oil millionaire Lyman Stewart. The Fundamentals identified a good many enemies of "truth":
socialism
feminism
Darwinism
Roman Catholicism
Mormonism
modern spiritualism
humanistic psychology
the Social Gospel
and theological liberalism
Very often fundamentalists felt obliged to enforce their views on society through political and legal action. Recall the Scopes "monkey trial" of 1925.
Martin Marty, who led a major American Academy of Arts and Sciences project on fundamentalism, offered a succinct account of what fundamentalism is and what it is not:
"it is not the same thing as conservatism, traditionalism, classicism, or orthodoxy, though fundamentalists associate themselves with such concepts."
"most fundamentalists do not conceive of themselves as being antiscientific or antirational on their own terms. . . But most fundamentalist movements dedicate themselves to representing alternative and, in their eyes,

'proper' science and reason."

"fundamentalists are seldom opposed to technology as such, or to many of its specific artifacts. Technology, one might say, helped make fundamentalism possible."
"

fundamentalists are not always

poor, uneducated people who rationalize their

hopeless lower-class circumstances through a

religious movement. "Deprivation theories" are among the more discredited explanation today in respect to Fundamentalism. Indeed, many such movements prospered in America as old religious conservative groups moved into the middle class, and it is among the university-educated and professionally mobile Jews, Mormons, Muslims, and others that fundamentalism grows."
We never see the term fundamentalism

applied to movements which are not

absolutist. The enemies of fundamentalisms

everywhere are relativism, pluralism, ambiguity.
(Marty p. 21)
In identifying the core components of fundamentalism, Marty begins by stating that it "is always reactive, reactionary," forever responding to "perceived challenges and threats" posed by a "force, tendency, or enemy" that is "eroding, corroding, or endangering one's movement and what it holds dear." As such, fundamentalism is about defining boundaries, and defining them in bright, not blurred, terms: the world is us against them, with them being a sometimes shifting target. This means, Marty continues, that fundamentalism "is always an exclusive or separatist movement" predicated on beliefs that are defined in absolutist, black-and-white terms. It is for that reason that fundamentalists are dismissive of interfaith or ecumenical understanding and dialogue, opting instead for an oppositional stance against anyone who does not share their worldview. Marty concludes that fundamentalists are inherently absolutist, and, "With absolutism comes authoritativeness or authoritarianism" (Marty, 1988, pp. 20—21). (Kivisto, 93f)
Sociologist Martin Riesebrodt points out that fundamentalists, in their rejection of the world, either elect to withdraw from it or to control it. The latter option often means they seek to impose their beliefs and practices on the world through political activity of various kinds.
The strain of world mastering fundamentalists engaging in American politics since the middle of the past century includes such now largely forgotten figures as Carl McIntyre, a dissident Presbyterian and fervent anti-communist crusader — engaged as he saw it in a civilization struggle between the Christian West and the atheistic core of Soviet communism. He was hostile to anyone seen as fellow travelers, which included groups such as the ecumenically oriented National Council of Churches, making his views known to a radio audience via his "The 20th Century Reformation Hour." He and like-minded fundamentalists represent the precursors to the contemporary Christian right. (Kivisto, 94)
1970s Movement Mobilization and Christian Nationalism
If the Southern strategy pushed the Republican Party into the camp of white nationalists, the Christian right's self-understanding is shaped by an ideology of Christian nationalism.
The two most well known leaders were Pat Robertson and Jerry Falwell. Both evangelized extensively through mass media. Robertson created Regent University and the American Center for Law and Justice, "which aimed to shape legislative agendas and fight judicial battles". Falwell founding Liberty University in 1971 and Moral Majority in 1979.
Certain issues have been constant ever since the 1970s:
attempts to overturn the Supreme Court's 1973 Roe v. Wade decision legalizing abortion
challenges to the separation of church and state by pressing for school prayer and abstinence-only sex education
Underpinning all of the particular issues preoccupying the Christian right is the conviction that the United States is a Christian nation and that, as the name of Falwell's organization indicates, the movement represents the beliefs of a majority of the citizenry. At the same time, the Christian right sees itself as under assault from enemies who threaten the cultural integrity of the nation. If the Southern strategy pushed the Republican Party into the camp of white nationalists, the Christian right's self-understanding is shaped by an ideology of Christian nationalism. (Kivisto, 95)
These "world mastering fundamentalists" set themselves against "liberals, Hollywood, the media, the American Civil Liberties Union, and often, academics", those they deem to be "enemies" who, because they are "hostile to religion and . . . are antipopulist" are therefore "fundamentally un-American". [Compare the post on Americanism as an ideology and the treason of "un-Americanism".] With such an outlook they (the fundamentalists) "reveal their anti-pluralist and thus intrinsically anti-democratic view of politics" (Rhys Williams). Continue reading "The Historical Road Leading Fundamentalist Christians to Trump"