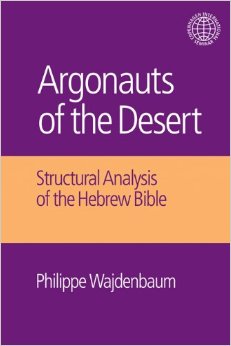 I have made a correction to a serious error in my recent post How Plato Inspired Moses: Creation of the Hebrew Bible. In that post I took credit for identifying many parallels between the Hebrew Bible and Plato's Laws prior to reading Russell Gmirkin's book. I should have acknowledged — and I have now made the correction — that my interest in Plato's Laws was sparked by Philippe Wajdenbaum's Argonauts of the Desert: Structural Analsysis of the Hebrew Bible.
The Bible's roots in Greek mythology and classical authors: Isaac and Phrixus (2011-03-11)
Greek Myths Related to Tales of Abraham, Isaac, Moses and the Promised Land (2011-03-16)
Anthropologist spotlights the Bible and Biblical Studies (2011-12-19)
Anthropologist's analysis of the Bible and of Biblical Studies as a variant of the Bible's myth (2011-12-20)
Argonauts of the Desert: a defence of an anthropologist's interpretation of the Bible (2011-12-23)
Bible Origins — continuing Wajdenbaum's thesis in Argonauts of the Desert (2011-12-24)
Who wrote the Bible? Rise of the Documentary Hypothesis (2011-12-25)
Who wrote the Bible? (2) Challenging the Documentary Hypothesis (2012-01-08)
Bible: composed as a reaction against Greek domination? (2012-01-09)
Did a Single Author Write Genesis – II Kings? (Demise of the Documentary Hypothesis?) (2012-10-18)
Collapse of the Documentary Hypothesis (1) & Comparing the Bible with Classical Greek Literature (2012-11-06)
Biblical Scholars, Symbolic Violence, and the Modern Version of an Ancient Myth (2012-11-26)
New Understandings of the Old Testament: Jacques Cazeaux (2012-12-02)
Castration of Ouranos and the Drunkenness of Noah (2014-04-29)
There are overlaps between Gmirkin's and Wajdenbaum's theses, but there are also a number of incompatibilities. I think Wajdenbaum's view that a single author was responsible for the Primary History of Israel (Genesis to 2 Kings) faces a number of daunting hurdles. But both authors do raise serious questions and give us much to think about.
The following two tabs change content below.
Neil Godfrey
Neil is the author of this post. To read more about Neil, see our
About page.
Latest posts by Neil Godfrey (see all)
---
If you enjoyed this post, please consider donating to Vridar. Thanks!
---