Note: I wrote this post a few years back and left it lying in the draft pile, unable to come up with a satisfactory conclusion until earlier this year. Our forecast calls for snow tomorrow (something those of us who live in RVs would rather not see), so a post about precipitation and weather prediction might be apt. –TAW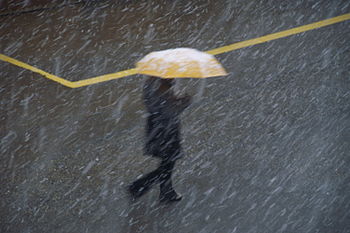 [This post begins our hard look at Chapter 6, "The Hard Stuff" in Carrier's Proving History. — specifically, the section entitled "Bayesianism as Epistemic Frequentism."]
In the 1980s, the history department building on the University of Maryland's College Park campus had famous quotations painted on its hallway walls. Perhaps they still do.
The only quote I can actually still remember is this one:
"The American people never carry an umbrella. They prepare to walk in eternal sunshine." — Alfred E. Smith
I used to enjoy lying to myself and say, "That's me!" But the real reason I never carry an umbrella is not that I'm a naive Yankee optimist, but rather because I know if I do, I will leave it somewhere. In this universe, there are umbrella receivers and umbrella donors. I am a donor.
Eternal sunshine
So to be honest, the reason I check the weather report is to see if I should take a jacket. I've donated far fewer jackets to the universe than umbrellas. But then the question becomes, what does it actually mean when a weather forecaster says we have a 20% chance of rain in our area this afternoon? And what are we supposed to think or do when we hear that?
Ideally, when an expert shares his or her evaluation of the evidence, we ought to be able to apply it to the situation at hand without much effort. But what about here? What is our risk of getting rained on? In Proving History, Richard Carrier writes:
When weathermen tell us there is a 20% chance of rain during the coming daylight hours, they mean either that it will rain over one-fifth of the region for which the prediction was made (i.e., if that region contains a thousand acres, rain will fall on a total of two hundred of those acres before nightfall) or that when comparing all past days for which the same meteorological indicators were present as are present for this current day we would find that rain occurred on one out of five of those days (i.e., if we find one hundred such days in the record books, twenty of them were days on which it rained). (Carrier 2012, p. 197)
These sound like two plausible explanations. The first sounds pretty "sciency," while the second reminds us of the frequentist definition of probability, namely "the number of desired outcomes over the total number of events." They're certainly plausible, but do they have anything to do with what real weather forecasters do?
Recently, I came across an article on this subject by a meteorologist in Jacksonville, Florida, written back in 2013. He even happened to use the same percentage. In "What does 20% chance of rain really mean?" Blake Matthews writes: read more »