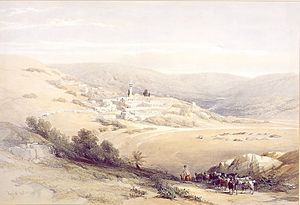 A comment by VinnyJH has led me to rethink and plan to add a paragraph to my recent post on Nazareth. Of course, Nazareth is a significant factor in the historical Jesus debate. True, it is not necessary for Nazareth to have been settled to support Richard Carrier's "minimalist historical Jesus" figure that he uses in his hypothesis for the unlikelihood for the historicity of Jesus. But in the wider culture, it does have a very strong significance. Witness the tourist industry related to Nazareth, the holy sites historically preserved there, for starters. Even in mainstream scholarly circles, we can find the argument presented that the "criterion of embarrassment" "proves" the historical Jesus came from Nazareth. It is a prominent feature of mainstream historical Jesus scholarship that the authors of both the gospels of Matthew and Luke supposedly tied their narrative in knots just to work out a way to get Jesus from Bethlehem (where he had to be born to fulfill the messianic prophecy) to Nazareth (from where "oral tradition" was so insistent as the place he was known to come from). The same scholarship is very clear: it posits that the Nazareth association was so important in the wider knowledge about Jesus that the evangelists somehow felt compelled to write contradictory and convoluted narratives to explain how that "general knowledge" came about.
It is no wonder that some mainstream historical Jesus scholars choose to respond to René Salm's research with insult than engage in an intellectually honest way with the evidence he has published.
The following two tabs change content below.
Neil Godfrey
Neil is the author of this post. To read more about Neil, see our
About page.
Latest posts by Neil Godfrey (see all)
---
If you enjoyed this post, please consider donating to Vridar. Thanks!
---