And I thought we were just getting nicer. Nope, the data seems to point to another reason.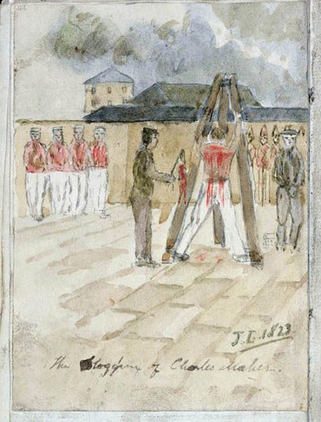 According to an article by Penelope Edmonds and Hamish Maxwell-Stewart, 'The whip is a very contagious kind of thing': flogging and humanitarian reform in penal Australia, the reasons for the declining use of flogging were complex but two factors do stand out as primary movers.
A more effective method of behaviour control was found: solitary confinement in particular. It was so effective that it had the proven ability to send men mad, and shorten their life-spans. Prisoners feared solitary confinement more than they did whipping. Where flogging was prevalent such as in the chain gangs, the convicts were generally reluctant workers, doing the bare minimum to avoid being flayed. Where prisons had the resources to be able to build solitary confinement facilities there work productivity improved while fewer men had to be punished that way. The treadmill was another penalizing innovation that some prisons introduced with a similar effect.
The decline in flogging in Van Diemen's Land appears to have had more deep-seated causes than top-down reform powered by humanitarian advocacy. Our analysis suggests that it occurred in inverse proportion to the capacity of penal stations to punish convicts. This is an important finding. It suggests that the colonial state deployed different forms of terror at different times and for different purposes. As the array of punishments available to it expanded, less use was made of public displays of violence, whether through execution or flogging. Such an approach is consistent with Foucault's famous observation about the decline in the use of judicial terror in Western Europe. [Discipline and Punish, 293-308. My bolding in both quotations]

Terrorism is the weapon of the weak, it is said, but there was one way convicts could "fight back":
Many reformers were particularly concerned about the manner in which convicts turned the performance of flogging into counter-theatre. The prisoner who resisted the violent will of the state by refusing to scream was lauded, while the man who broke down was shamed. Flogging became a battle of wills—a form of blood sport fought out across the frame of the prisoner.
.
Two implications come to mind:
What does it mean for our interest to combat the practice of the public displays of terror in states like Saudi Arabia?
What of humanity's future if we fail to meet the challenge of climate change or if for some other reason our societies revert to a major decline in resources and a breakdown in central authority?
There are other significant questions, too, that are raised by Michel Foucault in Disciple and Punish.
---
Edmonds, Penelope, and Hamish Maxwell-Stewart. "'The Whip Is a Very Contagious Kind of Thing': Flogging and Humanitarian Reform in Penal Australia." Journal of Colonialism and Colonial History 17, no. 1 (2016). https://doi.org/10.1353/cch.2016.0006.
---
The following two tabs change content below.
Neil Godfrey
Neil is the author of this post. To read more about Neil, see our
About page.
Latest posts by Neil Godfrey (see all)
---
If you enjoyed this post, please consider donating to Vridar. Thanks!
---