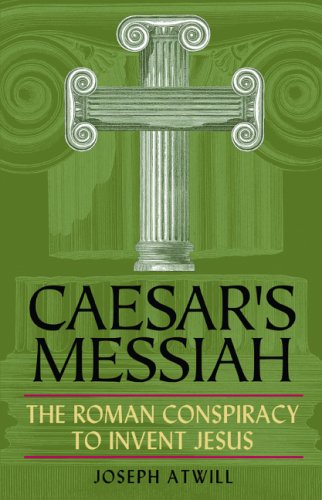 Joseph Atwill, author of Caesar's Messiah: The Roman Conspiracy to Invent Jesus, from time to time challenges some of my points on this blog and I have tended to respond only in generalities. A week ago I posted what I see is the difference between two types of mythicist arguments: There are two types of Jesus mythicism. Here's how to tell them apart. Type 1 I described as scholarly; it is one that engages in depth with the scholarly output of biblical studies and strives to follow the best in historical methods and logically valid argument; Type 2, on the other hand, I described as non-scholarly because it does none of those things.
I think all arguments that are taken seriously by others ought to be addressed seriously, and that applies to creationist arguments, holocaust denial arguments, and Joseph Atwill's conspiracy theory argument. Is not the aim of any argument to try to persuade? So why not, at least at some point, try to set out a persuasive argument against a view that is embraced by others but that we consider to be flawed?
I will only focus on one particular argument in Caesar's Messiah in this post. Hopefully that will be enough for now to prompt maybe one person at some time to think through afresh one explanation for Christian origins that they may have been wondering about.
The opening of chapter 1 announces the main argument:
I shall show that intellectuals working for Titus Flavius, the second of the three Flavian Caesars, created Christianity. Their main purpose was to replace the xenophobic Jewish messianism that waged war against the Roman Empire with a version of Judaism that would be obedient to Rome.

One of the individuals involved with the creation of the Gospels was the first-century historian Flavius Josephus. (p. 12)
In chapter 2 Joseph Atwill begins first serious comparison between the gospels and the works of Josephus in order to demonstrate that the gospels are a coded satire of Titus's march on Jerusalem.
In Matthew 4:18-19 and Luke 5:9-10 we read how Jesus, while walking along the "Sea" of Galilee, called disciples to become "fishers of men". Later in Matthew 11:23 (also in Luke 10:13f) Jesus prophecies doom for Chorazin, Bethsaida and Capernaum for rejecting his word.
Joseph Atwill argues that Jesus' calling his disciples to become "fishers of men" and his pronouncement of doom upon Chorazin are satires of a slaughter by Romans of rebellious Jews in the lake of Galilee.
In support, he quotes the following sections from Josephus's War, Book 3, chapter 10:
This lake is called by the people of the country the Lake of Gennesareth . . . they had a great number of ships . . . and they were so fitted up, that they might undertake a Seafight. But as the Romans were building a wall about their camp, Jesus and his party . . . made a sally upon them.

. . . Sometimes the Romans leaped into their ships, with swords in their hands, and slew them; but when some of them met the vessels, the Romans caught them by the middle, and destroyed at once their ships and themselves who were taken in them. And for such as were drowning in the sea, if they lifted their heads up above the water, they were either killed by darts, or caught by the vessels; but if, in the desperate case they were in, they attempted to swim to their enemies, the Romans cut off either their heads or their hands . . . (p. 39)

The passage reads like a single unit about a sea battle but the thee dotted lines at the beginning of the second paragraph represent over 3000 words of Whiston's translation. The main thrust of the story is omitted. To see the full passage see below where I have copied the totality between "The lake is called by the people . . ." to "their heads of their hands."
Atwill introduces the above words of Josephus with a comparison to "fishing for men":
In War of the Jews, Josephus describes a sea battle where the Romans caught Jews like fish. The battle occurred at Gennesareth, where Titus attacked a band of Jewish rebels led by a leader named Jesus. (p. 39, my bolded emphasis in all quotations)
If you have not read the Josephan passage do so now. Josephus makes no comparison at all with the Romans catching Jews like fish. The image never surfaces in Josephus' account of the battle. If one reads the passage in full (as I have copied below) one encounters a grisly image of slaughter of desperate humans struggling in the water. Heads and hands are cut off. Victims are not "caught like fish" but are stabbed with spears, shot with arrows, cut with swords.
Atwill has transferred the image of "fishing for men" from the gospels and gratuitously injected it into the passage in Josephus.
Continue reading "Why Joseph Atwill's Caesar's Messiah is "Type 2" mythicism"