When I was a dedicated member of Herbert Armstrong's Worldwide Church of God cult I was aware of the existence of "dissident" literature that had led a few fellow members to "fall away" into the clutches of Satan. I had no desire to seek it out and read it because I "knew" it would be full of lies; or if some of it did have nuggets of truth those pieces would be distorted or irrelevant. How could "truth" be irrelevant? Easy: I "knew" Herbert Armstrong was not a perfect saint and that whatever sins he had committed were covered by God's mercy and the only important thing was that he was now doing "God's work". The only time I began to open my mind to at least reading some of that literature was after I had allowed some doubts about the church enter my mind. Even then, I found myself reacting with anger against some of what I had read. The criticisms showed no mercy to my lingering feelings of loyalty to the church that had been the centre and love of my life for so many years so for a while I hated it for the sheer brutality of its truth-telling. So the following reading list is for those Trump loyalists who have allowed niggling questions to enter their thoughts on occasions. Others will simply ignore it or dismiss the works as lies or "irrelevant truths" without bothering to seriously check them out.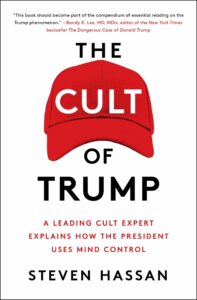 I was inspired to post this list after skimming Steven Hassan's The Cult of Trump: A Leading Cult Expert Explains How the President Uses Mind Control. Many ex-cultists will recognize the name Hassan as the author of Combatting Cult Mind Control. Hassan's personal cult experience was with the Moonies but his analysis demonstrates the common elements involved in a wide ranging spectrum of religious cults. Hassan writes in The Cult of Trump,
Cult members believe that they are completely in control of their own thoughts, feelings, and actions. That's true of most, if not all, of us—we believe that we are in possession of our faculties, that we make our own decisions and choose our own path. Yet, as we have seen, we are all continually being influenced by our parents, friends, bosses, colleagues, government, and the media, both traditional and online. We all have an illusion of control. It's part of being human. This raises the question: how would any of us—Trump supporters or critics—know if we were being unduly influenced? Here is a five-step formula for answering that question, one that requires an investment of time and energy, but that is quite powerful. I have geared this five-step experiment to a Trump supporter but anyone could benefit from it, no matter their political affiliation or group involvement."
I don't think it's quite that simple, though I'd like to be wrong on that point. Hassan's first point of advice is for anyone to "take a break from your situation — disconnect from all sources of influence that could reinforce your current point of view." Easy said. But that's another discussion entirely. The next points get to the "essential reading".
Educate yourself: Read about social psychology, in particular mind control, and the models created by Robert Jay Lifton, Margaret Singer, along with my BITE model. Educate yourself about social influence techniques, propaganda, and logical fallacies. Libraries are great places. Hopefully this book has given you a good start. You also might contact responsible, ethical mental health professionals to help you.
Certainly, my mind began to open as never before when I heard a psychologist explain cult thinking in a radio interview. I have since explored all forms and ways in which individuals and groups are attracted to "radical" ideas and commitments that are deemed by many to be hostile and harmful to both the individual and the wider society. There are significant overlaps between political and religious "radicalization" as I've discussed (from the professional literature) here several times.
But to get to the point of this post: Hassan's next item —
Listen to critics and former believers: Seek out highly respected, credentialed, or experienced experts who hold views that differ from your own. Look for verifiable facts. The Mueller Report, though a daunting 448 pages long, is an important read, especially since Trump and Barr have stated their biased conclusions. Robert Mueller gave a brief but definitive statement before resigning from the Department of Justice, which is worth listening to or reading. If you are a Trump supporter and think Trump is a great leader, or even God-chosen, seek out the views of critics and evaluate dispassionately what they have to say. Listen to your inner voice as well as your conscience. When you hear trigger words like "fake news," "deep state," or "radical Democrats," adopt a neutral attitude and use your critical abilities to sort through sources, check credentials, and look for supporting factual evidence. Ask probing questions like "Why is that?" or "Is that plausible?" Listen to what others have to say and reach your own conclusions based on research and evidence. Read books, newspapers, blogs, and magazines that run the gamut of political orientation, remembering always that facts do matter. When a leader or group makes extraordinary claims, demand extraordinary proof. The burden of proof is always on the leader or group to prove their claims. It's not on us to disprove them. If Trump claims that he knows more than anyone else on a subject, fact-check his assertions. I have quoted several resources in this book including books written by David Cay Johnston, Bob Woodward, Malcolm Nance, and James Comey, to name just a few.
Let's itemize the "essential reading" in that paragraph a little more directly by adding links to the titles. (There are other sources that copyright does not permit me to make public. Private correspondence might be more appropriate for some of those.) Continue reading "Essential Reading for Trump Supporters"