There are interesting parallels between the processes that lead some people to join both religious cults and terrorist groups. If you once joined a cult you will very likely recognize some of the pathway others have walked to become members of a group responsible for violent terror attacks.
If you joined a religious cult you knew that others thought you were a bit weird. Numerous accounts of those who joined terrorist organizations show that those becoming interested in an extremist group were aware their families and wider society would try to talk them out of it so they kept their interest secret from everyone except others, if any, whom they knew shared their views.
Joining either means turning one's back on society and immersing oneself totally in an alien way of life.
Jerrold Post appears to have been the first to recognize that cult recruiting can provide a useful model of terrorist recruiting. The analogy begins by noting that individuals who join either a cult or a terrorist group are likely to be characterized as "crazy." Both a cult and a terrorist group require a level of commitment that most people find difficult to comprehend.

McCauley, Clark; Moskalenko, Sophia (2011-02-02). Friction: How Radicalization Happens to Them and Us (Kindle Locations 1709-1711). Oxford University Press. Kindle Edition. — (My bolding and formatting in all quotations)
McCauley and Moskalenko in Friction: How Radicalization Happens to Them and Us take up this comparison.
Here we focus on recruitment to the Unification Church (UC) of the Reverend Sun Myung Moon. The UC is generally regarded as a cult, and, more important, there is an unparalleled research literature for this group. A 1965 report by Lofland and Stark titled "Becoming a World Saver" chronicled the beginnings of the UC in America, and the surprise value of the report was its emphasis on the importance of social networks in religious conversion.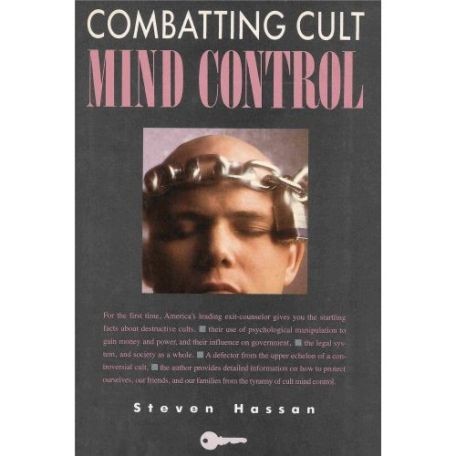 Lofland and Stark's article refers to the Church as the Divine Precepts. This was before they became better known as the Unification Church or Moonies. Many readers who have been associated with religious cults will know of ex-Moonie Steven Hassan's Combatting Cult Mind Control, which has remained a standard for anyone wanting to understand how the processes involved in a convert's journey to commitment to the cult.
Early conversions to the cult in Eugene, Oregon, from 1961, were easy. Most of these converts were linked by long-standing pre-existing relationships. When the group moved to San Francisco, however growth was slow, sporadic. The social connections of a few converts were absent in the new city. Through trial and error they found that the tactic of "lovebombing" worked best:
eventually "lovebombing"—intense, positive, and personal attention focused on potential converts—was developed as the means of creating instant connections with strangers, especially newcomers to the Bay Area.

The focus on newcomers made recruiting slower than if each new convert brought a local acquaintance network that could be tapped for additional converts. Compared with geometric progression in Eugene, recruiting in the Bay Area was reduced to arithmetic progression. (2011, Kindle Location 1723-1726)
McCauley and Moskalenko point out that Lofland and Stark's study proved to be a "watershed" in the study of cults. Prior to this time the conventional wisdom had been that members joined because they had personal grievances or difficulties that appeared to find answers in the ideology and teaching of the cult.
It is easy now in hindsight to see why such a view is simplistic and at best incomplete. Many people have personal difficulties in their own lives but only a small handful gravitate towards the resolutions offered by a cult.
(Compare: many people both Muslim and non-Muslim strongly oppose Western policies in the Middle East but as Dan Jones reminds us, a 2014 RAND Corporation report leads one to conclude that at the very most only 0.06 to 0.08% of those Muslims who are politically disaffected are attracted to extremist organizations.)
The established view had pointed to the match between the needs of the individual and the ideology of the group to explain why some people and not others join a cult or sect. This view assumed that a deviant group would attract individuals with a grievance or deprivation for which the group offers some interpretation and remedy.

In retrospect the deprivation explanation was always too broad because most individuals who suffer a particular deprivation do not ever join a deviant group.

Thus, Lofland and Stark did not so much contradict the established view as complement and focus it. Deprivation and grievance establish a pool of potential converts for a particular cult, but social networks determine who among the many in the pool are likely to be among the few actually recruited.

The interaction of deprivation and social networks in predicting cult recruitment is well represented in some remarkable studies carried out by an investigator with the cooperation of UC leaders.

McCauley, Clark; Moskalenko, Sophia (2011-02-02). Friction: How Radicalization Happens to Them and Us (Kindle Locations 1726-1734). Oxford University Press. Kindle Edition.
The studies uncovered details of over 300 cult members to support the thesis of the link between social networks and personal dissatisfaction. Those who eventually joined reported that they had come to feel a deep personal respect for a member of the cult, felt buoyed and cheered by their company, and had no comparable warm relationships with anyone else outside the cult. And after joining the cult they could confidently report that the stresses and anxieties that were bothering them before had been lifted from their shoulders. Potential recruits who did have strong personal ties with others outside the cult did not join.
People vary in the amount of time they express some interest in the cult's teachings: some walk away sooner than others. But all of those who eventually lost interest reported that they had stronger bonds with people outside the cult than anyone in it or also interested in joining.
In other words, it was weakness of interpersonal attachments outside the church . . . that predicted who would finally join the UC.

And what keeps recruits in the cult? As already indicated, UC members report feeling less stressed than they were before joining. In this sense the UC experience is not a fraud and does fulfill the promise held out to recruits. Friendships inside the UC are evidently key to keeping members as well as the key to recruitment.

McCauley, Clark; Moskalenko, Sophia (2011-02-02). Friction: How Radicalization Happens to Them and Us (Kindle Locations 1753-1755). Oxford University Press. Kindle Edition.
This is consistent with Scott Atran's study of the role of social networks for predicting who becomes a terrorist or suicide bomber. It is what enables him to say that membership of a group of friends getting together to play soccer far more than mosque attendance enables him to predict who joins a terrorist network: it only takes one close friend in such a group to know and bond with a cult or terrorist group member for his network to follow.
And once in the group, the group becomes one's whole world.
But here we want to underscore that there are also very concrete and material rewards of membership. Groups that live communally, such as the UC and the Hare Krishnas, provide not just values and connections but everyday necessities such as clothing, food, and shelter.

McCauley, Clark; Moskalenko, Sophia (2011-02-02). Friction: How Radicalization Happens to Them and Us (Kindle Locations 1755-1757). Oxford University Press. Kindle Edition.
Comparing terrorist groups
Even this brief review indicates a number of obvious parallels with what is known about recruitment into terrorist groups.

Both pull mostly from the ranks of youth who are often middle class.

Both depend for recruits on a pool of seekers or sympathizers much larger than the numbers actually recruited.

Both require a socialization period during which recruits are brought to full commitment, with a constant flux of dropouts from the path that leads to full commitment.

Commitment may happen faster for cults than for terrorist groups, but this quantitative difference is easily attributable to the greater barriers to both entrance and exit for terrorist groups. Higher barriers for terrorist groups reflect the fact that terrorists more than cults violate the norms and laws of the larger society.

In terms of group dynamics, both cults and terrorist groups offer a full array of rewards to members: affective, social, cognitive, and material. Chief among these rewards for both groups are powerful interpersonal bonds among group members. Particularly susceptible to the sense of community offered by both cults and terrorist groups are those who have lost or never developed close ties to others. 

McCauley, Clark; Moskalenko, Sophia (2011-02-02). Friction: How Radicalization Happens to Them and Us (Kindle Locations 1758-1767). Oxford University Press. Kindle Edition.
The following two tabs change content below.
Neil Godfrey
Neil is the author of this post. To read more about Neil, see our
About page.
Latest posts by Neil Godfrey (see all)
---
If you enjoyed this post, please consider donating to Vridar. Thanks!
---