Previous in this series:
—
Book 4 of Plato's Laws
For Plato the ideal state must begin with the new citizens arriving to settle in a land that has long been uninhabited and that is well distant from potentially corrupting influences of any neighbouring state. They mustn't have it too easy or materially abundant, though, or self-indulgence and the usual corruptions of wealth are sure to overtake them, so the land must be rugged enough to keep them working hard for their well-being.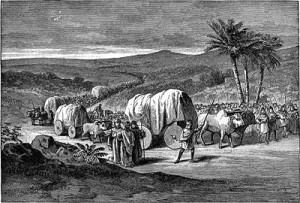 The biblical authors likewise narrated a story of new laws being given to a people leaving one "home" and moving to settle in another but of course there was a significant difference.
They were placing an ideal set of laws upon a land that contained a mixed population and was surrounded by potentially corrupting kingdoms. The same author(s) knew well the problem, though, and stressed the absolute necessity to drive out all the inhabitants of the land (Deut 7) and avoid any marriages with their neighbours (Deut. 17:14-20) lest they be led astray from keeping their perfect laws. The whole meaning of "holiness" and being a "holy nation" is separation from others.
Ath. And is there any neighbouring State?

Cle. None whatever, and that is the reason for selecting the place; in days of old, there was a migration of the inhabitants, and the region has been deserted from time immemorial.

Ath. And has the place a fair proportion of hill, and plain, and wood?

Cle. Like the rest of Crete in that.

Ath. You mean to say that there is more rock than plain?

Cle. Exactly.

Ath. Then there is some hope that your citizens may be virtuous . . . . There is a consolation, therefore. .  . owing to the ruggedness of the soil, not providing anything in great abundance. Had there been abundance, there might have been a great export trade, and a great return of gold and silver; which, as we may safely affirm, has the most fatal results on a State whose aim is the attainment of just and noble sentiments
In the story of Israel great wealth did flood the land in the time of Solomon so that "silver was as common as stones" (1 Kings 10:27) and that was the turning point in the kingdom's history, as we know.
Purpose of the Laws
The ideal laws of both Plato and the Bible are said to be instituted to make people virtuous. They are not simply about maintenance of justice, keeping the peace and protecting sacred values but are intended to produce personal excellence of character or righteousness. This surely alerts us to a very strong probability that the Bible's laws which had the same purpose were of philosophical/theological origin rather than being historically instituted as day-to-day law.
Ath. Remember, my good friend, what I said at first about the Cretan laws, that they look to one thing only, and this, as you both agreed, was war; and I replied that such laws, in so far as they tended to promote virtue, were good; but in that they regarded a part only, and not the whole of virtue, I disapproved of them. And now I hope that you in your turn will follow and watch me if I legislate with a view to anything but virtue, or with a view to a part of virtue only. For I consider that the true lawgiver, like an archer, aims only at that on which some eternal beauty is always attending, and dismisses everything else, whether wealth or any other benefit, when separated from virtue.
Compare Deuteronomy 6:25 and 4:6
For we will be counted as righteous when we obey all the commands the LORD our God has given us.

So keep and do them, for that is your wisdom and your understanding in the sight of the peoples who will hear all these statutes and say, 'Surely this great nation is a wise and understanding people.
Plato stresses this point when he says that the blessing of a long physical life has no true value unless it is a truly virtuous or morally excellent life.
Ath. . . . And in estimating the goodness of a state, we regard both the situation of the country and the order of the laws, considering that the mere preservation and continuance of life is not the most honourable thing for men, as the vulgar think, but the continuance of the best life, while we live; and that again, if I am not mistaken, is remark which has been made already.
Compare Deuteronomy 4:40
Keep his decrees and commands, which I am giving you today, so that it may go well with you and your children after you and that you may live long in the land the LORD your God gives you for all time.
Propensity to rebellion
The ideal laws are best given to a people who leave their longstanding abodes and migrate to a new land to start afresh. The old laws they knew must be left behind but of course we expect them at first not to like the new wine but to say the old was better.
We know the Bible story of Israel leaving their "home" of four hundred years, Egypt, and regularly finding themselves longing for the old ways of Egypt. Plato could relate to this story:
Ath. Cities find colonization in some respects easier if the colonists are one race, which like a swarm of bees is sent out from a single country, either when friends leave friends, owing to some pressure of population or other similar necessity, or when a portion of a state is driven by factions to emigrate. . . . This, however, which is in one way an advantage to the colonist or legislator, in another point of view creates a difficulty. There is an element of friendship in the community of race, and language, and language, and laws, and in common temples and rites of worship; but colonies which are of this homogeneous sort are apt to kick against any laws or any form of constitution differing from that which they had at home; and although the badness of their own laws may have been the cause of the factions which prevailed among them, yet from the force of habit they would fain preserve the very customs which were their ruin, and the leader of the colony, who is their legislator, finds them troublesome and rebellious. On the other hand, the conflux of several populations might be more disposed to listen to new laws; but then, to make them combine and pull together, as they say of horses, is a most difficult task, and the work of years. 
God is the lawgiver and he gives the law through one man
The Bible leaves no doubt that the Law comes from God and that God gave the law to his people through Moses.
Moses alone was given total authority over Israel. He was in effect a kind of dictator or even, to use a Greek term that acquired a pejorative meaning, tyrant. Moses protested when God called him by saying he had a problem speaking fluently (Exod 4:10). God used him nonetheless to demonstrate that it was He, God, who was the power behind Moses. (God did say that he'd let Moses' brother Aaron do the speaking but in the remainder of the narrative we find Moses addressing audiences very eloquently on his own.)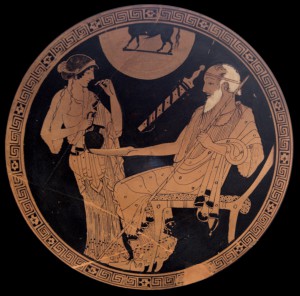 Moses was eighty years old when he was commissioned to act for God and 120 years old when he died, but even at that advanced age he had undimmed eyesight and youthful vigour (Deut. 24: 7). So he combined all the qualities of youthful energy, the wisdom of age, and miraculous eloquence — surely just the qualities required for the one man chosen to change Israel's way of life and establish them in an entirely new law.
(We see below that Plato recalled the aged and courageous Nestor as an epitome of at least some of the important requirements of one to introduce a divine law: he had the wisdom of great age and was very eloquent.)
And of course it was all God's law, not man's.
Now compare Plato's vision in Book 4 of Laws:
Ath. . . . God governs all things . . . 

Ath. "Come, legislator," we will say to him; "what are the conditions which you require in a state before you can organize it?" How ought he to answer this question? Shall I give his answer?

Cle. Yes.

Ath. He will say-"Give me a state which is governed by a tyrant, and let the tyrant be young and have a good memory; let him be quick at learning, and of a courageous and noble nature…"

. . . .

Ath. Yes; and you must add fortunate; and his good fortune must be that he is the contemporary of a great legislator, and that some happy chance brings them together. When this has been accomplished, God has done all that he ever does for a state which he desires to be eminently prosperous ….
Moses had the exceptionally good fortune of being brought together with the Divine Legislator Himself!
. . . . 
Not that Plato is suggesting tyranny is the best form of government. Such a role is only recommended to bring about the change, to introduce the new law:
Ath. … I mean rather to say that the change is best made out of a tyranny; and secondly, out of a monarchy; and thirdly, out of some sort of democracy: fourth, in the capacity for improvement, comes oligarchy, which has the greatest difficulty in admitting of such a change, because the government is in the hands of a number of potentates . . . .
The Hebrew Bible regularly assigns the responsibility of the morality of a people to the character and justice of their ruler.
Ath. …. the tyrant, if he wishes, can change the manners of a state: he has only to go in the direction of virtue or of vice, whichever he prefers, he himself indicating by his example the lines of conduct, praising and rewarding some actions and reproving others, and degrading those who disobey.

Cle. But how can we imagine that the citizens in general will at once follow the example set to them; and how can he have this power both of persuading and of compelling them?

Ath. Let no one, my friends, persuade us that there is any quicker and easier way in which states change their laws than when the rulers lead: such changes never have, nor ever will, come to pass in any other way. . . . 
Of course the difficulty is in finding such an individual who could introduce such revolutionary changes.
Ath. . . . The real impossibility or difficulty is of another sort, and is rarely surmounted in the course of ages; but when once it is surmounted, ten thousand or rather all blessings follow.

Cle. Of what are you speaking?

Ath. The difficulty is to find the divine love of temperate and just institutions existing in any powerful forms of government, whether in a monarchy or oligarchy of wealth or of birth. You might as well hope to reproduce the character of Nestor, who is said to have excelled all men in the power of speech, and yet more in his temperance. This, however, according to the tradition, was in the times of Troy; in our own days there is nothing of the sort; but if such an one either has or ever shall come into being, or is now among us, blessed is he and blessed are they who hear the wise words that flow from his lips. And this may be said of power in general: When the supreme power in man coincides with the greatest wisdom and temperance, then the best laws and the best constitution come into being; but in no other way. . . . 
God, keep in mind, is the real author of this ideal state governed by ideal laws:
Ath. Then let us invoke God at the settlement of our state; may he hear and be propitious to us, and come and set in order the State and the laws!

Cle. May he come!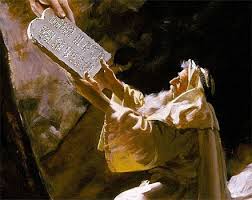 God to be in the name of his people; but who is this God?
Israel contains the name of "el", or God. But who is this God? That was the question raised at the beginning of Moses' story, Exodus 3:13.
Ath. …. But if states are to be named after their rulers, the true state ought to be called by the name of the God who rules over wise men.

Cle. And who is this God?

Ath. May I still make use of fable to some extent, in the hope that I may be better able to answer your question: shall I?
Plato thus entertains us to another fable. Through his character of the Athenian he takes us back to the mythical time of Cronus (Kronos).
Ath. …. There is a tradition of the happy life of mankind in days when all things were spontaneous and abundant. And of this the reason is said to have been as follows:

-Cronos knew what we ourselves were declaring, that no human nature invested with supreme power is able to order human affairs and not overflow with insolence and wrong. Which reflection led him to appoint not men but demigods, who are of a higher and more divine race, to be the kings and rulers of our cities; he did as we do with flocks of sheep and other tame animals. For we do not appoint oxen to be the lords of oxen, or goats of goats; but we ourselves are a superior race, and rule over them. In like manner God, in his love of mankind, placed over us the demons, who are a superior race, and they with great case and pleasure to themselves, and no less to us, taking care us and giving us peace and reverence and order and justice never failing, made the tribes of men happy and united.

And this tradition, which is true, declares that cities of which some mortal man and not God is the ruler, have no escape from evils and toils. Still we must do all that we can to imitate the life which is said to have existed in the days of Cronos, and, as far as the principle of immortality dwells in us, to that we must hearken, both in private and public life, and regulate our cities and houses according to law, meaning by the very term "law," the distribution of mind. . . . . 
Doesn't that remind you of Galatians and other Jewish traditions that God set angels as guardians over mankind, and others that even said the law was given through angels. Notice, further, Plato's ideal that the law regulates all aspects of life, both public and private.
Who are worthy to administer the laws?
Ath. ……. [W]e must not entrust the government in your state to any one because he is rich, or because he possesses any other advantage, such as strength, or stature, or again birth: but he who is most obedient to the laws of the state, he shall win the palm; and to him who is victorious in the first degree shall be given the highest office and chief ministry of the gods; and the second to him who bears the second palm; and on a similar principle shall all the other be assigned to those who come next in order. And when I call the rulers servants or ministers of the law, I give them this name not for the sake of novelty, but because I certainly believe that upon such service or ministry depends the well- or ill-being of the state. . . .  I see that the state in which the law is above the rulers, and the rulers are the inferiors of the law, has salvation, and every blessing which the Gods can confer.
We find the same principle in the Pentateuch, as we well know. Exodus 18:21, for example:
Moreover thou shalt provide out of all the people able men, such as fear God, men of truth, hating unjust gain; and place such over them, to be rulers of thousands, rulers of hundreds, rulers of fifties, and rulers of tens:
The Levites and Phineas were chosen because of their willingness to butcher (with godly righteousness, of course) their own brethren for disobeying the law. And as in Plato there are ranks. Moses was advised (Exodus 18) to hear only the hardest cases that judges beneath him found too hard. Even the king was commanded to study the law daily (Deuteronomy 17).
And promises of great blessings from the Gods are promised for such a state, we cannot forget.
Blessings and curses
Blessed and happy is the man who keeps the law, but cursed are those who depart from his ways. Such is the message from the Pentateuch through to the Psalms and beyond. Violation of the law brings about not only the ruin of the individuals but of the entire state (Leviticus 26; Deuteronomy 28).
Plato knew it well, too:
Ath. "Friends," we say to them, – "God, as the old tradition declares, holding in his hand the beginning, middle, and end of all that is, travels according to his nature in a straight line towards the accomplishment of his end. Justice always accompanies him, and is the punisher of those who fall short of the divine law. To justice, he who would be happy holds fast, and follows in her company with all humility and order;

but he who is lifted up with pride, or elated by wealth or rank, or beauty, who is young and foolish, and has a soul hot with insolence, and thinks that he has no need of any guide or ruler, but is able himself to be the guide of others, he, I say, is left deserted of God; and being thus deserted, he takes to him others who are like himself, and dances about, throwing all things into confusion, and many think that he is a great man, but in a short time he pays a penalty which justice cannot but approve, and is utterly destroyed, and his family and city with him. Wherefore, seeing that human things are thus ordered, what should a wise man do or think, or not do or think?
To follow and be like God
God speaks with Moses as with "a friend" (Exodus 33:11). Abraham is also described as a friend of God (Isa 41:8; 2 Chron. 20:7). The law instructs one to be like God, to be holy because God is holy. God loves David who is a man "after his own heart".
The New Testament gospels portray Jesus teaching his disciples to be perfect like their Father in heaven, but the idea of being like a good and perfect deity was not unique to the Hebrews. It is found in Plato's Laws.
Cle. Every man ought to make up his mind that he will be one of the followers of God; there can be no doubt of that.

Ath. Then what life is agreeable to God, and becoming in his followers? . . .  Now God ought to be to us the measure of all things, and not man, as men commonly say (Protagoras): the words are far more true of him.

And he who would be dear to God must, as far as is possible, be like him and such as he is. Wherefore the temperate man is the friend of God, for he is like him; and the intemperate man is unlike him, and different from him, and unjust.
Should Laws of State ideally be expected to involve discussions of godly lives, of sacrifices to the gods and prayers? Plato thought so.
And the same applies to other things; and this is the conclusion, which is also the noblest and truest of all sayings – that for the good man to offer sacrifice to the Gods, and hold converse with them by means of prayers and offerings and every kind of service, is the noblest and best of all things, and also the most conducive to a happy life, and very fit and meet.
We tend to think of the Jews as being the religious innovators of the ancient world but in Laws we have already seen that some of the ideas we associate with the Bible were also understood by Plato. Plato was just as aware of the need for inner righteousness of the heart or attitude being far more important than outward displays of piety as any teaching in the New Testament or Hebrew prophets.
Here is another instance:
But with the bad man, the opposite of this is true: for the bad man has an impure soul, whereas the good is pure; and from one who is polluted, neither good man nor God can without impropriety receive gifts. Wherefore the unholy do only waste their much service upon the Gods, but when offered by any holy man, such service is most acceptable to them. This is the mark at which we ought to aim.

But what weapons shall we use, and how shall we direct them?
First law — honour God
In the first place, we affirm that next after the Olympian Gods and the Gods of the State, honour should be given to the Gods below; they should receive everything in even and of the second choice, and ill omen, while the odd numbers, and the first choice, and the things of lucky omen, are given to the Gods above, by him who would rightly hit the mark of piety.

Next to these Gods, a wise man will do service to the demons or spirits, and then to the heroes, and after them will follow the private and ancestral Gods, who are worshipped as the law prescribes in the places which are sacred to them.
First after honouring God — Honour Parents
The Ten Commandments begin with instructions relating to the honour and worship of God. The very first commandment following these is. . . .
Honor thy father and thy mother, that thy days may be long in the land which Jehovah thy God giveth thee.
Quite rightly, too, Plato says. That is the very "next" important thing after due attention to God.
Next comes the honour of living parents, to whom, as is meet, we have to pay the first and greatest and oldest of all debts, considering that all which a man has belongs to those who gave him birth and brought him up, and that he must do all that he can to minister to them, first, in his property, secondly, in his person, and thirdly, in his soul, in return for the endless care and travail which they bestowed upon him of old, in the days of his infancy, and which he is now to pay back to them when they are old and in the extremity of their need. And all his life long he ought never to utter, or to have uttered, an unbecoming word to them; for of light and fleeting words the penalty is most severe; Nemesis, the messenger of justice, is appointed to watch over all such matters. When they are angry and want to satisfy their feelings in word or deed, he should give way to them; for a father who thinks that he has been wronged by his son may be reasonably expected to be very angry. At their death, the most moderate funeral is best, neither exceeding the customary expense, nor yet falling short of the honour which has been usually shown by the former generation to their parents.
This is soon followed by a law against adultery and another against coveting the wife of another man.
Plato, likewise, emphasized the priority of principles relating to marriage. This was according to the "order of nature":
Ath. What will be our first law? Will not the order of nature, begin by making regulations for states about births?

Cle. He will.

Ath. In all states the birth of children goes back to the connection of marriage?

Cle. Very true.

Ath. And, according to the true order, the laws relating to marriage should be those which are first determined in every state?
In Plato's mind these laws revolved around the appropriate age to marry and financial penalties upon those who chose not to marry.
Overture to the details of the law
Plato's discussion of the pre-eminent place of honouring the gods and parents appears to be something of a preliminary statement, a foundation perhaps, of the rest of the legislation that is to follow.
. . . . [T]hen when, as far as he [i.e. the legislator] is able, he has gone through all the preliminaries, he may proceed to the work of legislation. Now, what will be the form of such prefaces? . . . 
Here we come to something that sets the Biblical law code apart, it would appear.
Ath. . . . . [N]ow we are going to promulgate our laws, and what has preceded was only the prelude of them. Why do I mention this? For this reason: – Because all discourses and vocal exercises have preludes and overtures, which are a sort of artistic beginnings intended to help the strain which is to be performed; lyric measures and music of every other kind have preludes framed with wonderful care.

But of the truer and higher strain of law and politics, no one has ever yet uttered any prelude, or composed or published any, as though there was no such thing in nature. Whereas our present discussion seems to me to imply that there is; -these double laws, of which we were speaking, are not exactly double, but they are in two parts, the law and the prelude of the law.

The arbitrary command, which was compared to the commands of doctors, whom we described as of the meaner sort, was the law pure and simple; and that which preceded, and was described by our friend here as being hortatory only, was, although in fact, an exhortation, likewise analogous to the preamble of a discourse.

For I imagine that all this language of conciliation, which the legislator has been uttering in the preface of the law, was intended to create goodwill in the person whom he addressed, in order that, by reason of this good-will, he might more intelligently receive his command, that is to say, the law. And therefore, in my way of speaking, this is more rightly described as the preamble than as the matter of the law. And I must further proceed to observe, that to all his laws, and to each separately, the legislator should prefix a preamble; he should remember how great will be the difference between them, according as they have, or have not, such preambles, as in the case already given.

Cle. The lawgiver, if he asks my opinion, will certainly legislate in the form which you advise.
Plato would surely have been most impressed with the preamble to God's laws in Exodus. The Pentateuch begins with a dramatic story to shape the audience's mind, to grab the audience's attention and prepare them be open to receiving the legislation. We are entertained and awed by the story of the Exodus and Sinai before we get to the details of treatments of slaves, cattle, bodily fluids, etc.
And Moses went up unto God, and Jehovah called unto him out of the mountain, saying, Thus shalt thou say to the house of Jacob, and tell the children of Israel:

4 Ye have seen what I did unto the Egyptians, and how I bare you on eagles' wings, and brought you unto myself.

5 Now therefore, if ye will obey my voice indeed, and keep my covenant, then ye shall be mine own possession from among all peoples: for all the earth is mine:

6 and ye shall be unto me a kingdom of priests, and a holy nation. These are the words which thou shalt speak unto the children of Israel.

7 And Moses came and called for the elders of the people, and set before them all these words which Jehovah commanded him.

8 And all the people answered together, and said, All that Jehovah hath spoken we will do. And Moses reported the words of the people unto Jehovah.

9 And Jehovah said unto Moses, Lo, I come unto thee in a thick cloud, that the people may hear when I speak with thee, and may also believe thee for ever. And Moses told the words of the people unto Jehovah.

10 And Jehovah said unto Moses, Go unto the people, and sanctify them to-day and to-morrow, and let them wash their garments,

11 and be ready against the third day; for the third day Jehovah will come down in the sight of all the people upon mount Sinai.

12 And thou shalt set bounds unto the people round about, saying, Take heed to yourselves, that ye go not up into the mount, or touch the border of it: whosoever toucheth the mount shall be surely put to death:

13 no hand shall touch him, but he shall surely be stoned, or shot through; whether it be beast or man, he shall not live: when the trumpet soundeth long, they shall come up to the mount.

14 And Moses went down from the mount unto the people, and sanctified the people; and they washed their garments.

15 And he said unto the people, Be ready against the third day: come not near a woman.

16 And it came to pass on the third day, when it was morning, that there were thunders and lightnings, and a thick cloud upon the mount, and the voice of a trumpet exceeding loud; and all the people that were in the camp trembled.

17 And Moses brought forth the people out of the camp to meet God; and they stood at the nether part of the mount.

18 And mount Sinai, the whole of it, smoked, because Jehovah descended upon it in fire; and the smoke thereof ascended as the smoke of a furnace, and the whole mount quaked greatly.

19 And when the voice of the trumpet waxed louder and louder, Moses spake, and God answered him by a voice.

20 And Jehovah came down upon mount Sinai, to the top of the mount: and Jehovah called Moses to the top of the mount; and Moses went up.

21 And Jehovah said unto Moses, Go down, charge the people, lest they break through unto Jehovah to gaze, and many of them perish.

22 And let the priests also, that come near to Jehovah, sanctify themselves, lest Jehovah break forth upon them.

23 And Moses said unto Jehovah, The people cannot come up to mount Sinai: for thou didst charge us, saying, Set bounds about the mount, and sanctify it.

24 And Jehovah said unto him, Go, get thee down; and thou shalt come up, thou, and Aaron with thee: but let not the priests and the people break through to come up unto Jehovah, lest he break forth upon them.

25 So Moses went down unto the people, and told them.

20 And God spake all these words, saying,

2 I am Jehovah thy God, who brought thee out of the land of Egypt, out of the house of bondage.

3 Thou shalt have no other gods before me.

4 Thou shalt not make unto thee a graven image, nor any likeness of any thing that is in heaven above, or that is in the earth beneath, or that is in the water under the earth.

5 Thou shalt not bow down thyself unto them, nor serve them, for I Jehovah thy God am a jealous God, visiting the iniquity of the fathers upon the children, upon the third and upon the fourth generation of them that hate me,

6 and showing lovingkindness unto thousands of them that love me and keep my commandments.

7 Thou shalt not take the name of Jehovah thy God in vain; for Jehovah will not hold him guiltless that taketh his name in vain.

8 Remember the sabbath day, to keep it holy.

9 Six days shalt thou labor, and do all thy work;

10 but the seventh day is a sabbath unto Jehovah thy God: in it thou shalt not do any work, thou, nor thy son, nor thy daughter, thy man-servant, nor thy maid-servant, nor thy cattle, nor thy stranger that is within thy gates:

11 for in six days Jehovah made heaven and earth, the sea, and all that in them is, and rested the seventh day: wherefore Jehovah blessed the sabbath day, and hallowed it.

12 Honor thy father and thy mother, that thy days may be long in the land which Jehovah thy God giveth thee.

13 Thou shalt not kill.

14 Thou shalt not commit adultery.

15 Thou shalt not steal.

16 Thou shalt not bear false witness against thy neighbor.

17 Thou shalt not covet thy neighbor's house, thou shalt not covet thy neighbor's wife, nor his man-servant, nor his maid-servant, nor his ox, nor his ass, nor anything that is thy neighbor's.

18 And all the people perceived the thunderings, and the lightnings, and the voice of the trumpet, and the mountain smoking: and when the people saw it, they trembled, and stood afar off.

19 And they said unto Moses, Speak thou with us, and we will hear; but let not God speak with us, lest we die.

20 And Moses said unto the people, Fear not: for God is come to prove you, and that his fear may be before you, that ye sin not.

21 And the people stood afar off, and Moses drew near unto the thick darkness where God was.

22 And Jehovah said unto Moses, Thus thou shalt say unto the children of Israel, Ye yourselves have seen that I have talked with you from heaven.
Now that's a terrific overture to the many chapters of commands to follow. And just as Plato would recommend it stresses the centrality of fundamentals, especially the worship of God and the honouring of parents.
Cle. . . . Let us acknowledge, then, that we have a preamble. About the honour of the Gods and the respect of parents, enough has been already said; and we may proceed to the topics which follow next in order, until the preamble is deemed by you to be complete; and after that you shall go through the laws themselves.

Ath. I understand you to mean that we have made a sufficient preamble about Gods and demi-gods, and about parents living or dead. . . 

Cle. Exactly.
Best way to present the laws
Even within the laws themselves we find something odd in comparison with other types of legislation. We find many exhortations and encouragements to hearers to obey such as:
Exod 22:26-27, 31
26 If thou at all take thy neighbor's garment to pledge, thou shalt restore it unto him before the sun goeth down:

27 for that is his only covering, it is his garment for his skin: wherein shall he sleep? And it shall come to pass, when he crieth unto me, that I will hear; for I am gracious.

. . . .31 And ye shall be holy men unto me: therefore ye shall not eat any flesh that is torn of beasts in the field; ye shall cast it to the dogs.
Deut 4:1 . . .
And now, O Israel, hearken unto the statutes and unto the ordinances, which I teach you, to do them; that ye may live, and go in and possess the land which Jehovah, the God of your fathers, giveth you.
Deut 8:1-5 . . .
All the commandment which I command thee this day shall ye observe to do, that ye may live, and multiply, and go in and possess the land which Jehovah sware unto your fathers.

2 And thou shalt remember all the way which Jehovah thy God hath led thee these forty years in the wilderness, that he might humble thee, to prove thee, to know what was in thy heart, whether thou wouldest keep his commandments, or not.

3 And he humbled thee, and suffered thee to hunger, and fed thee with manna, which thou knewest not, neither did thy fathers know; that he might make thee know that man doth not live by bread only, but by everything that proceedeth out of the mouth of Jehovah doth man live.

4 Thy raiment waxed not old upon thee, neither did thy foot swell, these forty years.

5 And thou shalt consider in thy heart, that, as a man chasteneth his son, so Jehovah thy God chasteneth thee.
Plato would surely have approved of the Pentateuch's literary structure and these hortatory presentations of the legislation. He knew the value of preparing a people's frame of mind to receive new laws:
Ath. I should wish the citizens to be as readily persuaded to virtue as possible; this will surely be the aim of the legislator in all his laws.

Cle. Certainly.

Ath. The proposal appears to me to be of some value; and I think that a person will listen with more gentleness and good-will to the precepts addressed to him by the legislator, when his soul is not altogether unprepared to receive them. Even a little done in the way of conciliation gains his ear, and is always worth having. For there is no great inclination or readiness on the part of mankind to be made as good, or as quickly good, as possible. The case of the many proves the wisdom of Hesiod, who says that the road to wickedness is smooth and can be travelled without perspiring, because it is so very short:

But before virtue the immortal Gods have placed the sweat of labour, and long and steep is the way thither, and rugged at first; but when you have reached the top, although difficult before, it is then easy.

. . . . .

Ath. And is our legislator to have no preface to his laws, but to say at once Do this, avoid that – and then holding the penalty in terrorem to go on to another law; offering never a word of advice or exhortation to those for whom he is legislating, after the manner of some doctors? For of doctors, as I may remind you, some have a gentler, others a ruder method of cure; and as children ask the doctor to be gentle with them, so we will ask the legislator to cure our disorders with the gentlest remedies. What I mean to say is, that besides doctors there are doctors' servants, who are also styled doctors.
How rude and gruff is other (real) legislation. Not like a gentle doctor at all.
For Plato the first laws to be set out should concern marriage because that is where children are born and legislation should ideally follow this "natural" sequence of life. The form in which the laws should be drafted is still fresh on his mind, however and he says these laws
should be double in length even when shortest, because they have to persuade as well as threaten. . . .

. . . . [T]he best form, and not the shortest, is to be approved; nor is length at all to be regarded.
God's laws in the Bible do just this, as we know. They promise blessings for obedience and curses for disobedience (Lev 26 and Deut 28 and passim). Take away all the exhortations, the carrots and the sticks, and we would have much less reading, but then we would be all the poorer for it and the laws would not be nearly so memorable or effective, Plato would advise.
Not every law needs such introductory encouragements and/or warnings, however. It is possible to have too much of  good thing, after all:
Ath. I think that you are right, Cleinias, in affirming that all laws have preambles, and that throughout the whole of this work of legislation every single law should have a suitable preamble at the beginning; for that which is to follow is most important, and it makes all the difference whether we clearly remember the preambles or not. Yet we should be wrong in requiring that all laws, small and great alike, should have preambles of the same kind, any more than all songs or speeches; although they may be natural to all, they are not always necessary, and whether they are to be employed or not has in each case to be left to the judgment of the speaker or the musician, or, in the present instance, of the lawgiver.
.
Next . . . Book 5 of Laws
The following two tabs change content below.
Neil Godfrey
Neil is the author of this post. To read more about Neil, see our
About page.
Latest posts by Neil Godfrey (see all)
---
If you enjoyed this post, please consider donating to Vridar. Thanks!
---