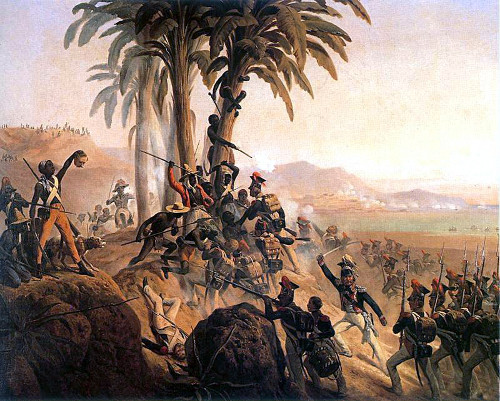 In the fury that followed the murderous rampage in a South Carolina church back in June, we Americans found our attention diverted from yet another gun incident to the ubiquitous Confederate battle flag and the unhealed wounds that its presence calls to mind. And in the ensuing noisy debate, I happened to see a right-wing meme in my Facebook stream that gave me pause. It complained about what today's schoolkids aren't taught, and it ended with this provocative statement:
Whites were the first people to stop slavery in modern times, whereas slavery continues in Africa to this day.
Presumably, the author of this bit of copy-and-paste truthiness couched this statement with "in modern times," because he or she knew that Chinese governments had banned slavery at least twice in ancient times. Even at that, China did not permanently free its slaves until the 1720s in the Yongzheng emancipation, and de facto slavery continued for decades.
The long road to emancipation
In fact many nations took steps, however slowly, toward abolition throughout the 18th and 19th century. We can't be entirely sure what the author meant by "stop slavery," but I would argue that it must encompass participation in the slave trade and the use of slaves in colonial territories; it has to include more than just the abolition of bondage in the homeland. Nor can we forget serfdom. For while we may marvel at Russia's abolition of slavery in 1723, we must also note with dismay that its serfs weren't freed until 1861. (See the Abolition of Slavery Timeline at Wikipedia.)
We could cite the 1777 constitution of the so-called Republic of Vermont, but the slavery ban contained therein had rather spotty enforcement. Moreover, Vermont was a "reluctant republic," and sought absorption into the Union as soon as it could do so.
The United States itself, of course, did not eradicate slavery nationally until the passage of the 13th Amendment to the Constitution in 1865. Before that, several nations in the Western Hemisphere had already freed their slaves. Even Great Britain, which had taken halting steps toward full emancipation in the late 18th century, did not effectively end all slavery in the empire until 1837.
We could possibly point to Norway and Denmark as the first two countries to halt participation in the transatlantic slave trade (effective 1803); however, Denmark still allowed slavery in its colonies until 1848. We might also note France, whose revolutionary government briefly outlawed slavery, only to see its return under Napoleon.
A successful revolution
But clearly, of all the places in the world with well-entrenched, industrial-scale slavery, Haiti (originally, the French Colony of Saint-Domingue) is one of the first, if not the first, in which immediate and permanent emancipation took place. And the African slaves did it themselves. In The Half Has Never Been Told: Slavery and the Making of American Capitalism, Edward E. Baptist describes how the revolution started: Continue reading "Forgotten Past: Saint-Domingue, Slave States, and the Second Amendment"