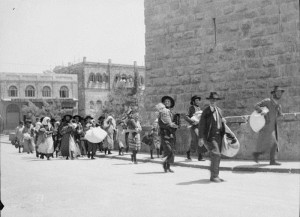 Scene One:  
At least two thousand worshippers, proclaiming, "There is no God but God; the religion of Mohammed came with the sword," attended the rally and then descended from the Noble Sanctuary [Temple Mount] to the wall, setting fire to Jewish prayer books and other devotional items. . . . .

Friday prayers [the following week] began inauspiciously. The khatib, or preacher, entered. He was attired, as usual, in the traditional green cloak worn by Muslim prelates in Jerusalem. As was also typical, he was preceded by a kavass (guard), who loudly struck the ground with his stave to announce the start of the service. What was atypical was the drawn sword that the khatib ostentatiously displayed. Sheikh Sa'ad el Din mounted the pulpit. After praising and thanking God, he called upon the faithful to defend Islam from the Jews and their plots to seize the Noble Sanctuary. "If we give way an inch to the Jews in regard to their demands at the Wailing Wall, he inveighed, 

they will ask for the Mosque of Aqsa; if we give them the Mosque of Aqsa they will demand the Dome of the Rock; if we give them the Dome of the Rock they will demand the whole of Palestine, and having gained the whole of Palestine they will proceed to turn us Arabs out of our country. I ask you now to take the oath of God the Great to swear by your right hand that you will not hesitate to act when called upon to do so, and that you will, if need be, fight for the Faith of the Holy Places to death. 

The packed congregants raised their hands in unison and swore this pledge. "Then go," the sheikh instructed them, "pounce upon your enemies and kill that you in doing so may obtain Paradise." . . . . 

Shouting, "The country is our country and the Jews are our dogs," and, "The religion of Mohammed came with the sword," the Arabs descended on the quarter with sticks, clubs, swords, and a handful of rifles. The Arab police again mutinied to join the onslaught, at the end of which twenty-nine Jews lay dead and forty-three injured. . . .

(Hoffman 2015, pp. 29-30)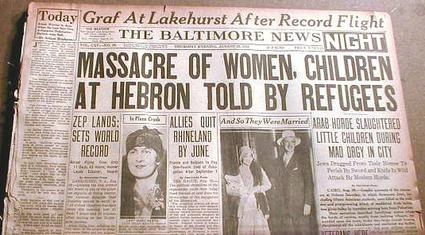 Scene Two: 
For at least four hundred years, the small Jewish enclave in Hebron had lived in peace with its Arab neighbors. . . . The five-hundred or so Orthodox, apolitical and mostly non-Zionist, Jews who lived there had remained blissfully aloof from the nationalist ferment that had gripped Palestine for most of the preceding decade. Indeed, according to two Jewish survivors, even as news of the violence that had convulsed Jerusalem reached Hebron on Friday afternoon, the anxious Jewish community took comfort from the assurances received from their Arab neighbors that "there could never be a pogrom" in Hebron because the city had remained so quiet during all prior disturbances. Hebron's Arabs had told Raymond Cafferata [Hebron's only British police officer] the same thing. . . . 

Friday afternoon in Hebron was tense but quiet. News began to trickle in of the violence in Jerusalem. Groups of Arabs were reportedly roaming Jerusalem's streets and had beaten several Jews. Cafferata, accordingly, instructed the Jewish community to stay inside and lock their doors. "Suddenly, just one hour before candle lighting" [quoting a survivor's letter to his children only days later] "pandemonium broke loose. Window panes were smashed on all sides. In our building, they broke every window and began throwing stones inside. We hid ourselves. They were breaking windows in all the Jewish homes. Now we were in deathly fear. . . .

Early Saturday morning, cars packed with Arabs brandishing long iron bars, big knives, and axes, and screaming that they were going to slaughter Jews in Jerusalem, raced up and down Hebron's streets. . . . "On to the Ghetto," [they shouted simply rushing past the meagre handful of police] . . . . 

The carnage went on for another two and a half hours before Cafferata and his men were able to restore at least a semblance of order. Hebron would account for the largest Jewish toll of Jewish deaths and injuries in the violence that continued another week. Sixty-four Jews lay dead, and fifty-four others were wounded. Only one had been killed by a bullet; all the others had variously been stabbed, hacked, bludgeoned, or stoned to death. 

Had some Arab families not hidden or protected their Jewish neighbors, Cafferata later reflected, "not a Jewish soul in Hebron would have been saved."

(Hoffmann 2015, pp. 30-31, my bolding)
Who were the "real Muslims"? Those who went on murderous rampage or those who risked their own lives by hiding and protecting Jews? Or is not that a rather pointless question if we are seeking to explain these events? If the question has any meaning at all it is an entirely apologetic or theological one: each side will say "they" represent "true Islam"! Maybe some politicians and community leaders would seek to pour oil on troubled waters and insist that only one side represents "true Islam" but of course that claim is just as apologetic and politically motivated.
The historian's quest is not to defend or condemn either apologetic claim. It is to understand the reasons for these events. The British government did not rely upon media reports but sent out a commission of inquiry to find out the underlying causes. If Islam accounts for both the murderous mob and those who protected Jews then it is useless as a historical explanation.
.
Hoffman, B. 2015, Anonymous Soldiers: The Struggle for Israel, 1917-1947, Alfred and Knopf, New York.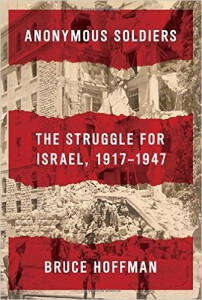 The following two tabs change content below.
Neil Godfrey
Neil is the author of this post. To read more about Neil, see our
About page.
Latest posts by Neil Godfrey (see all)
---
If you enjoyed this post, please consider donating to Vridar. Thanks!
---