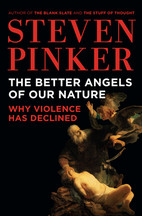 Reflections on having completed Steven Pinker's The Better Angels of Our Nature: The Decline of Violence in History and its Causes. . . .
By the time I had completed the seventh chapter of Better Angels I began to feel my existence was somehow in a surreal place. Compared with most lives throughout human history mine has been fantastically lucky and overwhelmingly privileged. The pain that follows reminders and expanded awareness of just how cruel so much of human existence has been inevitably leaves some sense of guilt and a need to to do more to justify or repay the privilege of my life to date.
Pinker helps readers appreciate just how fortunate we are to be living in the ongoing momentum of the Enlightenment where the seeds of our humanistic and scientific values were planted. (Those who argue that the Enlightenment gave birth to Hitler and the Holocaust and other modern degradations are flat ignorant — Pinker describes the charges as "ludicrous, if not obscene" — since such movements were in fact a reaction against Enlightenment values.) Our moral and rights revolutions, the growth of "liberal" values, humanistic concerns and reactions against cruelty to slaves, children, other races and classes, democratic movements, human rights of liberty and equality, workers' rights, children's rights, civil rights, women's rights, gay rights, animal rights, care for the environment — it's been an incredible moment of history.
All of this has been accompanied by scientific and technological understanding, burgeoning education and even advances in our collective ability to reason and understand — all without the would-be diversions and false-leads of dogma and religion.
Pinker does not mention it, but what we witnessed early this century when millions of people came out into the streets all around the world to protest against the threat of an imminent invasion of Iraq was surely a most significant milestone in human history. Today there is even international outrage over the single killing of a lion for sport. We do live in the most amazing times.  Continue reading "Better Angels of Our Nature"