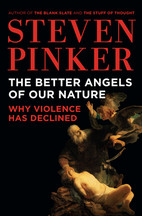 Reflections on having completed Steven Pinker's The Better Angels of Our Nature: The Decline of Violence in History and its Causes. . . .
By the time I had completed the seventh chapter of Better Angels I began to feel my existence was somehow in a surreal place. Compared with most lives throughout human history mine has been fantastically lucky and overwhelmingly privileged. The pain that follows reminders and expanded awareness of just how cruel so much of human existence has been inevitably leaves some sense of guilt and a need to to do more to justify or repay the privilege of my life to date.
Pinker helps readers appreciate just how fortunate we are to be living in the ongoing momentum of the Enlightenment where the seeds of our humanistic and scientific values were planted. (Those who argue that the Enlightenment gave birth to Hitler and the Holocaust and other modern degradations are flat ignorant — Pinker describes the charges as "ludicrous, if not obscene" — since such movements were in fact a reaction against Enlightenment values.) Our moral and rights revolutions, the growth of "liberal" values, humanistic concerns and reactions against cruelty to slaves, children, other races and classes, democratic movements, human rights of liberty and equality, workers' rights, children's rights, civil rights, women's rights, gay rights, animal rights, care for the environment — it's been an incredible moment of history.
All of this has been accompanied by scientific and technological understanding, burgeoning education and even advances in our collective ability to reason and understand — all without the would-be diversions and false-leads of dogma and religion.
Pinker does not mention it, but what we witnessed early this century when millions of people came out into the streets all around the world to protest against the threat of an imminent invasion of Iraq was surely a most significant milestone in human history. Today there is even international outrage over the single killing of a lion for sport. We do live in the most amazing times. 
Pinker argues that one of the reasons we have it so "good" (compared with the past) is Leviathan — the growth of State power as a third party with the function of keeping the peace among its citizens by acting as the arbiter in disputes and enforcing the rules that are preferably modified by democratic pressures. The long tail of human history before urban and agricultural communities, or before the beginnings of state power, was the most fragile. The studies of remains of early humans are believed by some scholars to indicate that deaths from the violence of human against human was at a higher ratio than anything since we organized into settled and strongly governed communities.
I was surprised to read this claim. There is a YouTube video clip of an interview with Noam Chomsky discussing Pinker's book where the opposing view is presented.
https://www.youtube.com/watch?v=zy0n4dbHbdA
Chomsky mentions the work of Brian Ferguson that apparently disputes the evidence of other scholars cited by Pinker. I'd like to follow up Ferguson's arguments to check this one out for myself. Chomsky can be classified as a Romantic in the tradition of Rousseau with respect to his views of human nature. (That explains his often mystifying optimism about humanity, I guess.)
Pinker explains his disagreement with Chomsky on human nature:
What I found especially rewarding in Better Angels was Pinker's discussion of the neurological and psychological insights researchers have been gaining into the fundamentals of what makes us "moral animals" and why and how we have a certain range of differences across cultures of what is and is not moral.
But before I get into that, I felt there was something missing in Pinker's explanations for the relatively peaceful state of the world today. Pinker spoke much of modern democratic states and the changes the come with "gentle commerce" yet never mentioned the fact that since World War 2, and even more so since 1991, one of the unique conditions we have witnessed is the overwhelming military dominance of the entire world by a single state.
Nor did he give much attention (I can't recall any at all) to the way a number of the major democratic states have really evolved into effective oligarchies in which power elites play and manipulate the system for their own interests, and the way the mass media has enabled this state of affairs to arise and continue.
So in failing to address these surely highly significant features of our modern civilization it seemed somewhat ironic when he pointed to research that indicated that people of higher intelligence tend to support the values underpinning our Liberal Democratic states. Rightly or wrongly memories of Julien Benda come pounding back to mind. (Benda was famous for analysing the way intellectuals of his day fell into line as supporters of the violent State that gave them their privileged social and economic status. Chomsky would be his successor today.)
But back to the fundamentals of what makes us moral animals. I learned something of the way different modules in our brains take care of the different aspects of our emotional and mental states, but in particular I was fascinated by the theories of a "grammar of social and moral norms". Those ideas have led me to taking fresh looks at some of the debates that engage us today: over terrorism, Islam, religion and science, fundamentalist (and even "scholarly") bigotry, tribalism in some sectors of modern Western societies, and just trying to lead people into new challenges and getting along with colleagues at work.
I look forward to posting up an outline of the "grammars" proposed for my own benefit as much as for the interest of anyone else since it's very new to me and it would be a step towards thinking it through more and seeing if it can help gain a better understanding of the nature of debates and relationships that we find ourselves negotiating.
The following two tabs change content below.
Neil Godfrey
Neil is the author of this post. To read more about Neil, see our
About page.
Latest posts by Neil Godfrey (see all)
---
If you enjoyed this post, please consider donating to Vridar. Thanks!
---