I recently lamented in a comment that some atheists appear incapable of understanding any argument about religion that is neither attacking nor defending it. Atheism, fundamentalism, liberal Christianity, religion generally — they do not all seem to be equally well understood as many heated arguments testify. Are ex-fundamentalist atheists still very often fundamentalists at heart as some believers claim? Are liberal Christians (and by extension many Muslims) hypocrites or at least just kidding themselves for not following the harshest precepts of their Scriptures as some atheists declare? Is the only good atheist necessarily a militant anti-theist?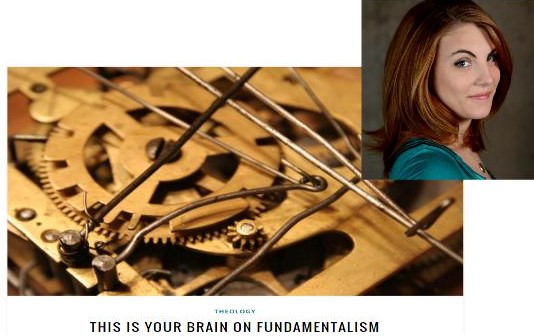 In the context of the above questions I was alerted to a post by Samantha Field, THIS IS YOUR BRAIN ON FUNDAMENTALISM, and because I felt it was being misinterpreted by one liberal Christian who sometimes comes across as a little frightened of certain atheists, and partly because I agreed with much of what Samantha wrote but had a different perspective on other aspects, I began to write up my own response. It turned into something of a dialogue and I had to cut it short for sanity's sake.
I've written many other posts on fundamentalism going back to 2007 — they (and some of Tim's) are all archived here — so this one will be added to that pile. I've learned much more about religion and cults since 2007 but my basic position may not have changed all that much.
Samantha is protesting against those atheists who appear to be recycling what in her view are fundamentalist approaches to religion. Her post begins:
I grew up in Christian fundamentalism, and now I'm a progressive Christian. Surprisingly, at least to me, that particular path is an unusual one, although probably not rare. Speaking from personal observation, it seems like the more usual route out of Christian fundamentalism isn't liberal Christianity, but atheism.
I grew up in a liberal Christian household (that branch of Methodists that allowed card-playing and dancing and belief in evolution). After a period of teen turmoil I ended up in the Worldwide Church of God (that outfit that was led by Herbert Armstrong and published The Plain Truth magazine). My exit from that cult was gradual. I continued to attend as a regular member for quite some time before I took actions that led to my departure, as I have explained elsewhere. At first I sought for replacements in some of the denominations that were relatively close to my previous beliefs such as seventh day observance (but not the SDAs) and adult baptism. Ongoing questioning of my own beliefs opened my mind to wider horizons and I eventually found myself quite comfortable regularly attending a liberal Baptist (and later for a short spell a Roman Catholic) church. I was exploring. And questioning. Anything that smacked of the old cult-like approach to faith and practice I shunned. Then I heard a radio interview with a psychologist who herself had been a devout fundamentalist (Marlene Winell) discussing not only the fundamentalist experience but even why people believe in God. That startled and worried me. I had never stopped before to think there might be any other reason why I believed in God apart from the "irrefutable proofs of creation" with all the "wonder and awe" of the universe, "fulfilled prophecy", "answered prayer" and "spiritual conversion" that all supposedly testified to his existence.
Why had I never questioned God before? Up until that time whenever I explored a question I found myself arriving at a new wall that I felt would never be breached. Though I had questioned the teachings and ways of my church I never thought I would question the Bible. That was bedrock. I "knew" that was the sure word of God. When I first came across critical studies of the Bible I had a very hard time accepting their perspective. That was another gradual process. But I still had God and Jesus firmly entrenched in my belief systems and would never lose them . . . . until, again, a catalyst from somewhere would daringly suggest it really was possible to question if anything lay behind that new wall. Questioning the very existence of God was the final barrier between my old life and the unknown (even frightening) world of atheism. The experience was traumatic as I have discussed elsewhere.
So my path out of fundamentalism was via progressive Christianity and only gradually on into atheism. Back to Samantha:
Unfortunately, it seems like there's a lot of atheists out there who gave up on their religion, but didn't give up fundamentalism. A little while ago I remarked on Twitter that it seems like atheists have more in common with Christian fundamentalists in their views on the Bible than they do with me. A few people were surprised by this. In short, it can be summed up by a saying in survivor communities: you can take the person out of a fundamentalism, but you can't always take fundamentalism out of the person.
What I'm not saying is that this is inevitable– many of my close friends are atheists/agnostics who went through a time of being progressive Christians first. Their ultimate problem wasn't fundamentalism, really, it was lack of belief. I think that's true of most (if not all) atheists, even the ones who haven't let go of a fundamentalist understanding of religion; they may not like their understanding of Christianity, but that's not why they're atheists.
Here's where things get a bit messy. Some atheists are at some fault here, but so are some of the religious believers, I think. I'll pick on the liberal Christian first.
The liberal Christian and those immoral scriptures
The Bible really does say, for example, that a follower of Jesus should hate his or her family. Liberal Christians of course find plenty of other texts in the Bible to mollify this teaching and to convert it a benign applicability to Christians today. But the point is that to do this, to dilute the offensive text, they necessarily need to reset it into the context of a lot of other passages and interpretations. It comes down to interpretation. Those who accept the literal and harsh meaning of the passage are adopting a harsh and unforgiving interpretation; those who accept a liberal and soft meaning are likewise doing so through a more socially acceptable interpretation. How one interprets and applies the passage will come down to one's personal and social circumstances.
Ditto for so many other unpleasant teachings: slavery, gays, women, authorities, science, child-rearing, money and possessions . . . The interpretation one chooses to embrace will come down to one's own personal and social circumstances. Naturally everyone will conclude that their own interpretation is really the product of sincerely humble and informed (perhaps prayerful) objective study. Their own description of their faith needs to be respected and understood.
At the same time, however, someone studying religious beliefs as an outsider cannot take those descriptive accounts of the believers at face value. If they did then they would have to conclude that God inspires many different religious groups in quite different ways and there would settle the matter.
The outside observer has to find an explanatory frame of reference for the different beliefs. The explanatory account will come from, say, the perspective of fields like history, psychology, sociology and anthropology. The explanatory account will not favour any one interpretation of the Bible over another. It will leave interpretations to others with more literary or theological interests.
To this extent, when an ex-fundamentalist atheist says the Bible is a terrible book because it commands Christians to hate their families, he or she is quite correct. But it is equally understandable why the progressive Christian will object to this defamatory accusation.
What interests the observer of this exchange is the reason the two sides embrace with conviction such contrasting interpretations of the same book.
The point here is that the progressive Christian fails to allow sufficient acknowledgement to the fact that in certain social contexts and from certain personal perspectives the Bible can indeed be validly interpreted in other ways.
This brings me to the ex-fundamentalist atheists who still cling to their fundamentalist interpretations of the Bible.
Is the ex-fundamentalist atheist still a fundamentalist?
Hostile anti-theists and mere atheists are quite correct to point out that the Bible (or any ancient sacred text) does say some pretty nasty things. What they fail to understand, however, is that their own interpretation is also conditioned by their own social and personal circumstances.
Understand that the Bible is a collation of diverse texts that were placed side by side in an effort to have some universal (catholic) appeal. Some passages are gnostic-like and spiritual; others are very literal and earthly; some are liberal; others are punitive. The fact that there are even some unsavoury passages at all is a consequence of the texts being written in ages past that knew different value systems from ones we adhere to today. Hector Avalos (The Bad Jesus) and Robert M. Price (Blaming Jesus for Jehovah) are correct to point out that the Bible's pre-modern, anti-humanistic, even barbaric teachings should have no place in the modern world.
The fact remains, however, that the Bible has always been interpreted by social majorities to support its own social developments. It was used to justify slavery and later it was used to condemn slavery. It was used to subjugate women; it is now used to liberate women. It was used as justification for persecution of gays, Jews and whoever else; it is now widely used to encourage love for "the other".
Some of its teachings have also been used to hold back social progress, but generally society wins in the long run and Churches are forced to adapt or lose followers. (Of course some groups remain stubborn in their ways but in this post we are comparing the liberal Christians with ex fundamentalist atheists.)
Atheists who attack the Bible because of its archaic values are quite correct to do so; but they are wrong to accuse liberal Christians of being hypocrites. There really is enough good stuff in the Bible to allow for a reframing of those objectionable passages and for the promotion of legitimate religious teachings of love and respect for all.
I think that those particular atheists are failing to acknowledge or understand that their own focus on what are in fact anti-social and psychologically unhealthy teachings is the consequence of their own social or personal histories. Some past posts along these lines:
I think Samantha Field is incorrect in one sense to call such atheists "fundamentalists". They are no longer following fundamentalism. I imagine they are mostly very free-thinkers and open to new ideas. Rather, they have failed to deeply understand their fundamentalist experience and why it happened to them the way it did.
(to be continued, I expect…..)
The following two tabs change content below.
Neil Godfrey
Neil is the author of this post. To read more about Neil, see our
About page.
Latest posts by Neil Godfrey (see all)
---
If you enjoyed this post, please consider donating to Vridar. Thanks!
---