Thomas Mann and Norman Ornstein show in It's Even Worse Than It Looks that since the 1970s dominant forces within the Republican Party have been working to delegitimize their political opponents and erode public confidence in their political institutions. The authors focus in particular on Republican Party threats to bring down economic hardship on Americans if a Democrat President doesn't yield to their demands — without any compromise. It's a helpful little book that puts today's surreal miasmic fog of words, claims, assertions, accusations into context.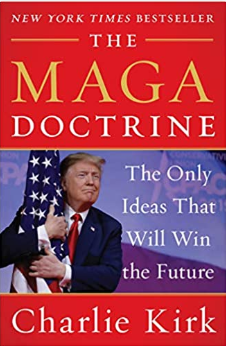 I was reminded once again of Charlie Kirk's The MAGA Doctrine and how his political opponents are portrayed. They are not a Party to be reasoned with. The thought of compromise can never occur. The Party is a collection of people who are literal villains, evil characters who must be removed entirely from any position of influence.
As an outsider, I look in vain for serious political debate between the two major parties in the US. What I see, instead, is one side constructing an Alternative Reality bubble. Their words only have meaning to anyone within that bubble and no-one else.
Obviously democracy can only work where there are tolerance and acceptance of the legitimacy of the other side's position. Throw that out and we have a kind of intolerance that allows for no rational cooperation or reconciliation. That's when one enters dangerous territory.
In this post I document one dataset of this delegitimizing process from The MAGA Doctrine by Charlie Kirk. This is a book that Donald Trump highly commends to his supporters. I take it as one fair indication of how the pro-Trump Republicans and associated far right supporters perceive their political opponents, the Democratic Party. Read the excerpts of what Kirk writes about his political opponents and see if you can find any room for serious discussion or debate. All quotes are from the electronic ePub edition, so no page numbers, sorry. By the way, as an Australian I find myself completely flummoxed by the very idea that any politician in the U.S. — Sanders or Ocasio-Cortez — is actually a "socialist". Kirk's understanding of "socialism" is simply perverse.
. . .
Democrats ignore facts; are deluded "socialists".
All thanks to the free market socialists want to destroy. If anything, economic growth rates and progress have slowed in the past few decades as the welfare state, to which the socialists give all the credit for such advances, grew. The new socialists and Democrats steadfastly ignore these facts. And it is this delusion that makes the MAGA Doctrine more important than ever.
. . .
Democrats are immoral and tyrannical. Continue reading "The End of Political Debate and the Creation of Alternative Reality"