As I read each chapter or section of Raphael Lataster's book, Questioning the Historicity of Jesus, I wrote about it here, but now that I have read the concluding pages I discover that Lataster anticipated some of the points I made along the way. Especially this one, the final footnote on the final page:
The poor criticisms offered indicate people that have already decided that mythicism must be wrong, simply because they find the conclusion distasteful, without knowing what the best arguments are, let alone how to argue against them.
(Lataster, p. 452)
There have been several responses to the work of Carrier and myself which cannot be dealt with in detail here; I shall point out their failings elsewhere. This includes the articles and blog posts by Christina Petterson, Daniel Gullotta, John Dickson, Michael Bird, James McGrath, Brenda Watson, and Simon Gathercole (and Robert Greg Cavin and Carlos A. Colombetti, who responded to Stephen Law's agnosticism). None of them add anything substantial to the debate, mischaracterising our work and typically focussing on attacking the person instead of the argument. Additionally, every single one of them completely ignored our most salient points.

(Lataster, p. 463)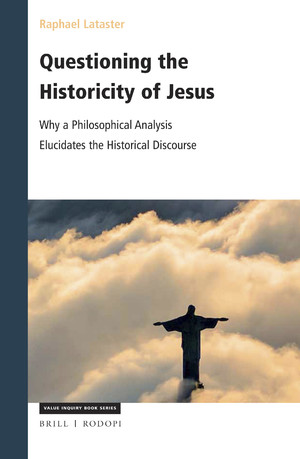 Responses by Daniel Gullotta and Simon Gathercole have been addressed in-depth on this blog. Lataster's criticisms are entirely on target. A decade ago a colleague of Philip R. Davies (to whom Lataster's book is dedicated) spelled out in detail the unscholarly tactics of "conservative scholarship" in addressing the so-called "minimalists" who dared question the historicity of the Davidic kingdom of Israel. Niels Peter Lemche's description of those tactics applies just as much to the critics of those who question the historicity of Jesus:
Critical scholars should be critical enough to realize the tactics of the conservative scholars: never engage in a serious discussion with the minimalists [substitute mythicists]. Don't read Davies, Thompson, and Lemche [substitute Doherty, Brodie, Carrier, Lataster]; read books [or articles] about them!
For a more detailed account of Lemche's criticisms see The Tactics of Conservative Scholarship (according to J. Barr & N-P. Lemche).
As we have seen, Lataster mentioned in the opening of his book names of mainstream scholars who accept the legitimacy of doubting the historical existence of Jesus. More names are added in his final chapter.
Lataster's concluding call for agnosticism concerning the historicity of Jesus contains all the punch of the preceding 440 pages. His argument has been three-fold:
the case for historicity (part 1, chapters 1 to 3) demonstrated the frequently unscholarly and generally fallacious efforts of recent attempts by mainstream scholars to present an argument for the historical existence of Jesus, and how such efforts effectively (unintentionally) support the case for agnosticism;
the case for agnosticism (part 2, chapters 4 to 6) demonstrated the hollowness of the foundations (both source foundations and the methods by which certain inferences are drawn from these sources) for any assertion that Jesus did exist
the case for mythicism (part 3, chapters 7 to 9) demonstrated that one does not need a historical Jesus to explain the evidence we have for Christian origins and that Christianity began with a belief in a heavenly (not historical) Jesus is indeed plausible.
Lataster has made it abundantly clear where the sound scholarly approach lies:
But look at what Casey did. Look at what Ehrman and the others do. These prominent historicists strangely and illogically appeal to the majority, appeal to authority, appeal to possibility, and, worst of all, appeal to innumerable sources that don't even exist, in order to prove something that is supposed to be very obvious, something that is allegedly borderline insane to deny. This must stop. Scholars cannot be allowed to continue building on previous scholarship in the field, when the foundations – such as the appeals to hypothetical sources – are highly conjectural to begin with. If we ahistoricists argued like they do, we would be overlooked (well, more than we already are), and rightly so. These historicists did not argue in a transparent probabilistic fashion; they merely declared that their hypothesis is true or almost certainly true, and that anybody who's anybody agrees with them. Contrast that with the approaches of Carrier and myself. Who are the ones trying to posit a wealth of non-existing foundational sources, whilst disregarding the impact of numerous actually existing sources? And who are the ones simply applying and asking others to apply transparent probabilistic reasoning to the sources that we do actually have access to?

This all should make it easy to figure out which scholars have an agenda, and which scholars merely go where the evidence leads. I'll leave it to you to decide if you prefer the arguments of the people that used evidence, and logic, and had no real desire to deny the existence of a Historical Jesus, or if you prefer the wild and unsubstantiated claims about near-infinite non-existing sources, and just so happen to arrive at conclusions that placate their ultimately Christian benefactors. I strongly encourage philosophers and historians, and even other scholars, from outside the field to continue to scrutinise the methods and conclusions of these Biblical specialists. Several educated outsiders – and even some insiders – so far have done so and discovered that the emperor has no clothes.

(Lataster, p. 450)
Exactly. As for mythicists being driven by some need to debunk the existence of Jesus, such an accusation is entirely without evidential support and actually flies in the face of the evidence.
Calculations
But I have jumped ahead. Before driving home the above conclusions Lataster drew together the Carrier-based arguments of the previous chapters and set out first, Carrier's probabilistic summaries of them all, and secondly, his (Lataster's) alternative calculations. Fortunately for some, no doubt, Lataster greatly simplifies Carrier's Bayesian conclusions and makes it clear that even if one does not accept every evaluation one can scarcely deny that there must be some room for doubt about Jesus's existence. Lataster further quotes at length Carrier's lengthy proposal for how Christianity could plausibly have arisen from belief in an entirely celestial Jesus. The minimal facts that can be established by sound appeals to historical reasoning about the sources are also listed and they, too, leave room for Christianity having arisen without a historical Jesus. The common objections — that the Jews would never have invented a dying messiah, certainly not a crucified one — are contradicted by the clear evidence.
One would love to find a serious critique of Carrier's overall case for mythicism:
Unfortunately, apart from myself, nobody has provided a proper critique of Carrier's defence of mythicism in the academic literature.25 Indeed, Bart Ehrman has explicitly rejected the challenge. On his blog, Ehrman declared that he is "pretty much staying out of the mythicist debates", even though he effectively fanned the flames by publishing his now infamous Did Jesus Exist?26 A fan of his, who thanked Ehrman for changing his life, left the following comment:

I have read Did Jesus Exist, and many other of your books, I'm a big fan… but not a scholar. The fact is that we just don't have enough evidence to make a final judgment whether Jesus existed. Both sides of the argument are fascinating, and I don't think there is a greater question to be answered… I am hanging on every published word from you titans of scholarship… I do really think that Dr. Carrier has made a very serious case against Jesus's existence, and I would love to read your next book that attempts to refute his arguments in much the same way that Lataster trashed your book. I have the highest respect for you Dr. Ehrman, but there has been a gauntlet thrown down…please pick it up!

And this, ladies and honoured transgenders and gentlemen, is the historicist champion's emphatic response:

Frankly, I'd rather spend my time doing other things!!

We can thus add another element to Ehrman's Law. If a critic notes deep flaws in your method, just ignore them, and continue to pretend that your case has been well made.

(Lataster, p. 436)
As Lemche said (quoted above), that kind of response is a tactic. It is meant to shut down the debate by declaring it is not worth a professor's time. We have one more instance here of a public intellectual short-changing his responsibility for advancing public knowledge.
Lataster follows his discussion of Carrier's probabilistic assessment of the evidence with his own. Lataster proposes even more generously than Carrier odds in favour of historicity. Let's grant the canonical gospels to be equally valid evidence for both hypotheses, historicity and mythicism. The same for the epistles. Even then we are obviously left with ample justification for agnosticism.
Devil's advocate
Finally, Lataster discusses ways one might challenge and overturn Carrier's overall case for having reasons to doubt the historical existence of Jesus. In short, the way to do that is to demonstrate that Carrier's probabilistic analyses of the various strands of evidence are seriously flawed. Some critics have strongly objected to Carrier's point that the Jesus of the canonical gospels scores relatively high on the Rank-Raglan hero scale claiming that Carrier has thereby unfairly prejudiced the argument in favour of Jesus being a mythical character. But to overthrow Carrier's point the critics need to face the fact that Carrier acknowledges that genuinely historical persons do also score relatively highly on that same scale and to demonstrate that Carrier's point has in fact unfairly skewed the final result. The point of the Bayesian approach is to make the most reasonable assessment of all the data, returning and revising previous estimates in the light of new information, and so on. It matters not so much where one begins, Lataster points out, if along the way all of the relevant data is factored in; that being the case the end result should work out the same.
"Glory of agnosticism"
The final pages embrace a discussion of the reasonableness of being agnostic about the existence of Jesus. Agnosticism speaks of humility and intellectual honesty at the best of times but especially so given the very patchy state of the evidence we have to work with. Further, with a major portion of that evidence being the Pauline writings, agnosticism is doubly obligatory given the extent of our uncertainty about the original state of those letters, which ones (and how much of each one) are truly genuine, along with the many ambiguities and questions that arise from them.
Lataster reminds readers of another point he (with Carrier) claims is very significant, and that is the appearance of Christianity "just at the same time" as would have been indicated by a reading of Daniel by messianic Jews. I am not so sure that the evidence does support that notion (the belief that Daniel prophesied the appearance of a messianic figure around the time Jesus supposedly appeared), but I certainly do see ample justification for linking gospel narratives to the historical destruction of Jerusalem in 70 CE (or even, just possibly and allowing for radical re-interpretations of sources, 135 CE).
We have already spoken of Philip Davies and his declaration that biblical scholarship must allow for agnosticism on the Jesus figure in order to reach "academic respectability". Here at the conclusion Lataster informs us that a few months before his death Davies informed him that he is himself agnostic concerning the existence of Jesus.
Lataster commends another scholar who was a colleague of Davies, and that is James Crossley. (We spoke earlier of Crossley, too, as the author of the Introduction to Questioning the Historicity of Jesus.) I find Lataster's discussion of Crossley's position encouraging: it places Crossley in a somewhat courageous light, I think. Not that Crossley is a mythicist, but he is clearly sympathetic to allowing full freedom for the discussion to take place. Crossley is a colleague of Chris Keith and Anthony LeDonne running The Jesus Blog, and Keith has made his "forthright" views of mythicism (and me) "painfully" clear in the past. Crossley is also on the editorial board of the Journal for the Study of the Historical Jesus. Another member of that same board is Michael Bird who has stated that the journal will never publish anything sympathetic to an argument questioning the historical existence of Jesus. Crossley was also the student of the same Maurice Casey who wrote Jesus: Evidence and Argument or Mythicist Myths? And Crossley is highly esteemed by Jim West (who also highly esteems Brill who has published Lataster's book) who is not known for having kind words for anyone "tainted" with suspicion of "being a mythicist". The pressure is collegial, personal, institutional, not intellectual. Indeed, Lataster has well established his case:
All of Carrier's claims about mythicism proper, and my own, could all be mistaken, and yet Historical Jesus agnosticism is still assured, since the hypothesised failure of the case for mythicism doesn't address the problem that the case for historicity is nowhere near a standard that objective philosophers should accept.

(Lataster, p. 458, my bolding)
After all, as Lataster explains, we only need to focus on two points to justify this position: the unreliability of the gospels and Paul's focus on a heavenly Jesus.
And that's the benefit of agnosticism. It is far more defensible than outright mythicism, as Lataster makes clear (p. 459, my formatting):
If the aim is to argue against the truth of Christianity in general, 'mere' uncertainty over Jesus' historical existence still carries with it tremendous polemical power. . . .

If the aim is to expose bad scholarship and make the Academy more transparent and accountable, agnosticism does that fine, without the burden of having to simultaneously argue for notions too ahead of their time.

If the goal is to advance mythicism, an important step towards that goal is assured, akin to how many theists moving towards deism go on to become de facto naturalists. . . .
Lataster places his hopes in "future generations" of scholars, especially as more retiring scholars speak openly as they open the doors to that new generation.
After all, as Lataster points out,
every crucial aspect of the best cases against historicity, and for agnosticism and mythicism, is already accepted in mainstream scholarship. That is not to say that all – or even a majority – of scholars accept all of them, but that each of these components is held to by a significant number of mainstream scholars, and even Christians. In other words, these sceptical theories may not be so 'fringe' or 'unthinkable' after all.
Example:
– Pre-Christian Judaisms were very diverse, and much is still unknown about them.
– Pre-Christian Jews believed in multiple realms, and heavenly counterparts.
– Pre-Christian Jews searched and reinterpreted the old scriptures for contemporary guidance and prophecy.
– Pre-Christian Jews believed in a divine and celestial Messiah/Christ.*
– Pre-Christian Jews believed in a suffering, dying, and rising messiah.
– Pre-Christian Jews required and developed spiritual solutions to the physical problems caused by the inaccessibility/destruction of the Temple.
– Early Christians reinterpreted the old scriptures and perceived Jesus as a divine, suffering, problem-solving Messiah.
– The Epistles – especially Paul's – say little to nothing about a Historical/Earthly Jesus, and show little to no awareness of the Gospels.
– The Epistles – especially Paul's – describe a Celestial Jesus communicating from Heaven.*
– Paul depicts Jesus as being killed by celestial demons.
– Paul's writings are influenced by Pagan ideas, and by Philo (or sources Paul and Philo share in common).
– Paul's stated sources for Jesus are the old scriptures and revelations.
– Paul is himself an unreliable source.
– Paul's writings were cherished by 'heretics' and later edited by the 'orthodox' to make the existence of the Gospel Jesus more obvious.
– There are no authentic pre-Gospel references to Jesus having any biological siblings.
– Early Christianity has much in common with the secretive mystery religions.
– The case for Jesus' historicity effectively rests upon the canonical Gospels.
– The Gospels post-date the Epistles, especially Paul's.
– The Gospels and later documents tend to 'flesh out' the story.
– The Gospels' Jesus has much in common with purely mythical figures.
– The Gospels are unreliable, filled with supernatural and mundane fictions.
– Current use of the Criteria of Authenticity is very flawed.
– The later Gospels build on Mark, the first Christian document to unambiguously situate Jesus on Earth, in recent history.
– Mark allegorises Paul's writings.*
– Mark allegorises – directly and indirectly – the Old Testament.
– Mark is significantly based on other Jewish writings.
– Mark is significantly based on Pagan writings.
– Mark and the other Gospel writers fabricated much of their Gospels.
– Positing hypothetical sources underlying the Gospels is illogical, unnecessary, and diverts attention from extant sources.
– The Christian extrabiblical sources are of little use.
– The non-Christian extrabiblical sources are of little use.
– The best evidences for Jesus' historicity are inauthentic.
– In light of the state of the sources, it is possible that Jesus did not exist.
The three asterisked points "demonstrate that the Celestial Jesus theory is reasonable, and alludes to an organic development from already-existing Jewish beliefs" (Lataster, pp. 460 f)
One final quote
Interestingly, while progress is slow in academia, laypeople seem ready to accept that Jesus' existence is far from certain. A recent "Church of England survey found that four in 10 people did not believe Jesus was a real person". Astonishingly, only around 2 in 10 people surveyed were identified as atheists or agnostics; Christians made up the biggest group. See BBC. "Jesus 'not a real person' many believe," accessed 04/11/2015, http://www.bbc.com/news/uk-34686993.
I have to thank Brill for giving me access to a copy of Raphael Lataster's book in order to share my thoughts on it here. And, of course, I have to thank Raphael Lataster for undertaking the research to complete such a thorough assessment of the case for holding some reservations about the historical existence of Jesus and offering a simplified overview of Richard Carrier's On the Historicity of Jesus.
---
Lataster, Raphael. 2019. Questioning the Historicity of Jesus: Why a Philosophical Analysis Elucidates the Historical Discourse. Leiden: Brill. https://brill.com/abstract/title/54738.
---
The following two tabs change content below.
Neil Godfrey
Neil is the author of this post. To read more about Neil, see our
About page.
Latest posts by Neil Godfrey (see all)
---
If you enjoyed this post, please consider donating to Vridar. Thanks!
---