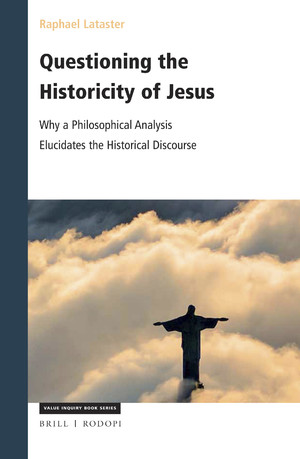 I had hoped to cover Raphael Lataster's sixth chapter, The Problems of Paul, in a single post but real life circumstances have obliged me to spend smaller amounts of time per day here so I'll break it up into several posts.
I found Lataster's chapter on Paul to be one of the best sections of his book so far. Lataster avoids common traps too many mythicists fall into when addressing Paul while at the same time he makes sound use of serious critical evaluations and broader questions pertaining to our sources to make what I consider to be very solid arguments without letting their potential controversy deflect him from course.
Some radical scholars have questioned the existence of Paul but Lataster rightly sidesteps that question as a red-herring in the context of asking if Jesus was a historical figure. Whatever we do with "Paul" himself the epistles in his name still need to be addressed.
Physical or Spiritual?
The most fundamental question that is asked of Paul's letters in historicist-mythicist debates is whether the letters present Jesus as a physical or exclusively spiritual being. Obviously, if our (possibly) earliest sources for Jesus consider him a spiritual entity then the historicity of a Jesus figure has to be questioned. On the other hand, even if we can establish that Paul definitely thought of Jesus as a flesh and blood human being on earth in a recent past then I don't believe we can conclude that that of itself establishes Jesus as a historical figure. History is replete with stories and legends of people who are believed to have existed yet whom we know to be mythical. Nonetheless, it goes without saying that an earthly Jesus in Paul's letters will open up the possibility of Jesus being historical more than the alternative.
What is most significant about the evidence in Paul's writings, Lataster stresses, is its ambiguity, or at least its potential to be subject to alternative interpretations. That is all that is needed to legitimize the question of whether Jesus was historical or not.
In Paul's letter to the Galatians we read that Jesus was "born of a woman" and that would seem to end the discussion as to whether Paul thought of Jesus as a literal human being — except that Lataster points readers to Bart Ehrman's discussion of this passage in Orthodox Corruption of Scripture which notes
a) there is compelling evidence in the writings of the earliest church fathers that while surrounding passages in Galatians were well known the particular passage with "born of woman" is not in evidence at all, even though it would have served decisive blows in the theological arguments those fathers were attempting to make;
b) that the word translated "born" is not the usual word for "born" but another word that carries ambiguities about the actual process being described and which has significance for various theological debates in the second century.
Lataster further raises the possibility that the passage was originally meant to be understood allegorically but I find the arguments raised for that possibility seem to be slightly strained against the natural reading of the text. (I have the same difficulties with Richard Carrier's case along the same lines in On the Historicity of Jesus.) The allegorical portion of the text is made explicit and it appears to me to be introduced to inject a certain meaning into "real events" in the preceding verses. But that's all a minor detour.
On the same question as to whether Paul's writings speak of a human or exclusively spiritual Jesus Lataster further addresses a more general point that I find to be otherwise largely overlooked in this debate: Continue reading "Review part 6: Questioning the Historicity of Jesus / Lataster (The Problems of Paul – 1)"