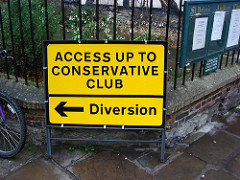 In 2003 Niels-Peter Lemche posted a blunt article addressing the unscholarly tactics of conservative scholars. He noted how even historical-critical scholars had come to resort to the same polemics as conservatives in their efforts to "crush so-called 'radical' critical scholarship."
There may be a number of explanations for this strange fact. One may be that the majority of critical scholars originate within a religious milieu and at the bottom of their hearts are conservatives without probably realizing this. Thus, critical scholarship represents a kind of breaking away from one's own background. The changing attitude towards even more critical scholars questioning, e.g., the very existence of King David, may have to do with the fear of totally losing the tradition-after all Joseph and Mary went to Bethlehem so the new David could be born there! Somehow there seem to be questions that we are not allowed to ask.
The above is cited from Niels Peter Lemche's 2003 post, Conservative Scholarship-Critical Scholarship: Or How Did We Get Caught by This Bogus Discussion on Bible and Interpretation.
Surely we find the same motives for these same tactics among those biblical scholars who are most vociferous in their polemics against the very idea of questioning the existence of Jesus Christ, also.
I quote sections from Lemche's article here that look very like the same sized shoe that fits the reactions of biblical scholars against Christ-mythicism.
Name-calling and image-management
It is not all name-calling, however. Or rather, the name-calling takes the form of a more subtle condescension:
Conservative scholarship is on the move, often disguising itself as mainstream scholarship. Part of being mainstream has to do with being reconciliatory – maybe with a touch of condescendence – asking people in the frontline to behave, abstain from labelling and name-calling. Professor Provan's contribution to this discussion is a perfect example of this new attitude, claiming the highest level of scholarship even though other interests may be at hand at the same side. . . .

. . . .  in creating an image of a scholar who does not know his stuff. It can be done in a gentle way, as in Long's introduction. It can be sharpened as in the quote by J.K. Hoffmeister, cited in Long's introduction, or it can be rude as found in several publications by W.G. Dever and other scholars on the same line like G. Rendsburg. The meaning is the same: do not discuss the points made by these people; just say that they are incompetent.

There are several kinds of name-calling, but in the end, they all tend to impress a readership in such a way that it will simply abstain from reading material written by members of the group characterized by the name-calling. The worst form is the slanderous labelling such as the one found in Magen Broshi's review in the Jerusalem Post of Thomas Thompson's The Bible in History– a very negative review in itself –       ending with a note that informs the reader that Thompson's favored readings are "The Protocols of Zion." As Thompson told me, this put an effective end to the sales of the book on the American market, and once it aired, it seems to have been repeated so many times that many people believed it to be true. Such slander can be dangerous to the scholar so characterized but also to his relatives. . . .
Thompson has also written of the "Messiah Myth" to demonstrate the extent of this motif throughout Middle Eastern literature and to place the New Testament Gospels within the broader context of this literature. He has also challenged the a priori assumption behind historical Jesus studies that there ever was a historical Jesus behind the gospel narratives. New Testament theological scholars have been just as quick to dismiss Thompson's scholarship in this area, too. March 8 2010, July 9 2010,
What is the aim of this labeling? Here it is interesting to compare with the characterization of conservative scholarship in James Barr's book on fundamentalism where Barr in his own acid way reviews the tactics of conservative scholarship. We may summarize Barr's argument in this way: The advice to the novice in biblical studies is never engage in any serious way in a discussion with non-conservative scholars. You should just denounce them as incompetent and not worth reading and continue this tactic until people believe you. Barr, himself born into an evangelical environment, has no doubts about the background and motivation of the conservative standpoint. . . . . there is no need to quote dogma, no need to indulge in heated religious controversy. One simply and calmly states the evidence from outside the Bible that shows how unnecessary and how completely wrong the entire series of critical questionings has been. … Indeed, it is a necessity of the conservative argument . . .  that it makes at least a pretence of impartiality.
I hear another echo from more recent discussions in which my citing of Eric Hobsbawm's remark on a point of basic motherhood logic of historical methodology elicited a retort about his left-wing political interests.
The next step is to introduce the criticism of minimalism by Gary Rendsburg, who, on his homepage, has the following words to say about this group of scholars:

…To give you the names of the four best known among them, they are Thomas Thompson, Philip Davies, Niels Lemche, and Keith Whitelam. Some of them are driven … by Marxism and leftist politics. Some of them are former evangelical Christians who now see the evils of their former ways. Some of them are counterculture people, left over from the 60s and 70s, whose personality includes the questioning of authority in all aspects of their lives. But the two most important elements in the profile of these scholars are the following. First, almost without exception, these scholars have no expertise in the larger world of ancient Near Eastern studies …. Second, … almost without exception, the scholars of this group are not Jewish….Furthermore, and I do not hesitate to use the terms, these scholars are driven by anti-Zionism approaching anti-Semitism.
Similar accusations of ignorance of the relevant scholarship, and even of a hostile anti-Christian agenda (tantamount to Holocaust denial) have been levelled against those arguing a mythicist case.
Here we have an example of the same sort of criticism; this time it is not presented by a conservative scholar in the narrow sense of the word. Nevertheless, Rendsburg follows their example by using a language that has been colored by remarks such as those found in evangelical literature. . . . Rendsburg is very outspoken in his efforts to ostracize the minimalists. It is a war cry, intending at burying his hated opponents, and although it is not printed in the usual way, but published on an official homepage of McGill University, it is no less serious in its accusations of the minimalists for being anti-Semites. Rendsburg implies that their writings are similar to those found in Mein Kampf. He is aiming at destroying the minimalists without ever engaging in a serious debate with them. In this way, conservative theology and a modern political movement combine forces-strange bedfellows!
No-one has compared writings of Christ myth proponents to Mein Kampf, but I don't need to cite occasions where they have been compared with anti-intellectual Creationist literature.
Another reason for this
In my opening paragraphs I cited Lemche's view of a reason for this hostility. He offers another possible reason.
Another explanation may have to do with the change of gravity within biblical scholarship. A generation ago the center was definitely Europe, and here German scholarship was unquestionably the flagship. European scholars were all brought up in the shadow of de Wette, Wellhausen, Kuenen, Alt, Noth, and von Rad, and without accepting these scholars as leading stars; nobody would be allowed to enter the temple of academic biblical studies. It is true that some critical voices were raised . . . [But] no conservative, i.e., evangelical scholar would ever be allowed to contribute.

Now days, biblical scholarship is dominated by American scholars, presenting a much more colorful picture. Historical-critical scholarship has no monopoly like it used to have in Europe; academic institutions may be – according to European standards – critical or conservative, but in contrast to the European tradition, these very different institutions will communicate, thus lending respectability also to the conservative position.

This definitely represents a danger to biblical scholarship as an academic discipline in the European tradition. Entertaining a dialogue with an opponent who has different goals from the ones of the critical scholar means the same as diluting one's own position: in the universe of the critical scholar, there can be no other goal than the pursuit of scholarship-irrespective of where his investigations may lead him or her. . . .

Critical scholars should be critical enough to realize the tactics of the conservative scholars: never engage in a serious discussion with the minimalists. Don't read Davies, Thompson, and Lemche; read books about them!
The last paragraph above certainly encapsulates much of the hostile criticism of mythicism among NT scholars: one rarely encounters an outspoken critic (whether in academic and other discussion groups or elsewhere online) who can demonstrate a first-hand familiarity with publications arguing the mythicist position. McGrath is one who has repeatedly put out blog posts asking for others to help him "understand" mythicism, and has advised readers to turn to the likes of Metacrock and Bernard Muller, Shirley Jackson Case and even unprofessionally commending a Wikipedia article in large part based on methods proposed by an early twentieth century apologist for the role of the supernatural in history.
Ideology
One last point often included in the discussion has to do with ideology. Here the minimalists are accused of pursuing a hidden agenda. They are ideologically against the Bible bashers, as Dever sometimes calls us. They enjoy destructing the Bible and have no respect for tradition-not to say traditional critical scholarship. . . .

Thus, it is never understood that we did not start with ideology. On the contrary, as historical-critical scholars of the old school, we started with critical scholarship as it used to be – trained in the European academic tradition already described – but we did not stop when the results were disconcerting and bewildering. The demolition of the history of ancient Israel proceeded along a logical line of advance from the patriarchs, via the Exodus and the conquest, over the Period of the Judges to David and his time, and the center of discussion has now moved on to the late pre-exilic, the exilic, and the post-exilic periods. It is correct that havoc followed in the wake of progress, but it was certainly not because of a preconceived ideology different from the one shared by the majority of historical-critical scholars.

By accusing a special group of critical scholars of today of being ideologists, the conservative scholars simply invert the fact that they are themselves embedded in religious communities with conservative ideologies. Barr's study on fundamentalism is more than twenty-five years old and refers to a different situation, but the tactics of the conservatives are the same, and nothing has changed.
The same accusation has been directed at mythicists. They are hypercritical and negative, it has been said. I particularly relate to the section I highlight in the middle paragraph above. That is the path that led me to being persuaded that the evidence of early Christian literature strongly points in the direction of Jesus never having been a historical person. Christianity's origins were diffuse and complex, and the canonical gospel narrative was a late evolution directed by the demands of early Christian sectarian political rivalry.
If Lemche's comments on scholarship's hostility against "minimalism" appear to be spot on, then we can certainly understand why we find the same type of hostility against a hypothesis that is at least as old as Bruno Bauer. If the thought of losing King David is threatening enough, how much more threatening must be the possibility that we no longer need a historical Jesus to explain Christianity!
The following two tabs change content below.
Neil Godfrey
Neil is the author of this post. To read more about Neil, see our
About page.
Latest posts by Neil Godfrey (see all)
---
If you enjoyed this post, please consider donating to Vridar. Thanks!
---