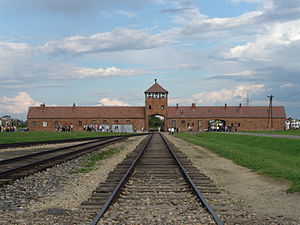 The comparison of Christ Mythicism with Holocaust denial is flippant and derisive (or maybe sometimes ignorant). So nothing I post here will deepen the thoughts of those who make the comparison.
But I also think it is not a bad idea to have some attempt on record — however brief — a simple exposure of the fallacy of this analogy.
From Wikiquote:
The very logic that tells us there was no Jesus is the same logic that pleads that there was no Holocaust. (Nicholas Perrin)

Most scholars regard the arguments for Jesus' non-existence as unworthy of any response—on a par with claims that the Jewish Holocaust never occurred or that the Apollo moon landing took place in a Hollywood studio. (Michael James McClymond)

One has to look at historical evidence. And if you… If you say that historical evidence doesn't count, then I think you get into huge trouble. Because then, how do… I mean… then why not just deny the Holocaust? (Bart Ehrman)

The denial that Christ was crucified is like the denial of the Holocaust. (John Piper)
And Richard Bauckham even uses the Holocaust to indirectly prove by inverted analogy the "historical truth" of the resurrection! (Bauckham 18d and 18g)
I personally think there is something obscene about biblical scholars using the Holocaust to leverage their intellectual positions. I can't imagine being completely relaxed about it if the Holocaust had immediate personal associations in my own life.
The comparison of Christ Mythicism with Holocaust denial is flippant and derisive (or maybe simply ignorant in some cases). So nothing I post here will deepen the thoughts of those who make the comparison.
But I also think it is not a bad idea to have some attempt on record — however brief — a simple exposure of the fallacy of this analogy.
(Another common analogy is to insist rhetorically that there is as much or more evidence for the historical existence of Jesus as there is for Julius Caesar or other ancient figures. I have dealt with that argument several times now, most recently here. Those who say this might be absent-mindedly flippant or simply ignorant.)
Deniers answered by the Big E
Deniers of the Holocaust have questioned details of the evidence advanced for it. Yes, there were executions of Jews, communists, homosexuals, Romany and others, but nowhere near the scale as has been widely claimed (6 million Jews). And there is no evidence of any order from Hitler for their extermination. These sorts of claims have been answered publicly many times.  See, for example:
From Wikipedia's Holocaust Denial article: Reports on and criticisms of Holocaust denial
The contrasting nature of evidence in Historical Jesus studies
One historical Jesus scholar, say Sanders, declares it a bedrock historical fact that Jesus "did something" in the Temple that became known as the "cleansing of the temple" in the Gospels. Another historical Jesus scholar, say Paula Fredriksen, declares that the evidence is against this being a historical fact at all. Scot McKnight has pointed out that the so-called "facts" of historical Jesus studies are not inferred from evidence, but from "criteria". So the criterion of embarrassment says that a narrative detail (e.g. the disciples deserting Jesus in Gethsemane) that is embarrassing to later devotees of Jesus is likely to be true, because it was not in the interests of those followers to record it; while the criterion that an event that is declared to be a fulfilment of prophecy (e.g. the disciples deserting Jesus in Gethsemane) is likely to have been invented simply to "prove" the fulfilment of a prophecy.
Frederiksen has said that we have two incontrovertible facts about Jesus: that he was crucified by Pilate and that his disciples were not so crucified. Yet when one looks for the grounds for these "facts" one finds nothing more than a single Gospel (that of Mark) as their source. The others — even John according to some scholars — copied and adapted Mark's story. And what is the evidence for the historicity of Mark's gospel? Christ Myth denier and Historical Jesus advocate Albert Schweitzer himself admitted that there is NO reliable evidence surviving that corroborates the historicity of the narrative events of the Gospel. The "incontrovertibility" of these facts is even further undermined when one realizes Fredriksen fails to address the fact that outside the canonical Gospel tradition there were other very early views that Jesus was crucified by Herod, not Pilate, or that he was crucified under Claudius, and not Tiberius. And the dogmatism underlying the assumptions of the modern Quest for the Historical Jesus has been interpreted by Dieter Georgi as a survival reaction on the part of "bourgeois" Jesus historicism from the crises at the turn of the twentieth century.
So Christ Mythicists do not have to cynically or hypersceptically doubt one set of evidence that is available. They merely have to point to the absence of corroboration for what is, at origin, a single narrative, and one whose details were not uniformly accepted for quite some generations subsequent to the time it appears to have been written.
While quite a few scholars have been offended by the notion that people might take seriously the Christ Myth theory, I know of no online website that answers their claims with evidence that might in any way be compared with the above sites answering the claims of the Holocaust deniers. This seems a curious lack.
One can also find websites easily enough that with dot point after factual dot point of hard evidence refute the arguments of the Moon Landing deniers. Just type the words moon landing hoax in Google to see them all.
And I have several excellent books with me by reputable scientists who found the time and patience to clearly lay out in layman's language the facts of the evidence for evolution, and that answer the arguments of Creationists with clear, logical argument and details of very specific evidence.
It is instructive that by contrast Joseph R. Hoffmann has recently had a 1920s! book by Goguel republished to "answer" the Christ Myth arguments. This is a most curious exercise given the failure, as far as I am aware, of anyone to challenge Earl Doherty's  demolitions of Goguel's arguments.
[Since writing this, Hoffmann has notified me that what I wrote here misrepresents the reason for his having Goguel reprinted. See his comment here. I have addressed Hoffmann's misrepresentation of Doherty's work so I can plead no excuse for any misrepresention myself.]

Meanwhile, a couple of erstwhile commenters to posts on this blog "promised" a number of times that Maurice Casey is expected to publish a rebuttal of the Christ Myth idea in a couple of years from now. These "warnings" seem poor substitutes for arguments that one might have thought would be timely enough to be advanced right now.
Conspiracies?
Holocaust deniers often claim there has been conspiracy on the part of the War victorious powers to concoct evidence for the Holocaust. For all the efforts of those Historical Jesus scholars who also accuse Jesus mythicists of conspiracy theories, I know of none. Certainly none by Doherty, Price, Thompson, Wells, Drews.
Historical Jesus scholars deluding and flattering their enterprise
In sum, when historical Jesus scholars flippantly dismiss Jesus mythicism as comparable to Holocaust denial, they are deluding themselves over the real nature of the evidence they deal with. Holocaust evidence is tangible, real, palpable, readable, touchable, visible, audible, testable even in court. It is primary, abundant, corroborated a thousand times over. It is readily and freely publicly accessible.
Historical Jesus evidence is inferential — not inferred from facts, but inferred from arguments over criteria applied to narrative details that are nowhere corroborated. Corroboration means more than simple multiple attestation. Multiple attestation may (and in historical Jesus studies often does) mean nothing more than multiple repeating of something — like multiple testimonies of alien abductions. Multiple attestation only carries weight when it can be established that the different witnesses are truly independent.
Historical Jesus scholars know all of this. They know the weaknesses of the evidence at hand. But they also immerse themselves in it as their livelihood. Their scholarly reputations are reliant upon it. So it is easy to slip into denial of the reality of what they do work with.
The following two tabs change content below.
Neil Godfrey
Neil is the author of this post. To read more about Neil, see our
About page.
Latest posts by Neil Godfrey (see all)
---
If you enjoyed this post, please consider donating to Vridar. Thanks!
---