This is an exploratory essay, not much more than a diary of disorganized thoughts on my recent experience with an atheist discussion forum.
After much delay I finally enrolled as a member of the Atheist Foundation of Australia (AFA) Forums to contribute to a discussion on the historicity of Jesus. I had been encouraged by the report that a growing number of members there appeared to be open to the view that Jesus possibly had no historical existence but I still should have done my own homework on the nature of the site and character of its members before submitting my first comment there. After thinking over my time there and doing some rather belated review of the forum (or congregation of forums) I believe that the best comparison I can make to that "atheist community" is that it is very like a religious cult. It is certainly a form of a religious or church substitute for the newly faithless or for the long-time faithless who have never managed to outgrow their childish level of thrill at discovering they can break rules and social norms (like, ooh, so very naughtily using offensive words as often as they feel like it) without the fear of hell hanging over them.
I also think I finally understand why so many atheists viciously attack the Christ Myth theory.
Before continuing let me list a little of the distant and immediate background to my thoughts. Firstly, I spent too many years in a religious cult in addition to a number of years doing a lot of reading of works by psychologists and others who explained the cult experience and provided assistance in recovery. (See the links in the side bar to Vridar profiles for a few details.) I know a little about cults and the cult experience. Secondly, I have recently read the following and these have no doubt more immediately helped crystallize certain thoughts on the AFA experience:
Herwig, Holger H. 1987. "Clio Deceived: Patriotic Self-Censorship in Germany after the Great War." International Security 12 (2): 5–44. https://doi.org/10.2307/2538811.
Benda, Julien. 2006. The Treason of the Intellectuals. Translated by Roger Kimball. New Brunswick, NJ: Routledge. (Originally published 1928 by William Morrow, NY.) 

— 

I took up the Benda book in pursuing an argument made some time ago by Noam Chomsky. The Treason of the Intellectuals foreshadows Chomsky's criticisms of today's liberal intellegentsia. It was the Herwig article on German intellectuals that reminded me to finish reading Benda at last.
When I became an atheist I don't recall ever having the slightest interest in searching for and associating with "an atheist community". When I heard that such communities did exist I was perplexed. What could they possibly have in common? Atheism simply means not believing in the existence of supernatural powers. That's hardly a basis for a club of any sort. Haven't atheists been responsible for historic crimes against humanity? I am sure many atheists are as burdened with ugly prejudices and bigotries as anyone else. And one hardly needs to be a Stephen Hawking to come to the conclusion that "there is no god" so I squirmed in some pain when I read Richard Dawkins' suggesting that atheists should call themselves "Brights".
But look at the AFA Forums site. It's like a church or cult website, a place where all the converted (or de-converted) can go to find "like-minded" people, others with presumably an accommodating perspective, to discuss any problem in life:
There is a place where you can introduce yourself and be welcomed; just like a church group where all new members are welcomed, or screened.
Then there is a "Getting Started" room for those "new to the [faith or lack thereof]" can find mutual assistance.
But I love the "conversion stories" page. "Coming Out Stories", its called, and I am reminded of so many church gatherings where people stand up and share their stories about how they came to Christ.
Next we see a space where one can learn about an "atheists' viewpoints on things . . . . to better understand the atheist worldview"! Do you see what is happening here? Atheism is being presented as a group identity that sets apart its members as different from others. How many atheists have really needed to consult a community or "nonspiritual" guides to learn the "atheist viewpoint or worldview" on things?
I should at this point backtrack to the site's banner: AFA Forums is identified as "a celebration of reason".

Ah yes, the place for the Brights. I will return to the irony of that banner's logo.
And just like so many fundamentalist type churches we have community-run places where members can share and learn how to resolve
Family matters
Educational issues
Ethics and justice
Women's issues
Sexuality issues
Mental health issues
Political issues . . .
How convenient. It sure helps to have a place to go to relieve one of the anxiety of having to think through such questions truly independently and with one's own research and reflection. Safety, security, nurturing, … all in the group.
Again just as cults and evangelicals have literature and go-to persons for information on science questions (how do we answer this or that question, for example) AFA helpfully provides forums to share that sort of knowledge, too.
Of course there is also the obligatory magazine. Presumably this is in part meant to evangelize and in part meant to support existing members.
Nor, of course, is the enemy forgotten. There are places one can discuss the enemies of the Brights and the Free: places bearing signs such as
Religions
Belief Central
Anti-equality
Conspiracy theories
Pseudoscience and anti-science
So far it may look somewhat innocuous but anyone with experience of other innocuous looking clubs that cover not simply a narrow special interest (bushwalking, astronomy, cancer recovery, etc) but what surely looks like a whole way of life and thinking should be a little nervous by now.
Sure enough. There are rules. Not only rules, but gatekeepers to enforce the rules. They have power. A common punishment is the same one Christ permitted Peter to wield: excommunication.
So far it looks like a perfect substitute (online) church for anyone who has left a church and is looking for a substitute family to fill the void.
At this point we move on to my short-lived experience and my reflections on why atheists are among the most hostile critics of Jesus mythicism.
–o–
Recollect that logo, "a celebration of reason". Just as other churches find ways to inject their own perverted definitions into common words (e.g. love means "keeping the commandments"; truth means "what the Bible says", etc) I think the AFA Forums operate with their own peculiar understanding of their celebrated "reason". Take the Forum's instruction to posters not to report to the moderators
Material that you might find personally objectionable (e.g.: questionable humour), but would not be considered generally and seriously offensive. To help decide, ask: "Would a group of reasonable people, from a representative cross-section of the community, generally find this offensive, and why?"
Sounds reasonable enough. Especially the "help decide" scenario appealing to what "a group of reasonable people from a representative cross-section of the community" would find offensive.
But just as biblical rules are subject to gatekeeper and group interpretation so are AFA Forum rules. So it turns out that in the eyes of atheist cult members "a group of reasonable people from a representative cross-section of the community" would not find it offensive if another member shoved obscenities into the faces (yes, not only with text but with images, too) every time he entered a discussion. Now I'm no stranger to four letter words but I don't believe I would be "celebrating reason" if I went on a fault-finding attack against anyone in a community forum who found their aggravated use offensive. That's one way these cult members celebrate reason with the approval of moderators. The title of that thread is Exposition on Rule #3. The only rules list I can see lacks numbering but the third paragraph states:
AFA members especially have a duty to portray to the public a disciplined attitude in postings.
Rather, we see AFA members acting like little children snickering among themselves because they say naughty words out loud in each other's company. Or the proverbial school pupils smoking behind the toilet block and thinking how cool and mature they are. (As I said, I regretted not doing my homework on this group-think cult before I signed up.)
Let's move on to the AFA Forums "Did Jesus exist?" discussions. This is where I became personally involved and by rights I should link every observation I make to the incriminating comments. Perhaps I will add links at a future time if for any reason I come to think they will be helpful.
Here is where the "celebration of reason" slogan crashes against more "irony". At this point I refer back to the Do Intelligent People Realize discussion I linked above.
I very soon began to sense a strong déjà vu feeling as the discussion progressed. It was just like being back in a discussion with mainstream biblical scholars, some of them outright apologists. This sensation was surely bizarre on an atheist forum! I could not understand it at first. Where are the free-thinkers? Where are the serious folk who celebrate reason? Every contrary argument was nothing but a repeat of what the authorities in the theology academies have published. When I attempted to critique such assertions I was met with either one of two responses:
simply ignore my criticisms along with my points on method and logic
repeat the assertions being criticized — in other words, "question begging", with nothing stronger than "this is a more persuasive explanation" tagged on at the end
The main stalwart arguing against mythicism (going by the name of toejam) also posted a link to a long list of books he had read on Christian origins explicitly to demonstrate how much better informed he was than one of his interlocutors. Could not help but recalling someone else trying to win the day by boasting that his red button was bigger than someone else's.
Meanwhile, contrary arguments were significantly ignored and at other times dismissed with the "not persuasive" line.
There was of course the regular ad hominem innuendo and indications that the contrary arguments had not even been read with any attentiveness.
All so tiresomely familiar. But why?
When Rene Salm's works on Nazareth were introduced into the discussion a member chimed in declaring that Salm's work had been "debunked" long ago. The poster could not recall details but promised to look up the name of the person who had debunked Salm's Nazareth arguments.
Again, arguments to the contrary of the mainstream view were simply ignored or dismissed and all that was required to "make the case" against Salm was to name and quote "the authorities". Salm's work was not even read, it turned out, even though it was pointed out to all that it was at that time freely available via Amazon. (Rene also suffered considerable personal innuendo and outright abuse from the moment he appeared on the forum, all with moderator approval.)
So what is going on here? Why are we finding on a site supposedly celebrating reason nothing but quotations of authorities? With onlookers texting applause for the quotation of these authorities!
Where is the critical analysis of the arguments? Do they simply blindly accept what theologians say as if their word is a secure as a biologist's pointing to another piece of evidence for evolution? Yes, they do. But why?
I lie. There was one other who declared he had indeed addressed my arguments (even calling me a troll for denying it.) But I double checked. Maybe he merely hastily skimmed and the very last point I added to my arguments (and even misread that) and in his memory believed he had addressed them. After all, "aren't mythicists arguments merely rehashed bunk anyway? Others have debunked them — can't recall precisely how they have done so but we're sure they have even if it was with the infallible power of repeated question begging assertions — so who cares what they say." It's all so familiar. If the academy
treats even their scholarly peer critics this way
then any who dare question their reasons for believing in a historical Jesus are obviously going to take a great risk in speaking up.
I myself attempted a number of times to address the methodological flaws of the "biblical historians" and alert readers to what historians in the classics and ancient history departments had to say about historical methods, but all in vain. My posts were ignored. Except once: one person said that I was trying to argue for something he called "factual purity"! I think he was implying that we have to believe what we can't know or find undisputed evidence for simply because that's what "biblical historians" tell us to do.The worst and most explicit insulting abuse was, as usual, reserved for Richard Carrier even though he was not a part of the discussion. Carrier, it was further pointed out, did not "persuade" anyone but "duped" people. Curiously toejam actually warned people not to be "deceived" by Carrier. Shades of "beware the wiles of Satan".
A "celebration of reason"? No, not at all. It was a community (and moderator supported) effort to isolate, denounce, excoriate, cast out the "conspiracy theorists".
Just as if one were in a den of theologians and maximalists hungry to annihilate the minimalists and the mythicists. The weapons are not reason but abuse, misrepresentation, etc etc etc. The arguments left standing as the only ones worthy of attention are emphatically repeated and reasserted without any attention to the flaws in their assumptions and methods that others have attempted to spotlight.
So why?
Well, why do we even ask that question?
I think those of us who really are interested in understanding how our sausages are made, what the methods and logic behind the conclusions are, what the sources and other cited works really do say, assume others would also be interested in such questions. Sadly, as the above Quora article (Do Intelligent People Realize…) reminds us, that is not the case. It is too easy to assume others are like us with the result that we are left confused when confronted with the evidence that they are not.
But should not atheists of all people be focused on reason-based inquiry?
I think that logo reminds us that many atheists seem themselves as "intellectuals", even if only a lowly lay stratum of that "class". Intellectuals, it turns out, are no different from any of the rest of us when it comes to human foibles. Mostly it's only their methods that differ in their ways of achieving the rewards they seek.
Many today find Noam Chomsky's criticism of the "liberal intellectual elites" intolerable. I have found them to be enlightening. I was reminded of Chomsky's analyses when I was reading Herwig's article on how German intellectuals (from the elite professors down to the lowly school-teachers) reacted to the crises in Germany in the wake of her defeat in World War 1. Most of them could not handle embarrassing facts that put them (and their group identity as Germans) in a culpable light so evidence was outright discarded, destroyed if possible, and they all stepped in line to propagate the same point of view. (If facts so well-known to the rest of the world were embarrassing there was no attempt, as some biblical scholars say of gospel narrative details, to cope with or down-play those facts; rather, there was outright suppression and denial for generations afterwards into the post World War 2 era.) How could intellectuals as a whole come to discipline themselves to adopt such group-think? There was no central authority making them think that way although there did emerge influential centres throughout society that would publicly censure and even ruin reputations of any who stepped out of line.
So I turned to finish my reading of Julien Benda (whom Chomsky has cited). Some passages on group identity, read with a consciousness of how AFA fosters group identity distinct (and in a key way superior to) others in society:
Is it necessary to say that the passion of the individual is strengthened by feeling itself in proxi m ity to these thousands of similar passions? Let me add that the individual bestows a mystic personality on the association of which hef eels himself a member, and gives it a religious adoration, which is simply the deification of his own passion, and no small stimulus to its intensity. . . .

And do not those who are subject to these emotions now all tend to say the same thing? Political passions, as passions, seem to have attained the habit of discipline; they seem to obey a word of command even in the manner they are felt. It is easy to see what increase of strength they acquire thereby. . . .

These peoples have come to see that by feeling contempt for others they are not only obtaining the pleasure of a lofty attitude, but that when they are really expert in expressing contempt they harm what they despise, do it a real damage.
I was particularly intrigued by a quotation from Anatole France, La Vie Littéraire, tome ii, p. 274.
"Reproach not your ancestors with their ignorance, nor with the feebleness of their thought, nor even with the illusions of fear which sometimes rendered them cruel. As well reproach yourself for having been a child. Remember that they laboured, that they suffered, that they hoped for you, and that you owe everything to them!"
I suspect that the group identity of some atheists is a pernicious thing that cannot genuinely serve the progress of reason.
So why do these sorts of "intellectuals" turn on Jesus mythicists with the same invective as many theologians?
They identify themselves as "reasonable" people, as, well, "intellectual". Reasonable people ridicule conspiracy theories, flat-earthers, moon-landing deniers, and gods and demons of all sorts. They defer to the reasonable classes of society, the academics of reputable institutions. They may not understand the details of evolution or the Big Bang but they do know that that level of understanding lodges in the reputable public places of higher learning. They identify themselves (even if only subconsciously) as "Brights" and that means being seen to approve of the mainstream academia.
Accordingly they become part of another group that they name-drop with pride. If they don't understand all the arguments themselves, no matter, they know the authorities to quote. Besides, when it comes to biblical studies, are there not atheists and agnostics among those ranks? There you go. Some of "us" (our group) are among those theologian scholars.
Questioning the conventional wisdom, engaging critically with the methods, the sources, especially as mere outsiders, may be deemed a threat. The scholars must remove the threat by social exclusion, ridicule, abuse, even falsehoods if that's all one has at hand. To question the assumptions (they are not really findings that are being questioned) of an entire academic discipline that includes "group members" is to risk undermining the reputation of group-atheism itself.
I recall one atheist, Tim O'Neill, complaining online how he feared being associated with conspiracy theories and flat earthers because he knew of some "fellow atheists" who were in league with such kooks. His identity and reputation were at stake. If biblical scholars attempted to smear Christ mythicists with conspiracy theorist kooks then that was enough for Tim to do the same. I did not fully understand why he should appear to feel so insecure within himself that he felt that way. I think my reflections after reading Herwig and Benda and relating their points to what I have seen and experienced on the AFA Forums has helped me understand his insecurity.
The group atheist may even be thought of as a cult atheist. I learned long ago that I'd prefer to stand on my own feet and think for myself. That doesn't mean withdrawal into eccentric ideas. It means engagement with the mainstream but as a truly indepndent individual. I left the immaturity of cults and group-think behind long ago. Celebrating reason is not about being able to quote and memorize the authorities, nor is it about imitating their attitudes when assumptions and methods are questioned, nor is it even about tittering like a child who suddenly discovers no parent can hear her foul language.
–o–
Fun exercise:
How many ironies can you spot in the following post from AFA Forums. You should understand that the name in red, logic please, is a forum moderator whose job is to enforce AFA standards (such as "celebrating reason" and refraining from personal abuse):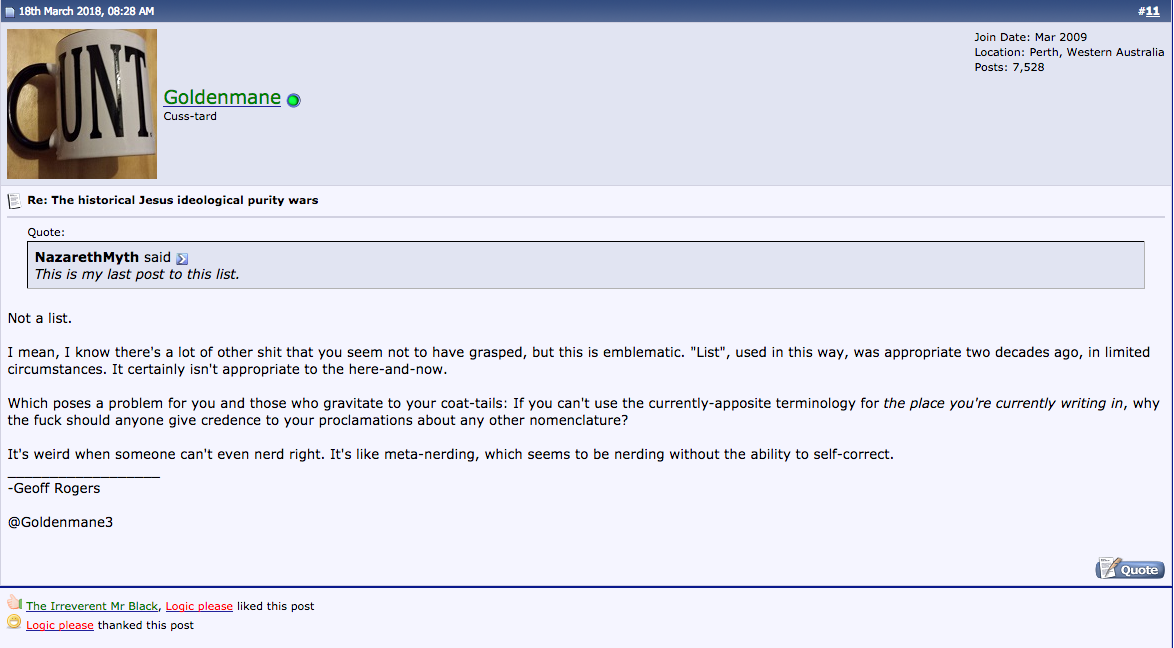 ( I have posted a clue to the most ironical of the ironies below.)
The following two tabs change content below.
Neil Godfrey
Neil is the author of this post. To read more about Neil, see our
About page.
Latest posts by Neil Godfrey (see all)
---
If you enjoyed this post, please consider donating to Vridar. Thanks!
---