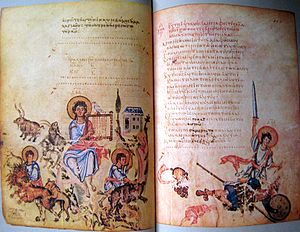 The metaphor of the messiah . . . is used neither as a direct reference to any contemporary, historical king nor to any known historical expectations before Bar Kochba (c. 135 CE). (Messiah Myth, Thompson, p.291; SJOT, 15.1 2001, p.58.)
Those scholars who repeat that there was popular Jewish anticipation of a Messiah to emerge as a contemporary, historical leader in their own time — any time before the destruction of Jerusalem in 70 CE — do not cite evidence that actually supports this assertion. Thompson likes to remind readers of W. S. Green's observation that biblical scholars have tended to form their understanding of the concept of the Messiah — and their (unsupported) belief that the term refers to contemporary Israelite kings — by studying texts where the word does not appear.
But at the same time there is no doubt that David was depicted as a once-upon-a-time messianic figure as well as an author of psalms.
So what do we read about the career of David as an anointed (messianic) one? In the Psalms attributed to him he cries out to God as one forsaken and persecuted. (Pss 18, 142). In Psalm 22 he cries out in pious agony, My God, My God, why have you forsaken me?
David's career is one of fleeing from persecution. He is the chosen and pious, righteous sufferer. His persecution is a badge of his honour, not shame, in the eyes of all who look to him as a model of piety.
He is betrayed by his closest followers, and ascends the Mount of Olives to pray in his darkest hour.
He prepares for the building of the future temple after his death.
If early Christians ever thought to apply the Davidic motifs to Jesus, they surely did so with remarkable precision. David may have ruled a temporal kingdom, but Jesus demonstrated his power over the invisible rulers of the entire world. Even though ruler over the princes of this world, he was still betrayed, deserted and denied by his closest followers. He ascended the Mount of Olives in prayer at his darkest hour.
And he suffered the injustice that the righteous have always proverbially suffered, even crying out with David, My God, my God, why have you forsaken me?
But as in the Psalms God delivered David from the depths and pits of hell to exalt him in vindication before his enemies, so did God deliver and exalt Jesus. What was the suffering of humiliation in the eyes of his enemies, has always been the badge of honour in the eyes of God and devotees.
And none of this should be surprising. Even in Daniel we read of a prophecy of the Messiah to be killed, "but not for himself", with the destruction of Jerusalem and its temple to follow. Daniel 9:26
And after sixty-two weeks
Messiah shall be cut off, but not for himself;
And the people of the prince who is to come
Shall destroy the city and the sanctuary
The Gospel of Mark is replete with allusions to Daniel, especially in the latter part of his gospel (compare Mark 13's references with references in Mark 11-16). His Olivet Prophecy (chapter 13) links the demise of Jesus with the destruction of the Temple that is set to happen 40 years after his crucifixion.
Daniel also speaks of the Son of Man being given an eternal kingdom — after the saints are persecuted (killed) — and the Son of Man is said to represent those same saints (Daniel 7). See also Intimations of the Death of the Son of Man in Daniel.
There is nothing implicit in the image of a "Davidic Messiah" that contradicts anything written of Jesus in the Gospels. Indeed, the author of Mark could well have had the Messiah David, and the Son of Man and Messiah of Daniel, in mind, when he drew on the career of David, and even his cry of dereliction on the cross, to flesh out his life of Jesus.
The suggestion, as many scholars seem to make, that Christian expectation of a Davidic Messiah precluded the possibility of any expectation of a humiliated and persecuted, even crucified, figure, is without any evidential support. Indeed, the evidence that does exist supports the very notion of a pious martyr finally vindicated by God.
Next project (or a soon coming one) will be to go through Talmon's own discussion also affirming that the Biblical references to Messiah — even the Gospel ones — are literary metaphorical expressions and not indicators of literal historical expectations. (I will be using a chapter from a book that McGrath once advised me to read to see the evidence for such an historical expectation, and that I have so far failed to see anywhere — even in that book. (For a hint of what is to come, see a review of Fitzmyer's work on the Messiah in Responding to standard arguments.)
The following two tabs change content below.
Neil Godfrey
Neil is the author of this post. To read more about Neil, see our
About page.
Latest posts by Neil Godfrey (see all)
---
If you enjoyed this post, please consider donating to Vridar. Thanks!
---