This is the conclusion of Greg Doudna's interview with John Curington.
But first, here is what I wrote at the beginning of this series:
. . . . Since reading the interview I have followed up some of the information and names mentioned and the more I learn the more questions I have. . . . .
I have never followed closely the many statements that have been published in relation to JFK's assassination and have routinely shunned conspiracy theories for anything on principle. Sometimes, though, historical research does lead to new questions and interpretations of events. Historians have ironically noted that ancient history and contemporary history are very similar in the sense that so much vital information is either lost or hidden from view so we are left to posit only the most tentative explanations for events pending new discoveries.
On re-reading the interview as I have been posting it here, I am in the same position as when I began. I find myself suspending judgment entirely. I simply don't know what to make of it all. Others more familiar with related details will have stronger views for or against what one might make of events raised in this interview. I would encourage others more knowledgeable than myself to add their own questions or thoughts in the comments on these posts. Hopefully comments will reference accessible sources. Some may dismiss everything Curington has said in this interview and I would appreciate comments to that effect as long as they give fair reasons for doing so. I have linked to a review of the book Motive and Opportunity beneath the cover image below.
At the end of this interview is another statement by Greg Doudna.
~ ~ ~
As I look around me, I find that most everyone else involved from this time is gone—I'm the sole survivor, the last man standing, and I simply want to tell my story.
GD: There's one question I've got to ask because other people will ask. Many of these important events, you were at the heart of it. It's a long time now, and people might say, why didn't you say something earlier? I mean, when the Warren Commission and the House Committee were investigating—
JC: It was their job to find out what was involved. Mr. Hunt was well enough known that somebody should have gone and talked to him.
GD: Yes.
JC: And they would have talked to me first before they talked to him. I would have answered their questions. But that could have been planned. Johnson—Johnson and Hoover had to present this lone theory shooter in the initial beginning. Johnson had more to gain from the lone shooter than anybody on the face of the earth, you understand that? He didn't want Sam Giancana involved, or Lucky Luciano, or H. L. Hunt, or Joe Civello. He wanted a lone shooter, acted alone, that's the only way he's going to save his own ass there.
GD: The 1976 House Select Committee on Assassinations, they didn't contact you?
JC: No.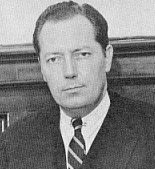 GD: What about Garrison, in Louisiana?
(Jim Garrison was the District Attorney of New Orleans 1962-1973. In the late 1960s Garrison undertook criminal prosecution of a conspiracy in the death of President John F. Kennedy which Garrison charged involved New Orleans figures in conjunction with the CIA. Garrison was the inspiration for and the central character of the Oliver Stone movie, JFK.)
JC: Well he came in our office. He became a big pest. I imagine I talked to him maybe twenty-five or thirty times. He had nothing to hang his hat on. Of course he was always trying to get a little money. And Mr. Hunt, as far as I know, never let him have a nickel.
GD: He was asking Hunt for money?
JC: Yo.
GD: For what?
JC: Well, to help build his case on—
GD: How's the money going to help build his case?
JC: Well, you have to have traveling expenses. You have to—and he's on a limited budget with the DA's office—you know he was just an attorney there.
GD: But he suspected Hunt. How is he asking a suspect for money?
("The assassination, Garrison charged, was ordered and paid for by 'a handful of oil-rich psychotic millionaires' … he refused to say how many 'Texas style' millionaires were involved, although he identified them all as extreme conservatives … Garrison said he could reveal the latest developments because his investigators were finished in Dallas." The Times-Picayune, New Orleans, Sept. 22, 1967.)
JC: Well, I never got that feeling in talking to him. Mr. Hunt may have met him a time or two, but he'd <unintelligible> step into my office, when Garrison came in.
GD: So Garrison was seeking extra funds for the investigation?
JC: Yeah. He was seeking funds to help him on the investigation. Of course as a district attorney, you know, you have certain things available to you, but if Garrison could pick up ten thousand here, or twenty thousand there, he wouldn't be averse to it, no.
GD: So Garrison was—
JC: Garrison wanted to make a name for himself, and he didn't care whose toes he stepped on to do it there. And he got laughed out of the courtroom.
GD: OK. Thank you Mr. Curington.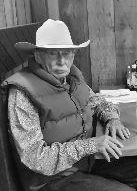 ~ ~ ~
The following is from the close of Mr. Curington's 2018 book, Motive and Opportunity: The Means by which H.L. Hunt influenced the assassination of JFK, King, Bobby & Hoffa.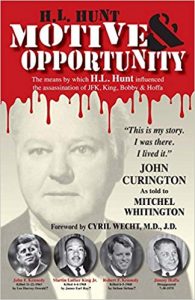 "Mr. Haroldson Lafayette Hunt died on November 29, 1974, at Dallas' Baylor University Medical Center. His assassin was pneumonia, along with complications from cancer. The open-casket funeral was held at the First Baptist Church of Dallas and was officiated by none other than the Rev. W. A. Criswell himself.
"Mr. Hunt and I had parted ways five years earlier, when I resigned from the company on November 14, 1969 … Looking back, I had a lot of interesting experiences during the time I was associated with Mr. Hunt. I went to fascinating places, met powerful people, and did things that I would otherwise never have …
"As I look around me, I find that most everyone else involved from this time is gone—I'm the sole survivor, the last man standing, and I simply want to tell my story. Like I've said all along, it's not my intention to make anyone believe anything. I'm simply telling you the true stories about what happened …
"There's one more thing that I should mention—I've been hesitant to do so, because quite honestly, even though it's the absolute truth, it sounds a little far out. My original intent was to leave it out of the book, but as I'm wrapping things up, I believe that it deserves to be written down.
"During the period of time before the 1960 Democratic Convention and continuing after that, H. L. Hunt became more and more interested in what he called a 'Removal Group.' That sounded all nice, clean and sterile, but it was far from that. I nicknamed it the 'Kill Squad,' because that is what it was really going to be. Mr. Hunt always believed that his programs Facts Forum and Life Line would, over time, convince a certain type of listener to do things in accordance with the dogma that these programs were putting forward.
"In some of the more serious situations, however, it was clear that Life Line might simply be too slow. If Mr. Hunt could develop a 'Removal Squad,' then in that event, results could take place almost overnight.
"Remember that Joe Civello, the Dallas organized crime boss, had given Mr. Hunt some information that I have previously mentioned in the book: It would definitely be possible to kill an important public figure and to keep the assassin from revealing the plan, you would simply kill the killer. If that were impossible, it would be necessary to make sure the assassin pleaded guilty to the murder itself, which would stop any further investigation.
"Based on Civello's information, a unique plan was developed and organized. Mr. Hunt wanted to establish four separate groups, each operating independently of each other, totally compartmentalized, and with no contact among the groups.
"1) The job of the first group would be to determine who might be a candidate for 'removal.' They would make suggestions based on the individual's political beliefs, their ability to get results that had opposite purposes of H. L. Hunt, and their ability to have an influence on other people.
"2) The second group would then take those names and develop a detailed history of their lifestyle, including where they lived, where they worked, where their family was located and their everyday habits—both good and bad.
"3) The third group would develop a plan of how that person could be most easily 'removed.' Mr. Hunt did not want just a shooting death, that would be too messy and draw way too much attention. Instead, the preferred death for the mark would involve an accident, drug overdose, family matter, or even an unexplained case. That was Mr. Hunt's goal.
"4) The fourth group, based upon all the independent information provided by the other groups, would evaluate the situation and the person, make the final decision as to how it would be carried out, and then arrange for the final event. Afterwards, the affair would be cleaned up in the manner described by Joe Civello.
"What Mr. Hunt hoped to accomplish was to have as much insulation as possible surrounding the removal of a particular person—to have the 'Removal Squad' groups act independently of each other. This would give a high degree of insulation and protection between the group that said, 'This person should be removed,' and the group that said, 'Let's do it.'
"To my knowledge, this entire 'Removal Squad' plan—or 'Kill Squad' as I called it—never moved past the planning phase … I do have to say, however, that in looking back at history, when JFK was killed, his assassin Lee Harvey Oswald was shot in very short order … the 'killer was killed,' as Mr. Civello advised …
"Coincidence? Possibly. Still, it appears that—at least on the surface—there could have been other elements at work in these killings, and some of them could have been provided by my former employer, H. L. Hunt."
~ ~ ~
My interview with Mr. Curington focused on the John F. Kennedy assassination. Mr. Curington's book, Motive and Opportunity, also discusses the assassinations of Martin Luther King, Jr. (1968) and of Robert F. Kennedy (1968).
J. Edgar Hoover and H. L. Hunt regarded the successes of Martin Luther King and the Civil Rights movement—and King's even larger vision of a "total, direct and immediate abolition of poverty" by means of a guaranteed income for all Americans paid for by ending the war in Vietnam—as an existential threat to the foundation of the nation. Here is King in his final months before a sniper's bullet silenced the voice with rolling cadences heard across the land …
1 Martin Luther King, Jr., Where Do We Go From Here: Chaos or Community? (New York: Harper & Row, 1967). Jordan Weissmann, "Martin Luther King's Economic Dream: A Guaranteed Income for All Americans," The Atlantic, Aug. 28, 2013: "King noted an estimate by John Kenneth Galbraith that the government could create a generous guaranteed income with $20 billion [1960s dollars], which, as the economist put it, was 'not much more than we will spend the next fiscal year to rescue freedom and democracy and religious liberty as these are defined by "experts" in Vietnam.'"
"We are wasting and degrading human life by clinging to archaic thinking. The curse of poverty has no justification in our age. It is socially as cruel and blind as the practice of cannibalism at the dawn of civilization … The time has come for us to civilize ourselves by the total, direct and immediate abolition of poverty."1
Martin Luther King, Jr., was assassinated on April 4, 1968, in Memphis, Tennessee. Two months later James Earl Ray, a professional criminal, was apprehended in London, extradited back to the United States and charged with the killing of Martin Luther King. In Motive and Opportunity Mr. Curington tells of his personally conveying $125,000 in cash in a briefcase—equivalent to about a million dollars today—from H. L. Hunt to Percy Foreman of Houston, Texas, the most prominent defense attorney in America, to have Foreman's client, James Earl Ray, plead "guilty." A "guilty" plea closes a case without further investigation or testimony coming out in court. Mr. Curington recounts in his book,
"At Mr. Hunt's instruction, I traveled to call on Percy Foreman with a briefcase and laid it on the desk in front of him. 'I have one hundred and twenty-five thousand reasons why James Earl Ray should plead guilty to killing Martin Luther King,' I said.
"Foreman looked at me and said, 'Well, just leave them with me, and I'll take a look at them.' I walked out of the room, not having been there more than a minute or two. I left the $125,000, which would be just under a million dollars in today's money, and sure enough, James Earl Ray entered a guilty plea."
Two months after the Martin Luther King assassination, New York Senator Robert F. Kennedy was assassinated on June 5, 1968, at the Ambassador Hotel in Los Angeles moments after Senator Kennedy won the California Democratic presidential primary and seemed poised with the momentum to go on to win the nomination and then the presidency in the general election of 1968.
A few hours after my interview with Mr. Curington, my flight taxiing down the runway at Dallas/Fort Worth International Airport, the lyrics of a song from the late 1960s came to mind, as well as its haunting rendition by Dion: "Abraham, Martin, and John."
Has anybody here seen my old friend John?
Can you tell me where he's gone?
He freed a lot of people, but it seems the good
they die young.
I just looked around and he's gone.
Has anybody here seen my old friend Martin?
Can you tell me where he's gone?
He freed a lot of people, but it seems the good
they die young.
I just looked around and he's gone.
Has anybody here seen my old friend Bobby?
Can you tell me where he's gone?
I thought I saw him walkin' up over the hill
With Abraham, Martin and John.
~ ~ ~
Gregory Doudna is a scholar of the Dead Sea Scrolls. He holds a master's degree from Cornell University in Near Eastern studies under the supervision of Martin Bernal and a doctorate in theology from the University of Copenhagen in Denmark.
The following two tabs change content below.
Neil Godfrey
Neil is the author of this post. To read more about Neil, see our
About page.
Latest posts by Neil Godfrey (see all)
---
If you enjoyed this post, please consider donating to Vridar. Thanks!
---