Part 3 of Greg Doudna's the interview with John Curington.
~ ~ ~
GD: No one at the door asked for ID?
JC: No. Nobody asked for ID, nobody looked into my briefcase. I even got on an elevator to go up where the man, to get him released from his jail cell—
GD: On the fifth floor, right? The jail?
JC: Yeah. And Captain Will Fritz got on the elevator, and he had Lee Harvey Oswald with him. And Captain Fritz, of course we knew each other, and he just looked over and said, "Meet the S.O.B. that shot the president." Oswald didn't make a comment, I didn't make a comment. But anyway that was the gist of the conversation.
But after that I did get the man out of jail. Then I went down to get out of jail. And then by this time it was about 1:30, 2 o'clock in the morning. I had to go to Mr. Hunt's house. And as I recall, he was still up. Anyway I rang his doorbell and he came to the door almost immediately. He had his clothes on which suggested to me he was still up. And I gave him a report, that there was no security that I could see whatsoever around Lee Harvey Oswald, around the jail.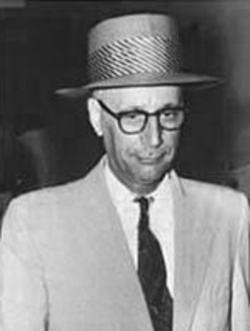 And he said, if you would, I want you to go out and have "The Man"—he called Joe Civello "The Man"—and have him come over to Mount Vernon. That was the name of his home. And I did that and I went home.
(Joseph Civello was the leader of the Dallas crime family 1956-1970.)
GD: You called Civello in the middle of the night?
JC: Yep.
GD: Just called him in the middle of the night?
JC: It was about 2 o'clock in the morning.
GD: He's not angry at being called in the middle of the night?
JC: No. Civello, although he had a pretty bad reputation in the Mafia circles, look, all in all he was a pretty nice kind of a fellow. As far as I know I never saw him take a drink of whiskey, I never heard him use a word of profanity, he tipped his hat to the ladies. Outside of shooting one or two people he had a pretty fair background.
GD: So there was a meeting of Hunt and Civello set up—
JC: Yeah.
GD: You were not at that meeting?
JC: I was not at that meeting.
GD: So that was Mr. Hunt's reaction to the security situation?
JC: Yes.
GD: And he couldn't wait until the next day to set up the meeting?
JC: No. He asked for that meeting right then.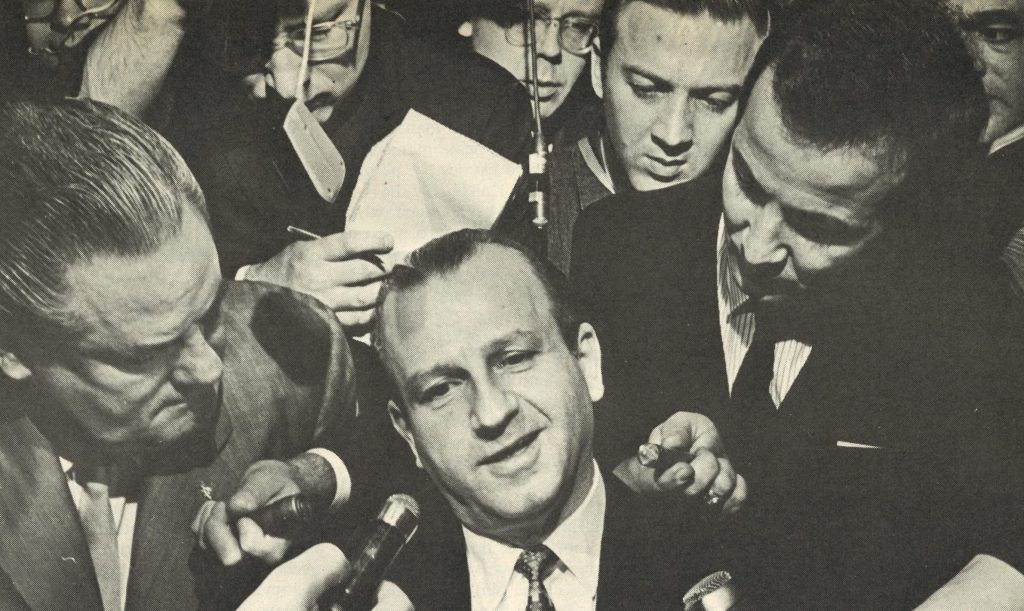 GD: Did Fritz know that you were coming to the police station? I mean, did you contact—
JC: No, no.
GD: So that was an accidental meeting?
JC: Accidental, just a random accidental meeting. I couldn't have timed it, and he couldn't have timed it. Nobody—we just happened to get on the same elevator at the same time.
GD: Did Civello know Jack Ruby?
(Jack Ruby, 1911-1967, operated the Carousel Club, a Dallas strip club. He cultivated relationships with the Dallas police. On Nov. 24, 1963 Ruby shot and killed accused JFK assassin Lee Harvey Oswald.)
JC: Yeah, they would have had a—I don't know that they would have had a close working relationship, but Jack Ruby would have certainly known Civello and Civello did know Jack Ruby.
GD: Would you say that Ruby was Mob connected or was he Mob himself?
JC: Ruby wanted to be something that he wasn't. He wanted to be an active part I think of what I call the Mafia circle. He was on the outside looking in, but he wanted to be on the inside looking out. And he and Joe Civello would have known each other. Whether or not they ever had any business dealings or not I don't know.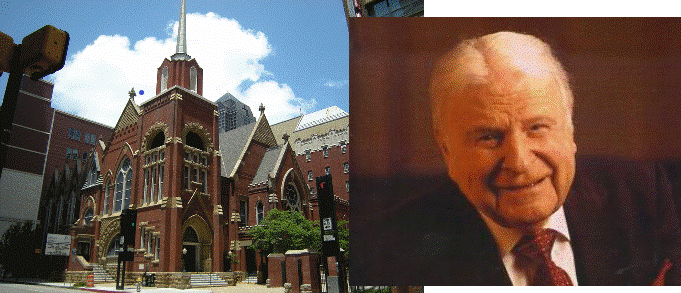 GD: And so after you called Joe Civello at night, in the middle of the night, then they, Hunt and Civello, met early in the morning?
JC: That's my best recollection, that they met around 7 o'clock on a Sunday morning.
GD: And then you went to church as I recall, right?
JC: At that time I was attending the First Baptist Church there in Dallas. After my midnight episode there at the police station, I went home, laid down for probably an hour and a half, two hours, got up, showered, shaved, and dressed, and went to the Sunday morning service at the Dallas First Baptist Church.
GD: That was Criswell's church, right?
9
Edward H. Miller,
Nut Country: Right-wing Dallas and the Birth of the Southern Strategy
(Chicago: U. of Chicago Press, 2015), 27. In 1968 Criswell renounced his earlier support for segregation and said, "Never had I been so blind."
(Rev. W. A. Criswell was a famous pastor from 1944 to 1993 of the First Baptist Church of Dallas, 26,000 members. This was H. L. Hunt's church. Criswell was evangelical and conservative. He denounced Kennedy and the federal government for forcing an end to racial segregation and taught that African Americans were under a "curse of Ham" from the Bible. "Criswell taught that the Bible, which he held to be unerring, supported existing social and racial hierarchies."9)
JC: Yeah. Dr. Criswell was the pastor, and of course he and I were on a first-name basis of exchanging pleasantries there. During his Sunday morning service Dr. Criswell—somebody walked up on the podium and handed Dr. Criswell a note. He opened up the note, studied it for a few seconds, and then read it to the congregation. And, to my best recollection, the words that he uttered were that he had just received word that Lee Harvey Oswald had been shot at the Texas police station, and he had no further information on it.
GD: That certainly shocked the world. Did you know Ruby yourself?
JC: I had met Ruby. I had been in his Carousel Club from time to time.
GD: How did he strike you? Did he strike you as somebody that was impulsive? Or was he competent and methodical in his planning?
JC: Oh I think Ruby would be an impulsive kind of a person. He would have what I call a good personality.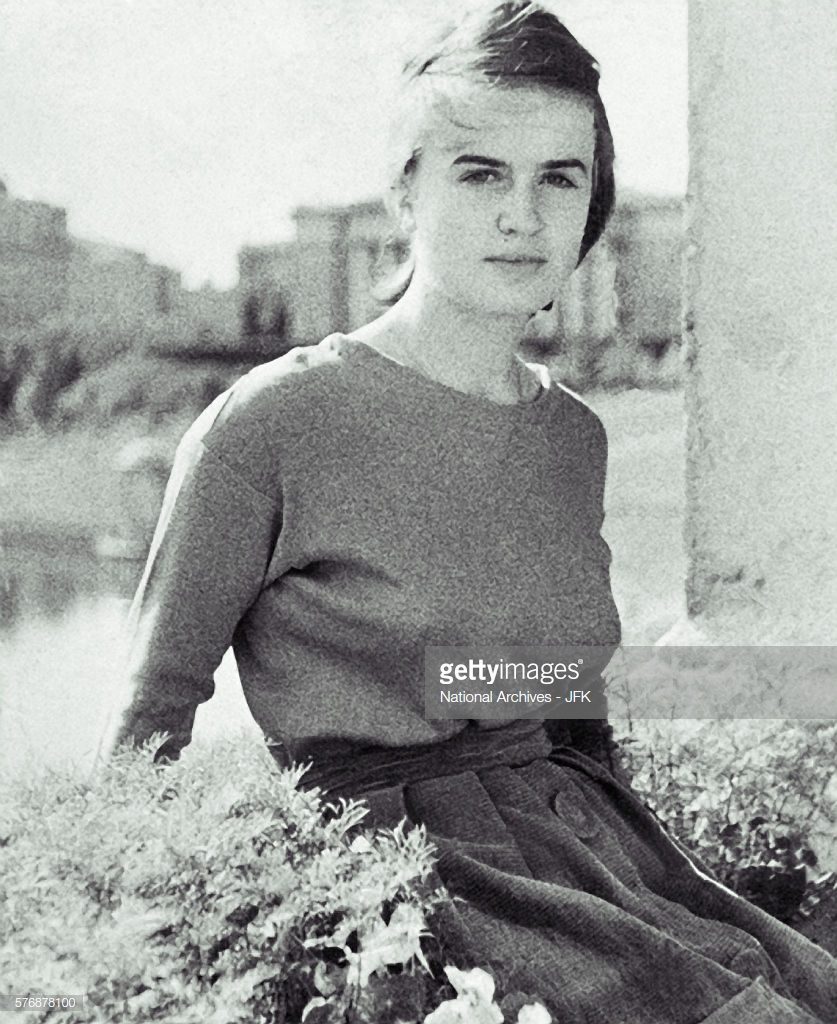 GD: After Oswald was killed you have an interesting story of a secret meeting of Mr. Hunt with Marina Oswald.
(Marina Oswald Porter, 1941- , formerly Marina Nikolayevna of Minsk, Russia, was the widow of Lee Harvey Oswald. She had two small children and did not speak much English. According to wire service reports at the time sympathetic Americans spontaneously donated ca. $60,000 to her in the period immediately following the assassination. That is the equivalent of about a half million dollars today. She continues to live quietly in the Dallas area today.)
That's one more thing. Marina Oswald's visit to Mr. Hunt's office.
Of course at that particular time, right after Oswald's arrest, Marina was in, you know, she was in almost every newspaper and almost every television program. And her appearance was well documented, not only in Dallas but throughout the U.S. In Dallas there are two buildings (diagramming on paper), the Mercantile Bank Building, and the Mercantile Securities Building. They're on the same property and they're joined together, but they are only joined together on the seventh floor. I mean, on the seventh floor of the Mercantile Bank Building, and on the seventh floor of the Mercantile Securities—there's a steel door, and that's the only—and this is about, oh I'm gonna say a twenty-five storey building, and this one about a fifteen—I'm just guessing—but anyway, this door, to my knowledge, had never been closed or locked.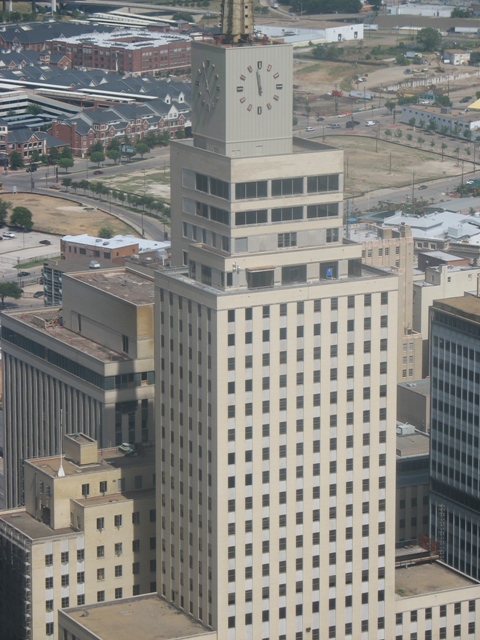 GD: You can't get between the two buildings other than on the seventh floor.
JC: No, you can't go from this building to this building, unless you went down to ground level, and got off the elevator, then around the corner, and got on another one, 'cause—
GD: I see—
JC: —that's the only way to get to the other building. I'd never seen the door closed there. But on the Saturday morning that Mr. Hunt called me early and told me that he wanted to go in, he told me to go down to the office and lock this door between the Mercantile Bank Building and the Mercantile Securities Building. And to go through both floors of offices—we had two or three floors—to go through all the floors, and if there was a Hunt employee on the job, to send them home, you know, that they just go home.
GD: Clear the building.
JC: And then the lobby, where you went into the lobby for the Mercantile Securities—Mercantile Bank Building—in the lobby there was a Skillern's Drug store and two or three other shops open down the deal. But Mr. Hunt told me to go through the lobby, after I got the doors locked, and after there was no Hunt employee in either building, to stay in the lobby, and if any Hunt employee came to work to send them home.
Which I did. I went down, locked up the building, checked the deal, standing in the lobby there.
There's a black car. Parks right parallel to the curb. A lady gets out of it. Its Marina Oswald. She—and Mr. Hunt told me that there'd be a lady coming in through the building, pay no attention to her, don't speak to her, don't acknowledge her, just let her come in. She just—Marina Oswald came in through the building, went to the elevator, the door closed. I don't have any idea where she went. It would be my best guess she went to H. L. Hunt's office. In about thirty minutes she came back downstairs, got out, walked down the hall, she was in a U.S. Government car, they opened up the back door for her, she got in it and drives out there.
GD: She was not accompanied by anybody? Nobody with her when she went up?
JC: No, nobody with her, and nobody got out of the car with her.
Well, after that incident Marina Oswald has been questioned, did she go to H. L. Hunt's office. And her answer has always been no, she didn't know H. L. Hunt, she'd never seen him, never been to his office there. Notwithstanding the fact that I'm saying one thing, and she's saying something else, Marina Oswald is the person who got out of that government car, came through the building, and in the almost twenty years I was with Mr. Hunt I'd never seen that door locked before, never seen it locked again, never had instructions to get all the Hunt employees out of the building, never had instructions to stay in the lobby and tell any employees that showed up to go home—this was on a Saturday morning, some of them came to work there.
So I have no explanation as to what the motive was for Marina Oswald to go into that office. I've not said anything other than Marina Oswald went into the Mercantile Bank Building, and in my opinion she went to H. L. Hunt's office. Mr. Hunt never made a comment to me who it was, what it was, or why or what. But he got to the building before she did, he left about five minutes after she did.
So that's one of those things, just like Joe Civello and the Sunday morning visit and what happened thereafter, I have no explanation whatsoever on that meeting.
GD: What is your basis for saying it was a government car? The car that dropped her off?
JC: FBI would be my best guess, that somebody with the FBI drove her up there, and took her away from there. And Mr. Hunt would have had the ability to call <unintelligible> and send somebody, just say I'd like to talk to her, and bring her up there. Or, he could have asked them to just deliver her to the Mercantile Bank Building, with no explanation as to anything else there.
GD: How long after the assassination was this?
JC: If I was just taking a guess I'd say it was within the first thirty days of it. Mr. Hunt believed that if he could talk to two or three people on any subject, he would know much more about them than they knew about themselves. And he did have an unbelievable power on that thing.
And so it'd be my best guess that he, one, would have never divulged his name to her—she would not know—it would be my best guess she had no idea who she was talking to or why she was talking to him. And knowing Mr. Hunt, and knowing the situation of Marina and her children and everything, he could or could not have given her a money contribution.
But I have no reservation, no qualms, no reservation whatsoever: Marina Oswald went into the Mercantile Bank Building. I believe she saw H. L. Hunt, she left, and in fairness to her she may have never known who the man was that she met, or he may have never disclosed to her, or he may not have even asked her any questions that would have aroused her suspicions on why she was up there.
You gotta keep in mind, Greg, even a poker player, an accomplished poker player, has skills that you don't have, and I don't have. There's a lot of things that happen—because they can't happen to individuals they'll say, "Well that couldn't possibly happen, you know, 'cause that couldn't happen to me." Well that's completely untrue. But anyway, that's always been one of my more interesting stories—
GD: Yeah—
JC: —for the simple fact, I know what happened, but I don't know what happened.
GD: Got it.
JC: So that is an awkward kind of statement, but I know exactly what happened, but I don't know why it happened, or how it happened, or if in fact it didn't happen.
. . . . . . [continuing in next installment]
The following two tabs change content below.
Neil Godfrey
Neil is the author of this post. To read more about Neil, see our
About page.
Latest posts by Neil Godfrey (see all)
---
If you enjoyed this post, please consider donating to Vridar. Thanks!
---