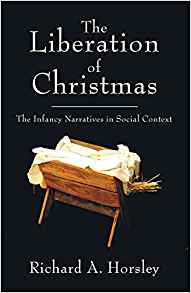 Let's assume, as is commonly argued within mainstream biblical scholarship, that there was a very small town of Nazareth in Galilee at the supposed time of Jesus' birth and let's assume that the reason Jesus was called "Jesus of Nazareth" was because he grew up in Nazareth, and that the birth narratives in Matthew and Luke are awkwardly contorted to have Jesus of Nazareth somehow also born in Bethlehem because all the Judeans of the day knew and expected that that's where the Messiah was to be born. The concocted narratives of Jesus being born in Bethlehem are even pulled out as evidence for the very existence of Jesus since the evangelists were oh so embarrassed that he came from Nazareth in reality.
After reading some sections of Richard A. Horsley's The Liberation of Christmas: the Infancy Narratives in Social Context, I think we have some problems that seem so obvious in hindsight that I have to pinch myself for not noticing them before. Our attention will be primarily on Matthew's birth narrative rather than Luke's in this post.
Part of Horsley's discussion begins on page six and seven:
Recognition of Matthew's distinctive use of "formula quotations" ("this was to fulfill what was spoken by the prophet… ") led to the claim that Matthew 2 (which contains several such quotations) "is dominated by geographical names," which are "what is really important to him."21 The purpose of Matthew in Chapter 2 was apologetic: how did Jesus the messiah come from Nazareth in Galilee and not from Bethlehem, the village of David, as it said in Scripture, according to the questioning in John 7:41-42.22

21. K. Stendahl, "Quis et Unde? An Analysis of Mt 1-2," in Judentum, Urchristentum, Kirche (Festschrift J. Jeremias; ed. W. Eltester; Berlin: Topelmann, 1964; reprinted in Interpretation of Matthew [ed. G. N. Stanton; Philadelphia: Fortress Press, 1983], 56-66), 97. Stendahl's article is important and influential and is followed with further refinement by Brown (BM, chaps. 1 and 5).

22. Stendahl, "Quis et Unde?" 98; Brown, BM, 179-80.
That's the common understanding. Now Horsley begins to notice some problems with it:
However, the claim that the geographical names, even as emphasized by the formula quotations, dominate Matthew 2 seems highly questionable. What dominates the narrative is clearly the conflict between the newborn king of the Jews and the reigning king, Herod. The threatened Herod figures directly or indirectly at every point in the narrative except the actual visit of the Magi in verses 9—11 and the naming in verse 23.23 Moreover, the notion that Matthew is pursuing an apologetic purpose is derived not from Matthew but only from the dispute in John 7.

23. As Stendahl himself points out, the text mentions "Herod's name 9 times, and at all points of progress in the account" ("Quis et Unde?" 99).
Yes, of course. The only reason we know there was supposed to be a problem with Jesus not really being born in Bethlehem are the narrative dialogue in one of the latest canonical gospels. We do not find supporting evidence in any earlier or independent records.
From the lack of textual evidence, we are increasingly aware that at the time of Jesus there were almost certainly no standard or widely acknowledged "Jewish expectations about the Messiah" such as birth in Bethlehem, about which Matthew or other followers of Jesus of Nazareth would supposedly have been embarrassed.24 Just because the followers of Jesus early on applied to their "messiah" phrases from psalms that stemmed originally from the established Davidic royal theology (esp. Pss. 2 and 110) does not mean that they were defensively oriented toward some hypothetical established view of the proper pedigree of the messiah. Indeed, the royal Herodian and aristocratic priestly families that dominated Jewish Palestinian society would hardly have been entertaining messianic expectations, which could only have been threatening to their own position. Precisely that is the principal point of Matthew 2! The popularly acclaimed "kings" among the Jewish people who were active around the time of Jesus' birth surely did not have Davidic pedigrees.25 There is little in the Gospel of Matthew itself or in the Palestinian Jewish milieu out of which the traditions he used emerged to suggest an apologetic motive. The typical early Christian concern to interpret Jesus according to fulfillment of biblical promise and prophecy (and prototype) would appear to be the operative motive in Matthew's use of the formula quotations to embellish the significance of the events narrated in chapter 2.

24. Cf. Brown, BM, 180; but Brown himself points out in Appendix 3 that expectation of the messiah's birth at Bethlehem is not attested "until considerably later in Jewish writings."

25. For a sketch of these popular Jewish kings and their movements, see R. A. Horsley and J. S. Hanson, Bandits, Prophets, and Messiahs (Minneapolis: Winston- Seabury, 1985), chap. 3.
Discussions of the various so-called messianic pretenders in Horsley's book,
Bandits, Prophets and Messiahs
can be accessed
here
.
Now why didn't I notice that before! Of course, all those supposed messianic pretenders that we read about in Josephus — I have argued that I don't believe Josephus thought they were actual messianic pretenders, but the focus of this post is Horsley's argument — were almost certainly not born at Bethlehem themselves but that didn't stop masses following them in the conviction that they were the supposedly long-awaited messiah, as Horsley and others often claim.
As Tim has several times pointed out in his posts on this blog, too often we read a particular criterion or line of argument being used to support A in one context, but then being quietly dropped when it would falsify A in another context.
Notice that Horsley reminds readers that we have no evidence outside (relatively late) Christian sources that there was a general anticipation of a coming messiah among Jews at the time of Jesus. And I can't deny I find it somewhat encouraging reading the details of Horsley's thoughts that I have argued in the past that Matthew's birth narrative actually presupposes that there was no such widespread hope at that time.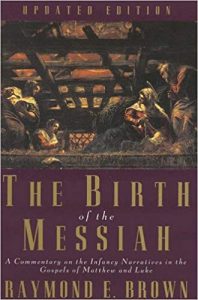 Let's have a look at his Raymond Brown reference.
It is probably true that many Jews of Jesus' time expected the Messiah to be born at Bethlehem, but we must be aware that our chief evidence for this is Christian, not Jewish. Expectation of the Messiah's birth at Bethlehem is attested in the NT independently in Matt 2:4-5 and John in 7:41-42, but not until considerably later Jewish writings.2

2. Without reference to Micah 5: 1, Bethlehem appears as the birthplace of the Messiah in passages like TalJer Berakoth 5a, and Midrash Rabbah 51 on Lam 1:16. As for Micah 5:1(RSV 5:2), L. Ginzberg, Legends, V, 130, traces the messianic interpretation of the passage back to relatively old rabbinic traditions. Origen, Against Celsus, I, 51, charges that Jewish scholars, lest they live comfort to Christians, suppressed tho expectation that the Messiah would be born at Bethlehem.
So "probably true" means we have no independently supported evidence for it, and certainly no contemporary evidence for such expectations. (I think some scholars would also question the independence of Matthew and John insofar as several Matthean images and expressions are to be found in John's gospel.) Yes, the evidence is late. Origen even has to explain away the absence of early evidence by resorting to a conspiracy theory.
But I think this paragraph from Brown is especially interesting, BM p. 514:
It is often claimed that the creation of the story of Jesus' birth at Bethlehem was by way of apologetics against the Jewish ridicule of a Messiah who came from Nazareth (John 7:41,52). But would the invention of the Bethlehem tradition really have met the objection? After all, the Bethlehem story made its appearance in a rather late stratum of NT writing, when Jesus of Nazareth had been proclaimed as the Messiah for some fifty years. So far as we know, he had been preached and accepted by many without the slightest awareness of his being born at Bethlehem. Birth at Bethlehem could never be more than a very secondary motif in the royalty of him who died as "Jesus the Nazorean, King of the Jews."
To significant points so far:
Matthew's narrative is primarily interested in the conflict between the two kings, Jesus and Herod, and the birth place is only a backdrop
The assumption that there was a Jewish expectation that the messiah was to be born in Bethlehem finds no evidence in Jewish sources around that time and only first appears in later Christian texts.
If we accept that there were various Jewish messianic pretenders at that time then we must conclude that a Bethlehem birth was not a pre-condition for qualification as a messiah.
We may fairly conclude that Matthew's birth narrative was not an apologetic attempt to rewrite history and have Jesus born at Bethlehem in order to conform to widespread expectations that the messiah was to be born at Bethlehem. The reason he had both Nazareth and Bethlehem feature in the narrative was because he could find two neat prophecies for Jesus to fulfill and he found a way to make the most of both. Nazareth, he said, was to explain the prophecy that Jesus was called "of Nazareth" (though originally the word we translate as "of Nazareth" more likely referred to a sectarian sobriquet such as Nazorean), and Bethlehem was introduced because he could find a neat prophecy in Micah, too.  The birth narrative in Matthew is far more interested in the story of a conflict between the newborn king of the Jews and King Herod for its own sake.
---
Brown, Raymond E. 1993. The Birth of the Messiah: A Commentary on the Infancy Narratives in the Gospels of Matthew and Luke. Updated edition. New York: Anchor Bible.
Horsley, Richard. 2006. The Liberation of Christmas: The Infancy Narratives in Social Context. Reprint edition. Eugene, Or.: Wipf & Stock.
The title of RH's book alerts you to his bias. H's larger argument is that the gospel of Jesus has real socio-political implications and cannot be confined to mere theological idea removed from practical real-world consequences.
---
The following two tabs change content below.
Neil Godfrey
Neil is the author of this post. To read more about Neil, see our
About page.
Latest posts by Neil Godfrey (see all)
---
If you enjoyed this post, please consider donating to Vridar. Thanks!
---