Here's an Easter post. Never let it be said I ignore the season.
I can't recall where I first was introduced to the fact that the Gospel resurrection scenes show a distinct development of details according to the relative dates of the Gospels. Look at how each one appears to build on or surpass what had been written before.
Take One: Off-stage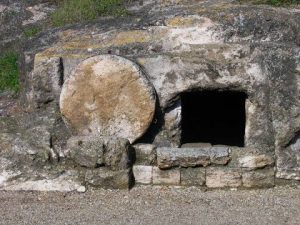 The Gospel of Mark, the earliest Gospel, actually has no resurrection scene at all. The women come to the tomb, see a young man in the tomb, then run off in fear. (Bibles that continue the story past verse 8 are incorporating what most scholars acknowledge is a passage that was not original to the Gospel. Someone much later attempted to cobble details from both Matthew and Luke to create what they presumably thought was a more satisfying conclusion.) The young man does tell the women that Jesus can be seen again in Galilee if they go there. And that's it. There is no actual appearance of a resurrected Jesus in this Gospel.
[5] And entering into the sepulchre, they saw a young man sitting on the right side, clothed in a long white garment; and they were affrighted.

[6] And he saith unto them, Be not affrighted: Ye seek Jesus of Nazareth, which was crucified: he is risen; he is not here: behold the place where they laid him.

[7] But go your way, tell his disciples and Peter that he goeth before you into Galilee: there shall ye see him, as he said unto you.

[8] And they went out quickly, and fled from the sepulchre; for they trembled and were amazed: neither said they any thing to any man; for they were afraid.