Updated about 4 hours after first posting — especially in the opening paragraphs of "The Arab conquests are FOLLOWED by the rise of Islam".
Historian and novelist Tom Holland raises some fascinating questions about the evidence pertaining to the origins of the Muslim religion. Is it possible that all three "religions of the book" will go down in history as having their foundations exposed as mythic in the late twentieth and early twenty-first centuries?
I have not yet read Holland's book In the Shadow of the Sword [link is to Wikipedia article] but yesterday I listened to an extended radio interview with him (see/hear Tom Holland At Adelaide Writer's Week) and watched UK's Channel 4 documentary about Holland's thesis, Islam, the Untold Story, on vimeo. (The audio interview is by far superior to the video documentary: the interview covers more detail and explanation of the thesis in its first 30 minutes than is broached in the entire doco.)
The traditional account
Muhammad is an illiterate merchant in the city of Mecca.
Mecca is a great pagan cult centre — no Jews or Christians there.
When 40 years old Muhammad hears voice of an angel giving directions from God.
Muhammad is last of the prophets. His teaching of monotheism offends the pagans who exile him to Medina.
Muhammad wins over the Arabs and regains Mecca. All Arabia becomes Muslim.
The teachings are all oral. Nothing written at this stage, but the Arabs converted to the Muslim religion as it is known today.
Arabs are inspired by his teaching to spread the word. That God is with them is evident from the miracle that they are able to overthrow both the Roman and then the Persian empires.
Their empire is proof that the Muhammad was the prophet of God.
Holland's challenge
Holland, however, says that the evidence informs us of Arab conquests, not Muslim conquests, in the seventh century.
The earliest sources for Muhammad's life are from around 800 CE. — almost 200 years after he existed. There are no lives of the prophet, no histories, no accounts of the conquests written by the Arabs, no commentaries on the Qur'an — then suddenly around 800 there is a great explosion of all of these.
Another "conspiracy of silence" and other problems
How to explain this silence?
The usual answer is that their culture was oral. But the problem with that is that they conquered highly literate societies, so it seems odd that no-one wrote any of this down at all until around 800. In the case of the Roman and Persian invasions we have conquered peoples recording the culture that is overtaking them. But not so in the case of the Arab conquests.
Holland's answer: Islam before 800 does not exist in the form we would recognize it. The Muslim faith is very complex and sophisticated — it is a "civilization" of "cultural richness" rather than simply a "religion" — and it "beggars belief" that it all was formed by a single man in one life-time and suddenly took over whole peoples and replaced other faiths.
Another problem: it is clear that the Qur'an is heavily influenced by Christianity and Judaism. But the whole point of Muhammad's biography is to emphasize that he could not have got any of his ideas from Jews or Christians. He is illiterate and lives in the middle of the desert!
The seed bed
Today we speak of clearly defined religious groupings such as Christianity and Judaism. Holland reminds us that such concepts were not so clear-cut before Constantine. It was when Christianity was instituted as the state-backed religion by Constantine that certain church leaders were in a position to draw clearly defined boundaries that determined who was in and who was out. Setting up this barrier produced a like reaction. Judaism likewise, in response, was obliged to define itself more rigidly. (I am reminded here of Daniel Boyarin's Border Lines, though if memory serves I think he dates this sort of rigid fence-building, and the emergence of what we today recognize as Judaism and Christianity, earlier than Constantine.)
So the question that arises is what happened to all those people in-between? What of the Christians who were also "Judaizers" and of Jews who believed Jesus was the Messiah? They were forced into retreat from both sides. (There were other groupings, too, of course.) It is out of these waifs who were forced from the Holy Land into the desert — the heretics of Christianity and Judaism — that Holland believes the Muslim faith was to emerge. And it did so not in Mecca but in the same region where these groups themselves were concentrated — in the Palestine-Jordan-Syria region. More on that later.
Did Muhammad exist?
Did Muhammad exist? Yes, says Tom. We know that because we have seventh century mentions of him by monks, though not as a prophet. He is the lawgiver or general of the Arabs. (Hear the interview for details.) There are some scholars who do doubt the existence of Muhammad. Another interesting document suggests that Muhammed was still alive and leading a conquest of Palestine two years after he is supposed to have died. So the evidence and question is fraught with complexities.
Holland believes that Muhammad was one of many similar Arab prophets of the day. Not all Arabs followed Muhammad.
Arab, not Muslim, conquests
So were the Arab conquests inspired by Muhammad and their zeal to spread the Muslim faith? For that we have no evidence. I don't mean there is no evidence for the seventh century Arab conquests. They are not doubted. But what is open to question is whether these Arabs were adherents to Islam at that time. Or did the Muslim religion appear subsequent to those conquests?
When the Romans or Persians conquered territories they left indisputable evidence of who they were and what they believed. When the Arabs conquered both Christian and Jewish peoples they left no evidence that at that time they belonged to any particular religion. Apparently some Christians feared they were in league with the Jews because they allowed Jews to return to some of their places of prayer.
Particularly curious is that there is no mention of Muhammad in any of their coins or other records pertaining to this period. Another curious datum from the documentary (not in the interview) is that the earliest known mosque in the Palestine region is not facing Mecca, but east, for prayer.
The first coin with the name Muhammad on it does not appear until around fifty years after the conquests of Palestine.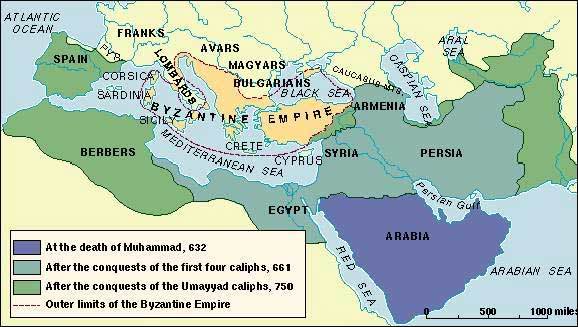 Origin of the Qur'an
But what of the Qur'an itself? That did not exist in writing in the time of Muhammad but was said to have been orally transmitted for some time before it was set in ink. The Qur'an itself (at least material evidence for its existence), like the name of Muhammad on coins, was a latecomer.
And where did the Qur'an originate? It was supposed to be from Mecca, according to legend. The story goes that Muhammad was in debate with degenerate pagans who knew nothing of monotheism or "godly morality". But the Qur'an's arguments are in dialogue with people who know about farming in rich, fertile regions, cattle-raising, vine-dressing, and so on. That's not the setting of Mecca. Mecca has no water supply. Moreover, the dialogues are with people who clearly already know about Jewish and Christian theology and persons, such as Yahweh and Jesus. Again, this is not the setting of a benighted pagan community.
So questions arise over the provenance of the Qur'an.
Why Mecca?
So what of Mecca? (Holland compares it with Camelot — a place that "floats around" with various places laying claim to it until it is finally settled . . . .)
Mecca is not mentioned in any texts until 741 (a century after Muhammad) — again another oddity "if it was, indeed, the Dubai of the ancient world" as is so often implied in the Qur'an.
Why did Mecca, when it finally appears, emerge in the desert? Just as Mary had to be a virgin to avoid any possibility that Jesus had a human origin, so the Qur'an had to emerge in the purity of the desert where it could not have been contaminated with any other religious idea. Thus is denied its (probable?) origin from Christian and Jewish heresies.
The Arab conquests are FOLLOWED by the rise of Islam
Tom Holland's thesis is that when the Arabs embarked on their conquests they did so without any thought to religious motivation. Maybe some of them were followers of a prophet Muhammad, but many others may well not have been. Besides, that prophet Muhammad certainly did not introduce the full religion that was later recognized as Muslim.
The Arabs had earlier been hired as mercenaries in the Persian army, and after catastrophes, in particular the Bubonic Plague, had so weakened both the Roman and Persians empires those Arabs found themselves in a position where they could just walk in and take over huge swathes of those empires. (That plague probably wiped out a quarter to a half of the population — the manpower resources and tax base — and left the Byzantine and Persian empires struggling. A war a generation long followed and depleted the strengths of both empires. The Byzantine/Roman empire reclaimed Palestine at the end of the war but with nothing more than a tiny skeleton force of what had been there before. Arabs had been employed as mercenaries by these Romans and Persians to make up for this drop in manpower within their own borders. So Arab mercenaries were strongly present in Iraq, Syria and Palestine. They were already there in those provinces.
I think ultimately what the Arab conquests are, is a process of these Arabs finding out, 'Hey, we can just walk in. No one can stop us.'
So when the Arabs realize they are in possession of these vast areas of the former empires, they ask (as was the way of that age) why or how did God allow this to happen? It has to be God's will.
They did not impose their faith — if they even had a single faith — on their subjects. There is no sign of Christian or Jewish or other religious revolts or records from them about being overwhelmed by an alien religion and culture.
So when did Islam become established as the Arab religion?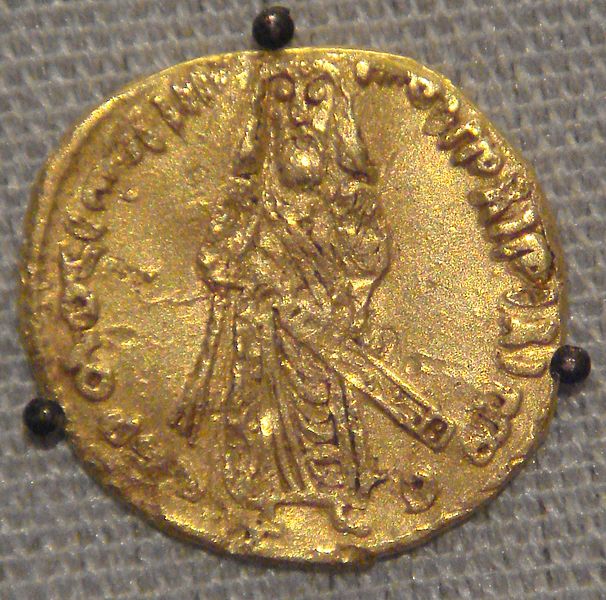 The warlord Abd al-Malik, in 685, in order to establish his legitimacy as the new ruler before his Arabs and the Romans to the north, claimed to be chosen as ruler by God. (Compare Constantine attributing his success to Christianity and then using the Church to bolster his power.)
Abd al-Malik is "Constantine and Saint Paul rolled into one". He establishes Arabic as the language of empire, gets rid of images from the coins, builds the first proto-Muslim building, the Dome of the Rock. Holland sees him as presenting himself as God's Deputy (= Caliph). Abd al-Malik sets himself on the same level as Muhammad.
After his death there was a diminishing of his absolutist power in the caliphate.
At the same time there is another development. With the vast empire and conquests came an influx of slaves. These were settled in garrison towns such as on the edge of Iraq. The descendants of these slaves, especially those freed, came to read the Qur'an and turned its divine revelations (against arrogance, oppression, and for kindness and humanity, etc) against their Arab overlords.
Many of these slaves were of Christian or Jewish or Zoroastrian background and they introduce their traditions to the religious discussions.
With these influences we can see Islam changing into something that is recognizable today.
Example: In the Qur'an the penalty for adultery is whipping. But some Muslims today practice stoning for adultery. Stoning comes from the Jewish rabbinical tradition, not the Qur'an.
Example: The Qur'an enjoins praying three times a day. But Muslims pray five times a day. Zoroastrians prayed five times a day. Another influence?
So the Muslim religion is originating as creative multi-culturalism into something quite new. But such an origin will not do for a "true religion", so all of these changes are attributed to the mouth of the Prophet, the sayings, the sunnah, the hadiths.
All this begins to undermine the authority of the Caliph.
What is key about the success of what is Islam, as had been the case with Christianity, is that it gives something both for the rulers (they can say they are the chosen one of God) and for those on the bottom, those who previously had been given no dignity. I think what is remarkable about Islam is that it is in a sense the revenge of the conquered. It's the most spectacular takeover, of a ruling elite by a conquered body of people that history bears witness to. (Tom Holland)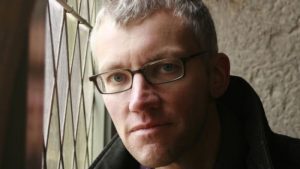 The following two tabs change content below.
Neil Godfrey
Neil is the author of this post. To read more about Neil, see our
About page.
Latest posts by Neil Godfrey (see all)
---
If you enjoyed this post, please consider donating to Vridar. Thanks!
---