This post inaugurates what I hope will be a long-running, informative (albeit tongue-in-cheek) series. In it, we'll attempt to shine some light on the inner workings of the New Testament scholar's brain.
There is no reason to doubt . . .
New Testament scholars fall back on stock phrases when they're pushing a weak argument, presenting poor evidence, or stating an opinion as fact. Ironically, the stock phrases they pull out of the old filing cabinet usually have the opposite effect from what they intended. That is, they draw attention to the problem.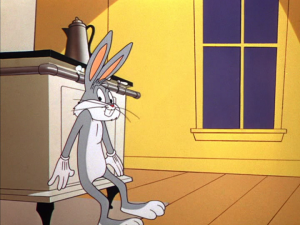 We might call this the Oz Distraction Disorder (ODD), as in: "Pay no attention to that man behind the curtain!" It could be an act of desperation, or perhaps it's a subconscious thing. Maybe they want us to figure it out, much as Bugs Bunny purposely drew attention to the bank robbers he'd stashed in the gas stove.
One of the most common ODD phrases is: "There is no reason to doubt . . ." (TINRTD) Whenever you see this phrase, you should be on the lookout — the author is probably about to describe something you ought to doubt. We're apparently supposed to shut off the skeptical parts of our brains when we hear this magic formula, triggering a kind of post-hypnotic suggestion.
Here are some fine examples.
Lukan parables that "must be" authentic
Klyne Snodgrass, in his book, Stories With Intent: A Comprehensive Guide to the Parables of Jesus, writes:
With Jülicher and most others there is no reason to doubt that these two parables are genuine words of Jesus. (p. 385, emphasis added)
Snodgrass pulls the TINRTD card when considering the authenticity of Luke's parables of the Tower Builder and the Warrior King. Snodgrass snorts:
Continue reading "How to Think and Write Like an NT Scholar: Part 1"