Here's an Easter post. Never let it be said I ignore the season.
I can't recall where I first was introduced to the fact that the Gospel resurrection scenes show a distinct development of details according to the relative dates of the Gospels. Look at how each one appears to build on or surpass what had been written before.
Take One: Off-stage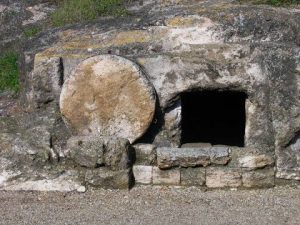 The Gospel of Mark, the earliest Gospel, actually has no resurrection scene at all. The women come to the tomb, see a young man in the tomb, then run off in fear. (Bibles that continue the story past verse 8 are incorporating what most scholars acknowledge is a passage that was not original to the Gospel. Someone much later attempted to cobble details from both Matthew and Luke to create what they presumably thought was a more satisfying conclusion.) The young man does tell the women that Jesus can be seen again in Galilee if they go there. And that's it. There is no actual appearance of a resurrected Jesus in this Gospel.
[5] And entering into the sepulchre, they saw a young man sitting on the right side, clothed in a long white garment; and they were affrighted.

[6] And he saith unto them, Be not affrighted: Ye seek Jesus of Nazareth, which was crucified: he is risen; he is not here: behold the place where they laid him.

[7] But go your way, tell his disciples and Peter that he goeth before you into Galilee: there shall ye see him, as he said unto you.

[8] And they went out quickly, and fled from the sepulchre; for they trembled and were amazed: neither said they any thing to any man; for they were afraid.
Take Two: On-stage
Then we have the Gospel of Matthew that used the Gospel of Mark. The writer of this later Gospel clearly was not satisfied with Mark's ending so he added a scene where Jesus did literally appear to his disciples in Galilee. This was no longer an off-stage scene. In Matthew Jesus keeps an appointment with his disciples:
[16] Then the eleven disciples went away into Galilee, into a mountain where Jesus had appointed them.

[17] And when they saw him, they worshipped him: but some doubted.

[18] And Jesus came and spake unto them, saying, All power is given unto me in heaven and in earth.

[19] Go ye therefore, and teach all nations, baptizing them in the name of the Father, and of the Son, and of the Holy Ghost:

[20] Teaching them to observe all things whatsoever I have commanded you: and, lo, I am with you alway, even unto the end of the world. Amen.
Before that scene the author struggled to find a way to have Jesus appear near the tomb itself. After an angel (Matthew transformed Mark's "young man" into an overpowering and glorious angel) told the women to go tell the disciples to find Jesus in Galilee, Jesus himself appears in front of them and robotically repeats the same message. Or is this so crudely done that we must suspect a later redactor of adding this vignette?
Take Three: Add some feeling
So we can say "Matthew" created the first resurrection scene. He based his scene on "Mark's" young man's announcement of what the disciples could expect to see when they returned to Galilee. However, later evangelists seemed to have found that rather bland.
There is debate over whether the next Gospel chronologically was Luke or John. Most go with Luke, but I have problems with that. Few scholars are prepared to seriously consider the possibility that Luke and Acts as we know them were products of the mid second century. (There was certainly an earlier version of Luke's gospel, but there is reason to doubt that in its early form it contained the resurrection details we read in it today. I have posted on this in reviews of Tyson's work and others on this blog.)
So for this exercise I am placing the Gospel of John as third in line. (It doesn't matter much, really, since both Luke and John are keen to add quite a lot more detail than had been found in Mark and Matthew.)
There are quite a number of indications of Markan and Matthean influence in John's Gospel. (Some believe its author knew all three synoptic gospels — Mark, Matthew and Luke.) Clearly its author was not happy with the resurrection appearances in either Mark or Matthew.
He had the resurrected Jesus appear to Mary and here we find for the first time some personal drama added to the event. Mary is moved enough when she recognizes Jesus for Jesus to quickly order her not to touch him. (Matthew's two Marys had worshipfully held the feet of Jesus.) He has yet to ascend to heaven and return again before any mortal is allowed to touch him. It's morning when this happens. After an all day return trip to his Father's throne just above the clouds he returns in the evening by materializing in the middle of a closed room to be seen by his disciples. This time the disciples are also said to be very happy, and Jesus then breathes on them to give them the Holy Spirit. So we are now getting pretty close to physical contact.
Then Thomas the latecomer is the next to see him and Jesus tells him to touch him, even to put his whole hand in the spear-hole in his side. Thomas refrains from doing so, it seems, since Jesus commends him faintly for believing merely on seeing him.
All these scenes happened in Jerusalem. (Was "John" drawing upon an early version of Luke's Gospel that contained a Jerusalem appearance?) But he apparently felt he had to do something to match the Mark and Matthew accounts of Jesus appearing in Galilee. (I know, many readers may be thinking it was a later redactor who added this final chapter. Possibly. But we can't be certain of that, especially once we learn more about ancient literary styles.) So this time Jesus does more than just appear to his disciples: he starts a fire and then feeds them all some breakfast.
The resurrection appearances of Jesus are becoming much more "substantial" now. Jesus is still very much a spirit, but he is mixing more with his folks, being confused for a gardener at first by Mary, doing substantial things to prove his post-mortem real existence.
Take Four: Let's get physical
Now for the final redaction of Luke. This was when its story was developed in a way that segued into Acts.
Luke builds up the scenes in step-by-step dramatic stages. First Jesus appears as an unrecognized country wanderer. He is invited in by strangers for a meal and overnight stay, and once again Jesus breaks bread for them but then disappears.
His two hosts run back to tell the other disciples and add that Jesus had also made an off-stage appearance to Simon Peter.
Jesus himself scares them out of their wits by suddenly appearing out of nowhere. Luke's portrayal of emotional responses is a little more realistic than what we read in John. Jesus then reassures them all by inviting them to touch him, though they seem too coy to actually go that far. He even says they can touch him because "a spirit has not flesh and bones — as you see I have". So he orders some fish and honeycomb for dinner and then eats it all up while they watch. So he presumably had a stomach and an appetite, too.
Not only that, but Jesus stayed with them for forty days like this. Finally he was taken up into heaven on a cloud. Ten days later the Holy Spirit fell upon them all.
(So Luke has separated out into three distinct events what the other evangelists had more or less rolled into one: the resurrection, the ascension, and his or his Spirit's ongoing presence.)
Evolution happening before our eyes!
So we can see how a story grows with the telling. Successive authors appear to have built upon frameworks that had been constructed by those before until we go from a mere reported appearance yet to happen right through to a series of appearances with physical and personally dramatic interactions and even suggestions that the resurrected body is not even a spirit.
The following two tabs change content below.
Neil Godfrey
Neil is the author of this post. To read more about Neil, see our
About page.
Latest posts by Neil Godfrey (see all)
---
If you enjoyed this post, please consider donating to Vridar. Thanks!
---