Dale C. Allison (November 25, 1955-) is an American New Testament scholar, historian of Early Christianity, and Christian theologian who for years served as Errett M. Grable Professor of New Testament Exegesis and Early Christianity at Pittsburgh Theological Seminary. He is currently the Richard J. Dearborn Professor of New Testament Studies at Princeton Theological Seminary. — Wikipedia (2nd Oct 2015)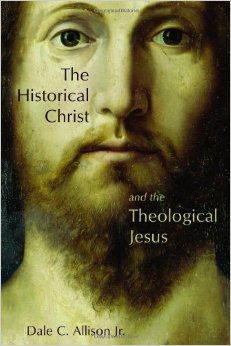 I like reading Dale Allison. He is open and forthright about his methods. When some biblical scholars indignantly insist that their field is faith-neutral (after all it includes atheists and agnostics and Jews!) and that they are as on the level as any other historians could possibly be, I wonder if they have ostracized Dale Allison from their community.
Allison acknowledges the circularity at the heart of historical Jesus arguments and that the Gospel narratives are largely midrashic parables. But he is a serious historian nonetheless (according to the lights of historical studies within theological circles) and does the best he can to know "the historical Jesus" despite the challenges thrown up by the nature of the sources:
Even fabricated material may provide a true sense of the gist of what Jesus was about, however inauthentic it may be as far as the specific details are concerned. (See Dale Allison on Memory and Historical Approaches to the Gospels)
In The Historical Christ and the Theological Jesus Allison clarifies what he means by the above:
What matters is not whether we can establish the authenticity of any of the relevant traditions or what the criteria of authenticity may say about them, but rather the pattern that they, in concert, create. It is like running into students who enjoy telling tales about their absent-minded professor. A number of those tales may be too tall to earn our belief; but if there are several of them, they are good evidence that the professor is indeed absent-minded.

Dale C. Allison Jr.. The Historical Christ and the Theological Jesus (Kindle Locations 839-841). Kindle Edition.
(Think that "historical method" through for a few moments.)
With thanks to Anthony Le Donne for alerting me to Dale Allison's The Historical Christ and the Theological Jesus here are a few more of Allison's insights worthy of note:
I have never been without theological motives or interests. Until a few years ago, however, I had not attempted to pursue those interests with much diligence or to examine my motives with much care. Recent circumstances have pushed me out of my historical-critical pose. After accepting a teaching post at a Protestant theological seminary, I soon discovered that future pastors are not interested in undertaking historical labor without the prospect of theological reward. In order, then, to keep my audience, I was compelled to complement my critical inquiries with theological deliberations.

Dale C. Allison Jr.. The Historical Christ and the Theological Jesus (Kindle Locations 20-23). Kindle Edition.
Don't misunderstand. Dale Allison firmly believes he is professional enough to recognize (at least in hindsight) when his historical reconstructions of Jesus have been guided by theological interests as the following quotations will demonstrate. Before making those acknowledgments, however, he draws on his experiences in the wider field to recognize what his peers are also doing.
In recent years we have seen works by Larry Hurtado and Richard Bauckham arguing for the earliest "Christians" attributing to Jesus a very high divine Christology from the very beginning of their faith. If you have wondered if these professors might be influenced by their own conservative faith, Allison encourages your suspicions. He tells us we can also predict the personal beliefs of scholars who flatly reject any form of high christology:  Continue reading "What Biblical Scholars Say About Historical Jesus Studies"