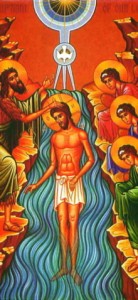 I was struck by a sentence by Dale C. Allison in his Constructing Jesus that began as follows:
Indeed, Jesus seems to have submitted to John's baptism. . . . (p. 53)
Only "seems"? I did not know that any theologian and biblical scholar who accepted the historical reality of Jesus doubted it. So catch that footnote number and make a quick check. Here is the explanatory footnote:
This is rarely doubted, although see William Arnal, "Major Episodes in the Biography of Jesus: An Assessment of the Historicity of the Narrative Tradition," TJT 13 (1997): 201-26; Leif E. Vaage, "Bird-Watching at the Baptism of Jesus: Early Christian Mythmaking in Mark 1:9-11," in Reimagining Christian Origins (ed.. Castelli and Taussig), 280-94. Arnal and Vaage do not persuade, in part because, as Mark's account of the crucifixion and Luke's theological use of Jerusalem show, remembered facts may not only serve literary ends but may also be fully clothed in legendary and mythological dress. The snag here is that almost every bit of tradition is integrated into the surrounding Synoptic narratives and serves clear editorial ends, so unless we are to find only fiction in the Synoptics, observation of such integration and such ends cannot suffice to determine derivation.
This is why I like Dale Allison so much. He is equal to the most honest biblical scholar that I have encountered who also believes in the historicity of Jesus. He essentially admits his belief is a belief and does not kid himself (or his readers) that his reasoning is not circular. There are a number of other theologians who cannot face this fact about their own writings.
Theologian James McGrath challenged me to address a scholar like E.P. Sanders "point by point" and still deny the historicity of Jesus, and when I did so, including a discussion of what Sanders argues about the baptism of Jesus, McGrath belatedly responded with a weak and meek "I do not agree". I had hoped for some serious response that included a statement of reasons for his disagreement. I would much rather engage with Dale Allison who does demonstrate an ability to give a reasoned response.
What Allison argues is that just because a narrative in the gospels can be demonstrated to consist of:
a literary-rhetorical plot-structural function in the narrative
legendary and mythological images, tropes and motifs
then it does not necessarily mean that it was only invented by the author to serve those literary ends, nor only invented out of pre-existing mythical materials.
But Allison does go further. He's a battler and is not going to give up the reality of his favourite star until he fires off his last round.
The rest of the gospel narrative, he implies, is not entirely mythical or plot-functional, so we (he) may comfortably assume that part of the narrative really is historical, or at least based on imperfect memories and Chinese whispers traced back to eye-witness reports.
Essentially Allison is asserting that the Gospels contain a quasi-historical narrative with occasional overlays of mythological and literary renditions.
But why can't we turn that around and say the Gospels contain mythological and literary narratives with occasional overlays of passages that sound prosaicly unmythological and nonliterary?
As Allison himself writes in another context,
What good is an argument that one can effortlessly flip to establish its contrary? (p. 70)
What Allison appears to me to be doing is asserting that anything that cannot be traced to a mythical derivation is likely grounded at some level in genuine history, and anything that is mythical in the same narrative is therefore an overlay or dolled-up presentation of more things that we can assume are historical.
Either way, it is all assumption. And of course the Christian faith requires, in its literal rendition at least, the historicity of much of the Jesus and Gospel narrative.
What's the alternative? To do historical inquiry into areas for which we have evidence, and/or to tailor our historical questions to fit the nature of the evidence we do have. I might love and wish with all my heart for William Tell to be a true hero. But if the evidence is not there for me to do a historical-biographical inquiry into his life then I simply can't do it. The best I can do is use the available evidence to investigate how the narrative of William Tell arose in the first place and how and why many came to believe in his historicity.
It is the same with the "evidence" we have for Jesus.
Historians in other topics that do not come with a modern popular faith component rely on external corroboration to establish the reliability of an apparently historical report or narrative. (I have cited so often the quotations of Albert Schweitzer and Eric Hobsbawm in this respect that I fear I would be thought to have Alzheimer's if I were to repeat those cites again here. I must do some more reading to garner additional names who make explicit what most of their peers take for granted.) By external corroboration I mean more than merely an independent reference to a key event in the narrative. An external support might mean some clear indicator of the authority of the writing in question: an official national or state government document that came with an authenticating seal and that established the details of your birth is worth more to establish your true identity than your namesake by chance appearing in a fiction novel.
Allison's reasons for not being persuaded by the arguments of Arnal and Vaage are self-serving. He wants to be right when he assumes the non-mythical verses joining up the myth-tinged episodes in the Gospels are somehow records of oral traditions that originated with historical events. But there is no evidence to support this assumption (apart from more literary evidence from within the same Christian source-set).
But there really IS external, independent evidence that does quite surely link to the narratives in the gospels, and it is all mythical literary evidence in the Old Testament, and occasionally from among Greek poets and playwrights.
The Old Testament oracles (Malachi) pronounced an Elijah figure to come to announce beforehand a God representative to usher in the Kingdom of God. They (Isaiah) also pronounced a voice in the wilderness to make the same announcement. Hey presto, a figure appears dressed up like Elijah and preaching in the wilderness about the coming of God's Kingdom.
And let's not ask, as Joseph Campbell reminds us, how it came about that the name of the baptizer was the namesake of the Babylonian god of waters and new life. Josephus will secure us a sure historical place for John, even if all the details he lists (preaching after Jesus was crucified; baptizing for a different purpose from the Gospel's John's baptism) are inconsistent with those found in the Gospels.
Let's sum up.
The argument for tale of Jesus' baptism by John being mythical rests entirely on the fact that all of its details can be explained as having either a literary function or a literary/mythical origin.
There is no evidence that anything narrated in these literary or mythical parameters had an external real historical existence.
All the evidence is that the narrative of the baptism is mythical/literary.
There is no evidence of any kind, not even independent literary evidence, to support the synoptic gospel story that Jesus was baptized by John.
But Dale Allison is "not persuaded" that the story is mythical because it sits within Gospels that contain other narratives and editorial fillers that are not so obviously linked to known mythical events. Personally I find very few narratives in the Gospels devoid of mythical trappings or theological agendas.
I don't know about you, but I'd rather turn my credibility antenna down to "low receptivity" until evidence clearly external to the gospels emerges from a clay pot in another Jordan valley cave.
Till then, if a narrative can be shown to serve a literary function, and if the same narrative can be shown to be made up of various mythical elements and be told with the same words found in other texts "predicting" this event, I think the sensible option is to err on the side of this narrative being construed from start to finish in the mind of the author.
The following two tabs change content below.
Neil Godfrey
Neil is the author of this post. To read more about Neil, see our
About page.
Latest posts by Neil Godfrey (see all)
---
If you enjoyed this post, please consider donating to Vridar. Thanks!
---