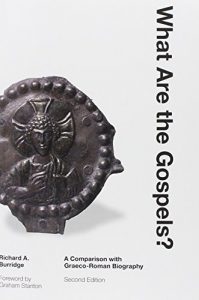 In this post I outline the points of Burridge's influential argument that the gospels belong to the genre of ancient biography.
Richard A. Burridge has been central to the development of wide scholarly agreement that the Gospels are biographies (or technically βιος) with the publication of his doctoral thesis, What Are the Gospels? A Comparison with Graeco-Roman Biography. To analyze their genre he compares the generic features of the gospels with Graeco-Roman biographies.
My own disagreement with Burridge
Before posting the details of Burridge's case, I sum up my own reasons for disagreement. But you're allowed to skip this section if you want.
I have thought that despite the extent of Burridge's analysis, the βιος genre simply does not describe the gospels, in particular the Gospel of Mark which is my primary interest. What we recognize as ancient Greek and Roman biographies are clearly and directly "about" their subject persons.
The Gospel of Mark, unlike Greek and Roman biographies, is not "about" the person or character of its central figure. And I think this applies to the Gospels generally. Continue reading "Are the Gospels Really Biographies? Outlining and Questioning Burridge"