Dale C. Allison (November 25, 1955-) is an American New Testament scholar, historian of Early Christianity, and Christian theologian who for years served as Errett M. Grable Professor of New Testament Exegesis and Early Christianity at Pittsburgh Theological Seminary. He is currently the Richard J. Dearborn Professor of New Testament Studies at Princeton Theological Seminary. — Wikipedia (2nd Oct 2015)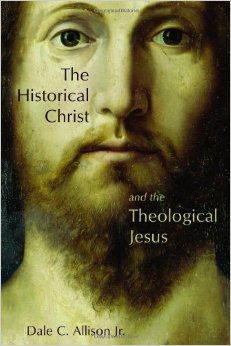 I like reading Dale Allison. He is open and forthright about his methods. When some biblical scholars indignantly insist that their field is faith-neutral (after all it includes atheists and agnostics and Jews!) and that they are as on the level as any other historians could possibly be, I wonder if they have ostracized Dale Allison from their community.
Allison acknowledges the circularity at the heart of historical Jesus arguments and that the Gospel narratives are largely midrashic parables. But he is a serious historian nonetheless (according to the lights of historical studies within theological circles) and does the best he can to know "the historical Jesus" despite the challenges thrown up by the nature of the sources:
Even fabricated material may provide a true sense of the gist of what Jesus was about, however inauthentic it may be as far as the specific details are concerned. (See Dale Allison on Memory and Historical Approaches to the Gospels)
In The Historical Christ and the Theological Jesus Allison clarifies what he means by the above:
What matters is not whether we can establish the authenticity of any of the relevant traditions or what the criteria of authenticity may say about them, but rather the pattern that they, in concert, create. It is like running into students who enjoy telling tales about their absent-minded professor. A number of those tales may be too tall to earn our belief; but if there are several of them, they are good evidence that the professor is indeed absent-minded.

Dale C. Allison Jr.. The Historical Christ and the Theological Jesus (Kindle Locations 839-841). Kindle Edition.
(Think that "historical method" through for a few moments.)
With thanks to Anthony Le Donne for alerting me to Dale Allison's The Historical Christ and the Theological Jesus here are a few more of Allison's insights worthy of note:
I have never been without theological motives or interests. Until a few years ago, however, I had not attempted to pursue those interests with much diligence or to examine my motives with much care. Recent circumstances have pushed me out of my historical-critical pose. After accepting a teaching post at a Protestant theological seminary, I soon discovered that future pastors are not interested in undertaking historical labor without the prospect of theological reward. In order, then, to keep my audience, I was compelled to complement my critical inquiries with theological deliberations.

Dale C. Allison Jr.. The Historical Christ and the Theological Jesus (Kindle Locations 20-23). Kindle Edition.
Don't misunderstand. Dale Allison firmly believes he is professional enough to recognize (at least in hindsight) when his historical reconstructions of Jesus have been guided by theological interests as the following quotations will demonstrate. Before making those acknowledgments, however, he draws on his experiences in the wider field to recognize what his peers are also doing.
In recent years we have seen works by Larry Hurtado and Richard Bauckham arguing for the earliest "Christians" attributing to Jesus a very high divine Christology from the very beginning of their faith. If you have wondered if these professors might be influenced by their own conservative faith, Allison encourages your suspicions. He tells us we can also predict the personal beliefs of scholars who flatly reject any form of high christology: 
Who doubts that authors who themselves have a high christology tend to write books in which the historical Jesus himself has a high christology? Or that those who are uncomfortable with Nicea and Chalcedon more often than not unearth a Jesus who humbled rather than exalted himself? The correlations between personal belief and historical discovery must be endless.

Dale C. Allison Jr.. The Historical Christ and the Theological Jesus (Kindle Locations 218-220). Kindle Edition.
As I mentioned at the beginning, Allison is honest and self-critical about his methods:
I had created a Jesus in my own image, after my own likeness. Having enthusiastically preoccupied myself with the study of intertextuality for a decade, I had happily discovered that the Jesus of ancient Palestine was just like me, at least in one important respect. He may have been a first-century Jew and so in many ways a stranger and an enigma, but he was also skilled at setting up the sorts of intertextual dialogues that I love to unravel. So I had found Jesus, and he just happened to be a learned and admirable expositor, a man after my own intertextual heart.

Dale C. Allison Jr.. The Historical Christ and the Theological Jesus (Kindle Locations 230-233). Kindle Edition.
And he digs deeper still:
Yet I would be deceiving myself were I to imagine that my Jesus was nothing but the product of brutal historical honesty. I wrote Jesus of Nazareth during an exceedingly miserable period in my life. The details are irrelevant. I need only say that my prospects for happiness seemed to have come and gone, and I was sunk in a slough of despond. And – this is the point – my chief consolation was hope for a life beyond this one where things might be better, which means that I was comforted by a historical Jesus who seemed ill at ease in the world as it is, a Jesus who did not expect much good from this present evil age, a Jesus who hoped chiefly in a God of the future.

Dale C. Allison Jr.. The Historical Christ and the Theological Jesus (Kindle Locations 238-242). Kindle Edition.
But don't one's peers put a check on how far we can slip into writing our own autobiography when we reconstruct our Jesus" Yes indeed — but who are our peers?
While we inevitably read ourselves into the texts, we can at the same time come to conclusions that neither arise solely from our expectations nor simply confirm our wishes. Furthermore, we are not in this alone but are members of a guild. The predispositions of one jostle against the predispositions of another in a sort of communal dialectic, which enables those who so desire to enlarge themselves.

Dale C. Allison Jr.. The Historical Christ and the Theological Jesus (Kindle Locations 271-273). Kindle Edition.
So we have many scholarly reconstructions of Jesus; on what basis do theologians decide which one to favour?
But how will our theologians go about deciding which school or scholar?

I am not sure what the answer should be in theory, but I am certain that, in practice, the method is that of attraction. Theologian A adopts the reconstruction of historian B because theologian A likes the Jesus of historian B. And the fondness of A for B derives undoubtedly from theological logical congruency. That is, A and B share similar ideological inclinations. So whereas some theologians may earnestly wish to appeal to the Jesus of history and may think they are in fact doing this, what happens more often than not is that they are really utilizing the Jesus of their own theological predilections, because those are also the predilections of the historian(s) they have chosen to follow. Like is attracted to like. All one need to do to see the truth of the matter is ask, Which pastors and theologians have made use of the Jesus Seminar and which pastors and theologians have made use of Tom Wright?

Dale C. Allison Jr.. The Historical Christ and the Theological Jesus (Kindle Locations 297-302). Kindle Edition.
The following two tabs change content below.
Neil Godfrey
Neil is the author of this post. To read more about Neil, see our
About page.
Latest posts by Neil Godfrey (see all)
---
If you enjoyed this post, please consider donating to Vridar. Thanks!
---