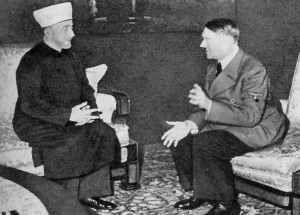 The Prime Minister of Israel used the World Zionist Conference to break the news to the world, unknown or suppressed by all historians till now, that it was a Palestinian Arab leader who gave Hitler the idea of exterminating all the Jews.
Here is the record of the Palestinian Grand Mufti's conversation with Hitler according to the Documents on German Foreign Policy 1918-45, Series D, Vol. XIII, London, 1964, pp. 881 ff. as printed in The Israel-Arab Reader: A Documentary History of the Middle East Conflict: Seventh Revised and Updated E . Penguin Publishing Group. Kindle Edition. (2008-04-29).
I have highlighted sections for easier quick skimming of the main points.
German Chancellor Adolf Hitler and Grand Mufti Haj Amin al-Husseini: Zionism and the Arab Cause

(November 28, 1941)  

Haj Amin al-Husseini, the most influential leader of Palestinian Arabs, lived in Germany during the Second World War. He met Hitler, Ribbentrop and other Nazi leaders on various occasions and attempted to coordinate Nazi and Arab policies in the Middle East.

Record of the Conversation Between the Führer and the Grand Mufti of Jerusalem on November 28, 1941, in the Presence of Reich Foreign Minister and Minister Grobba in Berlin

The Grand Mufti began by thanking the Führer for the great honor he had bestowed by receiving him. He wished to seize the opportunity to convey to the Führer of the Greater German Reich, admired by the entire Arab world, his thanks for the sympathy which he had always shown for the Arab and especially the Palestinian cause, and to which he had given clear expression in his public speeches. The Arab countries were firmly convinced that Germany would win the war and that the Arab cause would then prosper. The Arabs were Germany's natural friends because they had the same enemies as had Germany, namely the English, the Jews, and the Communists. They were therefore prepared to cooperate with Germany with all their hearts and stood ready to participate in the war, not only negatively by the commission of acts of sabotage and the instigation of revolutions, but also positively by the formation of an Arab Legion. The Arabs could be more useful to Germany as allies than might be apparent at first glance, both for geographical reasons and because of the suffering inflicted upon them by the English and the Jews. Furthermore, they had had close relations with all Moslem nations, of which they could make use in behalf of the common cause. The Arab Legion would be quite easy to raise. An appeal by the Mufti to the Arab countries and the prisoners of Arab, Algerian, Tunisian, and Moroccan nationality in Germany would produce a great number of volunteers eager to fight. Of Germany's victory the Arab world was firmly convinced, not only because the Reich possessed a large army, brave soldiers, and military leaders of genius, but also because the Almighty could never award the victory to an unjust cause.

In this struggle, the Arabs were striving for the independence and unity of Palestine, Syria, and Iraq. They had the fullest confidence in the Führer and looked to his hand for the balm on their wounds which had been inflicted upon them by the enemies of Germany.

The Mufti then mentioned the letter he had received from Germany, which stated that Germany was holding no Arab territories and understood and recognized the aspirations to independence and freedom of the Arabs, just as she supported the elimination of the Jewish national home. Continue reading "What the Grand Mufti and Hitler Talked About – November 28, 1941"