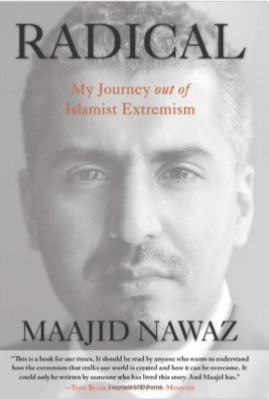 The following passages in Radical: My Journey from Islamist Extremism to a Democratic Awakening by Maajid Nawaz caught my attention: I thought it made a few points worthy of wider attention. Maajid Nawaz was once a leader in a radical Islamist group Hizb ut-Tahrir and is now the chairman of Quilliam, a counter-extremism think-tank.  Radical is his biographical account of how he become involved in an Islamist extremist movement and what led to his leaving extremism behind. Formatting and bolding are my own.
Islam and Islamism: the difference
Important to grasp is how Islamism differs from Islam. Islam is a religion, and its Shari'ah can be compared to Talmudic or Canon law. As a religion, Islam contains all the usual creedal, methodological, juristic and devotional schisms of any other faith. . . . 

Superseding all these religious disagreements, and influencing many of them politically, is the ideology of Islamism.

Simply defined, Islamism is the desire to impose any given interpretation of Islam over society as law. Understood this way, Islamism is not another religious schism, but an ideological thought that seeks to develop a coherent political system that can house all these schisms, without necessarily doing away with them.

Whereas disputes within Islam deal with a person's approach to religion, Islamism seeks to deal with a person's approach to society. (Kindle, loc 1034)
Is there a problem if Islamism remains non-violent?
If the dangers of racism are apparent, even in a non-violent form, then it was the same for Islamism.
But what was the problem with Islamism so long as it remained non-violent? Was it not the right of Muslims to adopt whatever ideology they chose? Of course, it was the right of Muslims to believe that one version of Islam must be imposed as law over their societies, just as it was the right of racists to believe that all non-white people should be deported from Europe. But the spread of either of these ideas would achieve nothing but the division and Balkanisation of societies. If the dangers of racism are apparent, even in a non-violent form, then it was the same for Islamism. Communalist identity politics, self-segregation and group-think are far more damaging to societies in the long run than the odd bomb going off here or there, because it is such a milieu that keeps breeding bomb-makers. . . . .
Maajid Nawaz spent four years in an Egyptian prison and began to piece past and recent experiences together anew: Continue reading "The Conflict between Islamism and Islam"