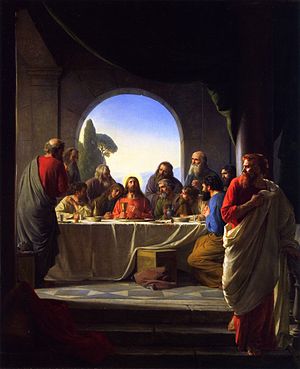 This is from pages 67 to 76 of Constructing Jesus (2010) by Dale C. Allison. Allison begins with the evidence for the twelve.
1 Corinthians 15:5 is the earliest reference we think we have to the twelve. The letter is usually dated to the mid-50s, twenty or twenty-five years after the usually accepted date of Jesus' crucifixion. It refers to the twelve as if the readers of the letter should already know who they are. (Will discuss the Corinthians passage again later in the post.)
3 For I delivered to you first of all that which I also received: that Christ died for our sins according to the Scriptures, 4 and that He was buried, and that He rose again the third day according to the Scriptures, 5 and that He was seen by Cephas, then by the twelve. 6 After that He was seen by over five hundred brethren at once, of whom the greater part remain to the present, but some have fallen asleep. 7 After that He was seen by James, then by all the apostles. 8 Then last of all He was seen by me also, as by one born out of due time.
The Gospel of Mark uses the same designation ("the twelve") for disciples selected to be with Jesus: Mark 3:14 f.; 4:10; 6:7
[3:14] And he ordained twelve, that they should be with him, and that he might send them forth to preach,
[3:15] And to have power to heal sicknesses, and to cast out devils:

[4:10] And when he was alone, they that were about him with the twelve asked of him the parable.

[6:7] And he called unto him the twelve, and began to send them forth by two and two; and gave them power over unclean spirits;
John's gospel also speaks of these:
[6:67] Then said Jesus unto the twelve, Will ye also go away?

[6:70] Jesus answered them, Have not I chosen you twelve, and one of you is a devil?
[6:71] He spake of Judas Iscariot the son of Simon: for he it was that should betray him, being one of the twelve.

[20:24] But Thomas, one of the twelve, called Didymus, was not with them when Jesus came.
Then there is the story in Acts about the replacement being made for Judas. This is in Acts 1:12-26.
The book of Revelation also speaks of the twelve apostles:
21:14 Now the wall of the city had twelve foundations, and on them were the names of the twelve apostles of the Lamb.
Then there is the famous passage in Matthew 19:28 and Luke 22:28-30 (considered by many to be derived from Q) that presumes the audience of Jesus is the twelve:
Matt: 19:28 So Jesus said to them, "Assuredly I say to you, that in the regeneration, when the Son of Man sits on the throne of His glory, you who have followed Me will also sit on twelve thrones, judging the twelve tribes of Israel.

Luke 22:28 "But you are those who have continued with Me in My trials. 29 And I bestow upon you a kingdom, just as My Father bestowed one upon Me, 30 that you may eat and drink at My table in My kingdom, and sit on thrones judging the twelve tribes of Israel."
All this looks straightforward enough. Why should there be any doubt that Jesus really did have a band of twelve with him? A number of biblical scholars have raised doubts, however, and Allison attempt to persuade readers their doubts are groundless. read more »