This post is a response to a question in the comments section. The indented colour-coded section are Bart Ehrman's claims; all links are to other Vridar posts where I have discussed topics more fully and presented evidence for the statements made here.
The earliest followers of Jesus were convinced that he was the messiah. How do we know? Because they called him this, repeatedly, constantly, all over the map. As I have explained, the word "messiah" comes from the Hebrew word for "anointed one." In Greek, "messiah" gets translated as "christ." So anyone who says Jesus Christ is saying Jesus the Messiah.
We have late gospel stories about Jesus being understood by a handful of followers as the messiah. The authors tell us nothing about their actual sources for any specific detail they narrate; nor do the authors explain why they change certain accounts of other authors writing about the same sorts of things. The stories are told as "tall tales" by our standards. Yes, other Greco-Roman historians also spoke of miracles but as a rule they did not present those miracles as "facts", but in virtually all cases explained why they were repeating such unnatural events associated with historical figures and explained why readers should or should not believe the tales. A good number of New Testament scholars and Classicists have been able to identify the sources of many of the stories told about Jesus and they are adapted from other literary tales (not handed down via oral tradition).
And what we have are stories written near the end of the first century or early second about a Jesus called Christ. We have no independent corroborating evidence to give us grounds for thinking that the stories are true.
"Christ" was early and universally (by Christians) applied to Jesus. They called him the messiah so much that it became Jesus' second name. You find this already in the writings of the New Testament – in fact, in our earliest author, Paul, who refers to him as Jesus Christ, Christ Jesus, or just Christ, as a name. For Christians, Jesus was the messiah.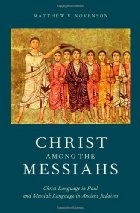 It is old scholarship that still claims Christ was used as a second name for Jesus among the earliest Christians. But that detail aside, yes, of course our earliest sources call Jesus the Christ. It is begging the question to say "you find this already in the writings of the NT" because we have no evidence for anyone calling Jesus the Christ before any of the NT writings.
This claims is what made the Christian message both laughable and infuriating for non-Christian Jews. Most Jews knew full well that Jesus could not be the messiah. Jesus was just the opposite of what the messiah was supposed to be. The messiah was supposed to be the powerful ruler (earthly or heavenly) who destroyed God's enemies and set up a kingdom on earth. Was that who Jesus was? Is that what Jesus did?
Again, Ehrman's claims here are based on a conventional view of old scholarship, of undergraduate scholarship at that. There was no single view that the messiah had to be a conquering king in this world. I have attempted to present in many posts the evidence that Jews were not united in their belief of any particular kind of messiah. One of the foremost Jewish historians today, Daniel Boyarim, argues that the raw material for the Christian messiah — the idea that the messiah was to die and be resurrected — was one of the extant pre-Christian Jewish ideas. I have posted further evidence that plausibly points to the same view not so long ago. The Second Temple Psalm of Solomon is sometimes used as evidence of the Jewish belief in a conquering messiah, but those who advance that psalm as evidence appear not to realize that that same psalm is drawn from the canonical Psalm 2 that presents the messiah as suffering rejection by the world.
The notion of Davidic messiah itself expresses the concept of a messiah who suffers, who is persecuted, yet who in the end is raised by God over his enemies. That's the gospel Jesus, too. That's the messiah of the psalms.
Jesus was not at all "just the opposite" because the earliest Christian teaching is that Jesus conquered a kingdom far more powerful than the human one and that he now sits beside God in heaven, continuing to scatter the powers of demons, and advancing his kingdom. I think Ehrman did not mean to say what he actually said in the above quote where he appears to admit that among Jews it was believed that the messiah was to be a powerful ruler earthly or heavenly. Heavenly is just what he became as a messiah, and the conquering of the kingdom of demons who ruled this world was nothing to be sniffed at.
We have no evidence for the claim that all Jews believed that the messiah's kingdom was going to be set up on earth. We have numerous indications of the contrary. The fact that Christianity emerged out of Judaism is one of the pieces of evidence itself.
Precisely the opposite. Jesus was an obscure and virtually unknown rural preacher who was arrested as a criminal, humiliated, and tortured to death by the Roman authorities. It's no wonder that most Jews found the Christian claims ludicrous.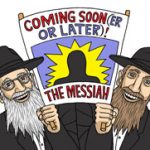 Yes, this is partly what the gospel narrative story says. But what evidence is there that it is based on historical events? None, as I have pointed out many times. We only have to follow normative methods of ancient historians to see that the story has no more support than the story of the Exodus or Jonah.
All the gospels, including the first, that of Mark, speak of Jesus having a great following from Syria and beyond Jordan and to Jerusalem. Historical Jesus scholars know that is not plausible in reality so they construct an alternative Jesus that fits what they think would be a plausible scenario. But there is simply no evidence to support their reconstructions. (Crossan and others have also demonstrated from what we know of Roman executions that none of Jesus' followers would have been present at Jesus' execution, by the way, so it is further unfounded elaboration to say that the Romans "tortured" Jesus to death.)
A careful reading of what did offend the Jews was not the crucifixion of Jesus per se, but what Paul claimed to be the significance of that event for the Law. Again, we have posted about this several times now. If we accept that the earliest church was Jewish then it follows that significant numbers of Jews were NOT offended by the idea of a messiah being crucified. Obviously the crucifixion was not an obstacle to their belief in Jesus' messiahship. Were not Paul, Peter, James, John and the first converts all Jews?
Ehrman says "most Jews" were not persuaded. True, and most gentiles have not been persuaded since, either. But that does not mean we need to close our eyes to the obviously true fact that enough Jews were not offended or thinking the claims ludicrous.
And this is a powerful argument that the earliest Christians – all of them Jews – did not invent Jesus. They didn't make him up. If they had made him up, a Jesus they called the Christ, they absolutely would not have made up a messiah who got crucified. That's the opposite of what they would have made up. There were no Jews that we know of who expected that the messiah would suffer and die. If Christians were to make up a messiah, it would not be a crucified criminal. But Jesus was a crucified criminal. Whom his followers called the messiah. Rather than make the idea up they had to explain the idea away.
Yes, it is an argument, but it is not evidence, certainly not historical evidence. But how does one conclude that the earliest converts did not "invent" Jesus? If they really believed a crucified person could not, by definition, be a messiah, then obviously they did make up the idea that a crucified man could be the messiah at some point. Many Jewish martyrs were crucified and Jews looked upon them with great respect and honour, not shame.
Would Jews not have made up a story of Isaac being "near" sacrificed by his father? We know that some Jews did make up the idea that Isaac really did die at Abraham's hand and that his blood atoned for the sins of all generations of Jews. We know that Jews "made up the idea" that the blood of Jewish martyrs had an atoning power for the sins of others. And it is clearly obvious that some Jews (the earliest Christians) did indeed make up the idea that a crucified man could, after all, be a messiah. Of course they also claimed that his victory over death and rule in heaven was the real qualification — so he was not all that different from other ideas of the messiah anyway.
I don't see a single statement in the New Testament that could be understood as early Christians trying to "explain away" the idea of a crucifixion. I see instead boasts in the crucifixion, narrative focus on the details of a glorifying crucifixion, and read accounts of Jews being divided, some believing and other disbelieving.
Historical evidence is not produced by appealing to the informal fallacy of incredulity.
Christians spent considerable time and effort trying to convince fellow Jews that Jesus was the messiah despite the fact that he had been crucified. Paul claims this message was the major "stumbling block for the Jews" (1 Corinthians 1:23). It was the one thing that kept Jews from becoming followers of Jesus.
As an aside — 1 Corinthians 1:23 is even evidence that Paul did not believe in a miracle-working Jesus.
If the message of a crucified messiah is precisely the thing that made belief in Jesus impossible for Jews, then it is not a message that would have been made up to convince Jews. If you wanted to make up a Jesus who was the messiah, what would you say about him? Possibly that he is now sitting on the throne in Jerusalem ruling the Jewish people. Why didn't anyone make that kind of Jesus up? Because everyone knew full well that there wasn't a Jesus sitting on the throne in Jerusalem ruling his people. Everyone knew, in contrast, that Jesus was a crucified criminal. As a result, his followers had to reconcile their faith (Jesus is the messiah) with historical reality (he had been crucified).
But the message of a crucified messiah was not "impossible" for Jews to accept, was it! It was Jewish acceptance of the gospel that got the church started. Most Jews didn't accept it, but a critical mass obviously did.
But Ehrman's second paragraph is an own goal against him. Obviously no-one, Jew or gentile, would believe a made-up story that could well be seen and known to all to be a lie. Such a religion could not possibly have got started.
But if you say Jesus is a spirit in heaven and he has conquered the rulers of this world and now reigns in heaven, advancing his kingdom with a few chosen Jews and a few chosen gentiles — then that is more credible. And the crucifixion idea is the ingredient that makes it all work because then the messiah walks in the steps and outdoes the earlier heroes of Jews whose deaths and shed blood saved others, and who followed in the footsteps of a persecuted and rejected David.
If the earliest followers were just as convinced as Ehrman says they were that a messiah could not be crucified, then it logically follows that they should have disbelieved that Jesus was the messiah. That's a reasonable conclusion. But that didn't happen, and the only way to explain that is by appealing to some "mystery" or something we can't understand today — the power of the "easter experiences" on those first followers. That's an appeal to a miracle. I rather think the claim is a late and invented story. What other religion has ever started by the focus of worship experiencing something that it was strongly believed impossible for him to experience? It makes no sense — unless we appeal to a miracle and divine revelation as realities.
The idea of a crucified messiah was NEW. It was an idea forced upon Christians by the clash between what they expected and what had happened. They didn't invent the idea of Jesus. They invented the idea that the messiah was crucified.

In short, the fact that Jesus was completely unlike anything anyone expected of a messiah is a compelling proof that the man Jesus was not an invention of his early followers. He was a real person. Who was really crucified. His followers had to make sense of that as well as they could. And the result is Christianity.
If they could invent the idea that the messiah was crucified then it is simply not true that Jews could not accept belief in a crucified messiah. Obviously, by the fact that they invented the idea, they could believe it.
We know from early Jewish literature, both from the second temple era and early rabbinic, that Jesus was simply NOT "completely unlike anything anyone expected a messiah" to be. We know that Jews could and did believe in a heavenly messiah ruling from heaven, that a messiah could die and would die, that the blood of a righteous martyr, even crucified ones, had atoning power.
What is even more unlikely is that the rabbis in late antiquity copied from Christians the idea that a messiah could suffer and die before being resurrected again. That is an absurd proposition and one of the reasons even some Jewish scholars will acknowledge that that idea of a messiah was a Jewish one which the Christians adapted.
The following two tabs change content below.
Neil Godfrey
Neil is the author of this post. To read more about Neil, see our
About page.
Latest posts by Neil Godfrey (see all)
---
If you enjoyed this post, please consider donating to Vridar. Thanks!
---