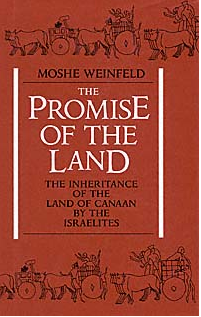 I should follow up my previous post with a clarification of Weinfeld's argument as he presented it in his 1993 book, The Promise of the Land. The bolding is mine for the benefit of those who don't want to read lots of text but just hit the highlights.
As is well known, most of the genres of biblical literature have their counterparts in the ancient Near East. Creation stories, genealogies, legal codes, cultic instructions, temple-building accounts, royal annals, prophecies, psalms, wisdom literature of various kinds—all are widely attested in the cognate literatures from Mesopotamia, the Hittites, and the Egyptians. The only genre lacking such counterparts is that of stories about the beginning of the nation and its settlement, which are so boldly represented in the Patriarchal narratives and the accounts of the Exodus and the conquest of the Land. The contrast is especially striking when we compare the first eleven chapters of Genesis with the rest of the book. In Gen. 1–11 we find stories of creation, the food story, and lists of world ancestors before and after the food—literary types all well established in Mesopotamian literature. From [Genesis] chapter 12 onward, however, no parallel with the ancient Near East can be shown—not in content, of course, which reflects the particular nature of Israel, but also not in form. This kind of storytelling might be expected in the great cultures of the ancient Near East, but we look for it in vain. The lack of this genre is quite understandable given that, unlike Israel, the large autochthonous cultures were not cognizant of a beginning of their national existence.

On the other hand, this genre would be expected in the Greek sphere, which like Israel was based on colonization and founding of new sites. (pp. 1-2)
Weinfeld appeals to the quotation from Plato which I used as a header in an earlier post as evidence of the popularity of the foundation story genre in the Greek world:
[Greeks] are very fond of hearing about the genealogies of heroes and men . . . and the foundations of cities in ancient times and, in short, about antiquity in general . . .
  —  Plato, 
Greater Hippias
, 285d
Weinfeld offers us some biographical background to his interest in the question of biblical and Greek parallels and was encouraged to find he was not alone: read more »