Life of Apollonius of Tyana
. . . is a text in eight books written in Ancient Greece by
Philostratus
(c. 170 – c. 245 AD). It tells the story of Apollonius of Tyana (c. 15 – c. 100 AD), a Pythagorean philosopher and teacher. —
Wikipedia
In addition to teaching wisdom on his travels Apollonius was said to have performed miracles (exorcising demons; raising the dead) and to have even made an appearance to a follower after his death.
What follows are so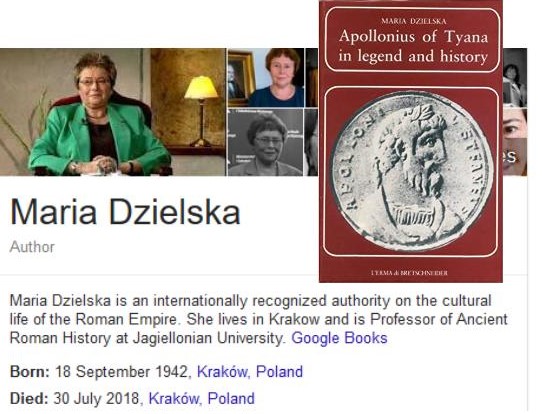 me points from a major contribution to the study of this figure by a historian of ancient history, Maria Dzielska.
Genre
As with historical Jesus scholars discussing the genre of the gospels, ancient historians pose questions about our account of Apollonius:
Scholars keep wondering at the true character of this work: what sort of biography it is (Leo), whether it is a Heliodoran romance, romantic hagiography, or whether, according to J. Palm's recent suggestion, it is a documentary romance.

(Dzielska, p.12)
Sources
Unlike the gospels the Life of Apollonius of Tyana mentions sources. Ah, if only the gospels would have done the same! The principal source the biographer, Philostratus, relies upon is Damis, the life-long close companion of Apollonius, and you'd think that if only we had a gospel saying directly that everything we read came from Peter we would have all our questions about the reliability of the gospels settled. But perversely, it would seem, most historians don't believe that Damis ever existed and that Philostratus made him up to add a respectable and authoritative tone to his narrative.
Dzielska singles out the one historian known to have assumed (naively, without clear evidence, Dzielska and others claimed) the existence of Damis.
Furthermore, Grosso assumes that Damis did exist

(p.12)

The Hypomnèmata of Damis have always been a great problem in the studies of Philostratus' work. Scholars have wondered whether the memoirs were only a figment of Philostratus' literary imagination, or whether they constituted a real notebook compiled by a certain pupil of Apollonius. This question has been raised not only by specialists in literature but also by historians. The latest views on the "Damis question" I present below. On their basis I consider Damis a fictitious figure and his memoirs (or notebooks) an invention of Philostratus. . . . .

Using all his literary means Philostratus tries to assert that everything described by "Damis" is historically valid. As to his other sources, he either criticizes them (I 3), or dismisses them with a brief mention (I 3; 12). It is just this indiscriminate attitude towards "Damis" relation that makes us believe in Philostratus' authorship of the memoirs.

(pp. 19-20)
An examination of the details said to be from Damis leads a number of scholars to think that this Damis knew nothing more than what was already in the works of Tacitus, Josephus Flavius, Suetonius and Cassius Dio. A truly independent source would be expected to yield truly independent information. There are other details that raise suspicions about the reality of Damis, but I will move on.
Sifting History from Fiction
We know a good number of biblical scholars attempt to persuade us that the gospels are reliable sources because the geographic, social and political details in them are perfectly consistent with the real world at that time.
Compare what ancient historians think of that sort of argument:
Yet Bowie is right to suggest that the conformability of historical accounts contained in VA [=Life of Apollonius] to historical events of the first century does not prove in itself the historicity of the events of Apollonius' life as outlined in VA.

(p. 13)
The gospels are known to be theological depictions of Jesus. Only apologists consider them historically true in all details. Similarly with Apollonius's biographer:
that Philostratus, as a man of letters and sophist full of passion for Greek Romance and for the studies in rhetoric, was hardly interested in the historical Apollonius. . . .


he had to invent this figure, as it were, anew. Thus, using his literary imagination, he turned a modest Cappadocian mystic into an impressive figure, full of life, politically outstanding, and yet also preposterous.

(p. 14)
Biblical scholars use criteria of authenticity or memory theory models to try to figure out what in the gospel narratives is historically probable as distinct from theological or mythical overlay. Ancient historians appear to have been very slow to have picked up on these advanced techniques of their New Testament "counterparts" and still rely upon independent corroboration.
In the present work where Apollonius is treated both as a historical figure existing at a definite time and in a definite geographical region, and as a literary hero, it is my duty to refer all the time to the work which called him into being as a literary figure……. I consider this material useful and historically valuable only when it finds its confirmation in other literary and historical sources.

(pp. 14-15)
Fiction in the Guise of History/Biography
We spoke above of Philostratus's sources. Philostratus does give us an account of Apollonius that is rich in detail, both as to detail about his sources, and details of places and chronology throughout the narrative. Some biblical scholars have argued that rich narrative detail is an indicator of historical memory or eyewitness accounts. Some ancient historians have likewise thought the same. But not all. The historian needs to have clear grounds for reading a passage as history as distinct from fiction:
Why not then acknowledge the historicity of, let us say, a romance story about King Artaxerxes' trial of Chaereas contained in Chariton's Story of Chaereas and Callirhoe, or Iamblichus' story about a bad king Garmos who persecuted the hero and heroine of Iamblichus' Babyloniaca 2?

The historical adventures presented by "Damis" are different from those described by Iamblichus in the Babyloniaca only in so far as they are a falsification compiled with a chronicler's precision.

(p. 24)
---
Dzielska, Maria. 1986. Apollonius of Tynan in Legend and History. Roma: L'Erma di Bretschneider.
---