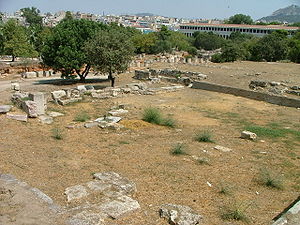 A historical study of Socrates echoes numerous points of interest in biblical studies, both in the Old and New Testaments. Following on from my reference to a point in Robin Waterfield's Why Socrates Died: Dispelling the Myths I want to note here Waterfield's explanation for why we have quite divergent accounts of Socrates' apology (or defence speech) at his trial, one by Plato and the other by Xenophon.
Neither Plato nor Xenophon wrote as disinterested biographers of Socrates. Each had his own agenda and used the figure of Socrates as a representative and advocate for his own interests and values.
Both accounts are fiction, Waterfield believes. How did he arrive at that judgment?
Plato is "too clever", he says. The apology he sets out is evidently Plato's own.
The differences between the two versions are enormous; they cannot both be right. So whom does one trust?

It is tempting to rely on Plato's version, because it is brilliant – funny, philosophically profound, essential reading – whereas Xenophon's is far more humdrum, and is in any case an unpolished work. But this is the nub of the whole 'Socratic Problem', as scholars call it: we want to trust Plato, but his very brilliance is precisely what should incline us not to trust him, in the sense that geniuses are more likely than lesser mortals to have their own agendas. And in fact no one doubts that Plato had his own agenda, and came to use Socrates as a spokesman for his own ideas; the only question is when this process started and how developed it is in any given dialogue. (p. 9, my formatting and bolding in all quotations)
Waterfield opts for the Goldilocks answer to his question:
The most sensible position is that no dialogue, however early, is sheer biography and no dialogue, however late, is entirely free from the influence of the historical Socrates. Plato, Xenophon and all the other Socratics were writing a kind of fiction – what, in their various views, Socrates might have said had he been in such-and-such a situation, talking with this person and that person on such-and-such a topic. For one thing that is common to all the Socratic writers is that they portray their mentor talking, endlessly talking – either delivering homilies, or engaging others in sharp, dialectical conversation and argument.
I suspect Goldilocks solutions are founded more on aesthetic preference than carefully evaluated options — and here Bayesian analysis offers to help out — but, let's move on.
We saw in the previous post that another reason for believing the accounts of Socrates are fiction is the sheer fact that there are so many variations of them. Each writer has his own opinion; if genuine reports of Socrates' speech were documented then they would have been sufficient and there would have been no need for ongoing variations.
Further, Socrates was said to have entered the court as an innocent, without any in depth preparation for what he was about to say. Plato's version of Socrates' speech does not portray someone who was unprepared:
If there is any truth to the stories that Socrates came to court unprepared, a rhetorical innocent, Plato's Apology certainly begins to look fictitious: it has long been admired as polished oratory. (p. 10)
But can't historians somehow find a way to peel back the fictional layer of the narrative and expose nuggets of historical fact (at least strong probability of historical fact) behind some of the sayings? Not to Waterfield's knowledge:
Given the unlikelihood of our ever having objective grounds for proving the fictional nature of either or both of these two versions of the defence speeches, it is gratifying, and significant, that we can easily create a plausible case for their fictionality. (p. 10)
And a little later we learn that, unlike biblical scholars of the gospels, the historian does not have any "criteria of authenticity" to bring into the fray:
There may be nuggets of historical truth within either or both of the two works, but we lack the criteria for recognizing them. We will never know for sure what was said on that spring day of 399 BCE. (p. 12)
So we can prove their fictionality but not their historicity. read more »