As we discussed several months ago, Michael Licona wrote a book about the differences in the gospels in which he tries to explain them away by comparing the evangelists to Plutarch. However, his attempt was stillborn, since his methodology contains a deadly flaw. He proposes that by examining how Plutarch changed stories as he recounted them in different Lives, we can gain some insight as to how the author of Luke, for example, edited Marcan stories.
In the latter case, of course, we can see only how Luke dealt with one of his sources. In the former, we discover how Plutarch rewrote himself. These are two different things. But before we toss Licona's book aside, let's consider how we might apply his methodology correctly. Is there any place in the New Testament in which an author created a second work and plainly rewrote one or more stories in a way that might resemble Plutarch's process?
Resuscitation Redux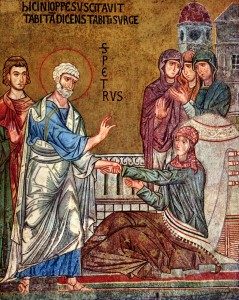 Yes. In the Acts of the Apostles, the author (whom most scholars believe is the same person as the author of Luke) recycled stories told about Jesus and applied them to Peter. You probably already noticed long ago that Jesus raised a young girl (Mark provides the Aramaic talitha) in Luke 8:40-56, while Peter raised a female disciple named Tabitha (Aramaic for antelope or gazelle) in Acts 9:36-42. And no doubt you thought to yourself, "That sounds familiar."
The author (we'll call him Luke for the sake of convenience) has left other clues that we're reading the same story, albeit with different characters set in a different locale. By examining the Greek text, we can discover textual affinities between the two stories.
Acts 9:36  Now there was in Joppa a disciple named Tabitha, which, translated, means Dorcas. She was full of good works and acts of charity. (NASB)

Acts places several important events in Joppa, because historically this town acted as the port city for Jerusalem. Legend has it that the cedars of Lebanon floated via the sea to Joppa, and then were shipped overland to Jerusalem. Joppa is the physical and metaphorical gateway from Judea to the Greco-Roman world.
Luke tells us Peter learned all animals are now clean while visiting Simon the Tanner in Joppa. This fable seeks to explain the change from a faction based in Judaism, with its understanding of what is ritually unclean to God (pork, blood, foreskins, etc.), to something new — a splinter cult on the path to a separate religion that fell back on the so-called Noahide Covenant.  Continue reading "How the Author of Acts Rewrote Stories from Luke"