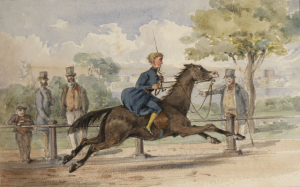 The horses are on the track
In Daniel Gullotta's "On Richard Carrier's Doubts," we see a phenomenon common in nearly every apologetic debate, but comparatively rare in print: namely, the Gish Gallop. It works better in a live, oral/aural environment, of course, because the wave of information washes over and stuns the opposition, while on the other hand, it impresses supporters with its sheer volume of facts.
However, it loses its power on the page, since we all read at our own pace. We can pause. We can look away and reflect. I still, nevertheless, must offer Gullotta kudos on giving it the old college try. Here's just a portion of a Daniel Dash:
In conjunction with the fact that Jesus' crucifixion by Romans is depicted in every one of the earliest narrations of his death, one can also examine the reaction to early Christianity by Greco-Roman critics to see a widespread reception of Jesus as a crucified man. Lucian called Jesus a 'crucified sophist'; Suetonius describes Jesus as 'the man who was crucified in Palestine'; Celsus depicts Jesus' death as a 'punishment seen by all'; and Marcus Cornelius Fronto scoffed at how Christians could 'worship a crucified man, and even the instrument itself of his punishment'. One of the earliest visual representations of Jesus carved into a wall near the Palatine Hill in Rome (ca. late second century CE), the Alexamenos graffito, is one of mockery, depicting the Christian Alexamenos paying homage to a naked figure on a cross with the head of a donkey, scrawled with the words: 'Alexamenos, worship [your] God!' (Gullotta 2017, p. 333, emphasis mine)
There's even more after that; the paragraph continues. But slow down. Take a breath. The power of the Gish Gallop is its sudden rush of data points, so many that the listener will be lucky to recall any one of them once the flood has subsided. Bewildering the opponent adds to the mystique of the speaker. "He knows so much!" they whisper among themselves.
The weakness with the Daniel Dash is persistence. We can look away. We return to the page, and it remains. The Gallop is ephemeral, but the Dash hangs around. When I read the above passage, I immediately thought to myself, "Suetonius never wrote that." I had the luxury of pausing in mid-dash. I could take time to think. I could even stop and shoot Neil an email.  Continue reading "What's the Matter with Biblical Scholarship? Part 3"