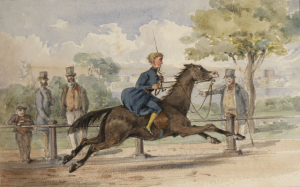 The horses are on the track
In Daniel Gullotta's "On Richard Carrier's Doubts," we see a phenomenon common in nearly every apologetic debate, but comparatively rare in print: namely, the Gish Gallop. It works better in a live, oral/aural environment, of course, because the wave of information washes over and stuns the opposition, while on the other hand, it impresses supporters with its sheer volume of facts.
However, it loses its power on the page, since we all read at our own pace. We can pause. We can look away and reflect. I still, nevertheless, must offer Gullotta kudos on giving it the old college try. Here's just a portion of a Daniel Dash:
In conjunction with the fact that Jesus' crucifixion by Romans is depicted in every one of the earliest narrations of his death, one can also examine the reaction to early Christianity by Greco-Roman critics to see a widespread reception of Jesus as a crucified man. Lucian called Jesus a 'crucified sophist'; Suetonius describes Jesus as 'the man who was crucified in Palestine'; Celsus depicts Jesus' death as a 'punishment seen by all'; and Marcus Cornelius Fronto scoffed at how Christians could 'worship a crucified man, and even the instrument itself of his punishment'. One of the earliest visual representations of Jesus carved into a wall near the Palatine Hill in Rome (ca. late second century CE), the Alexamenos graffito, is one of mockery, depicting the Christian Alexamenos paying homage to a naked figure on a cross with the head of a donkey, scrawled with the words: 'Alexamenos, worship [your] God!' (Gullotta 2017, p. 333, emphasis mine)
There's even more after that; the paragraph continues. But slow down. Take a breath. The power of the Gish Gallop is its sudden rush of data points, so many that the listener will be lucky to recall any one of them once the flood has subsided. Bewildering the opponent adds to the mystique of the speaker. "He knows so much!" they whisper among themselves.
The weakness with the Daniel Dash is persistence. We can look away. We return to the page, and it remains. The Gallop is ephemeral, but the Dash hangs around. When I read the above passage, I immediately thought to myself, "Suetonius never wrote that." I had the luxury of pausing in mid-dash. I could take time to think. I could even stop and shoot Neil an email. 
Me:

Gullotta wrote: "Suetonius describes Jesus as 'the man who was crucified in Palestine';"

What's he talking about?

---

Neil:

That was Lucian, of course. It appears that Gullotta has not read Suetonius but has only taken notes on note-cards on what he has read in different books about what Lucian, Suetonius etc say, and he has got a Lucian saying mixed up with Suetonius — and his reviewers had no interest in reading 37 pages of detail reviewing a crank so it got through to be published.
Imagine being essentially paid to read but not really having an interest in what you're reading. I've tried, and I can't. I remember reading The Twelve Caesars at the University of Maryland. I can recall listening unabridged recordings of it behind the wheel and while doing yard work. I even read Michael Graves' book with the same title, but it isn't nearly as entertaining.
A fundamental lack of interest
To those who study the Bible for a living, however, the reason they know about Suetonius, Lucian, or even Josephus is that they "prove" the historical Jesus. Each little fact gets memorized, ready to be offered up in the appropriate situation. But the overall work has no purpose, no consequence. It's learning by note card.
I'm convinced their fundamental lack of interest in non-biblical things explains why so many scholars still cling to the Chrestus reference in "The Life of Claudius" as a supposedly obvious reference to (Jesus) Christ, albeit "misspelled."
Since the Jews constantly made disturbances at the instigation of Chrestus, he expelled them from Rome. (LoC, 25:4)
That's probably the note card Gullotta should have pulled.  But anyone who has actually read Suetonius would know that in the very next biography, "The Life of Nero," Suetonius wrote about Christians:
Punishment was inflicted on the Christians [afflicti suppliciis Christiani], a class of men given to a new and mischievous superstition. (LoN, 16:2)
If you have at least a passing interest in ancient history, you will know that the Romans admired ancient traditions. The Jews received special dispensation in their rather odd beliefs and customs precisely because their civilization was "old and respected." To be sure, tensions sometimes flared up between the minority community that would not and could not assimilate and the majority culture that suspected them of mischief. After the Jewish War, of course, nothing would be quite the same.
Still, the second quote from Suetonius contains important, basic information. First, Suetonius knew how to spell Christian, so we may safely assume he knew how to spell Christus. Next, he refers to Christianity as "a new and mischievous superstition," which is precisely the opposite of how the Romans viewed Judaism.
I will be the first to admit that Suetonius is almost certainly dealing with secondary sources here. But the plain reading of the first text is that a living person named Chrestus somehow whipped up the Jewish population in Rome, and that they were expelled from the city for a time.
Now check out the elaborate story James D. G. Dunn cooked up to explain the Chrestus quote to his satisfaction.
Most infer that Suetonius misheard the name (the pronunciation of Christus and Chrestus would have been very similar) and misunderstood the report as a reference to someone (Chrestus) active in the Jewish community at the time. The broad consensus is that the disturbances referred to had been occasioned by some strong reactions within certain synagogues to Jewish merchants and visitors preaching about Jesus as the Christ. (Dunn, Jesus Remembered, Christianity in the Making, p. 142.)
Where is the supporting evidence for Dunn's claim? Why, the "broad consensus," presumably among scholars who also wish it were true.
Not reading, not caring
Getting back to Gullatta's gaffe, as Neil pointed out, his friends and editors had little interest in what he wrote. The fact that he wrote it overshadows the actual content of his article. By now I should expect such behavior from biblical scholars, and yet it's always a bit of a jolt.
I keep thinking back on Le Donne's reference to Helena as the wife of Constantine. At the time I wrote "The Memory Mavens, Part 5," I was certain he knew Helena was Constantine's mother. I mean, he had to know better, right?
However, in the nearly three years since that post I have continued to read modern scholarship, and what I have read has changed my mind. I don't think he knew, and I don't think the scholars who read his dissertation knew either. Nor do I think they care. It's simply outside their field of vision.
The chief reason today's scholars misunderstand works concerning social memory, oral tradition, cultural context, history, sociology, and a hundred other subjects is a fundamental lack of interest in those external fields of discipline. They will fish for quotable paragraphs. They will look for supporting sentences. They will raid their fellow Bible-scholars' works for handy, usable quotes.
But none of them really has a passion for these things. Even the great Bart Ehrman fell into the trap of quoting Jan Vansina without really understand him or reading his entire corpus.
Conclusion
In the end, does it matter? I would have to answer, somewhat cynically, "Apparently not." Today's scholars, for the most part, are skimmers. They don't know what the Form Critics actually wrote, but they have pretty good notes from a college course where a trusted professor summarized it all for them. They've never read Bultmann or Wrede, but they have expert, informed opinions on what they wrote.
But let's be serious. Who's got time to read all of this stuff, anyhow? And who's foolish enough to spend all day looking for books and reading for pleasure?!
Well, I suppose that would be us.
The following two tabs change content below.
Tim Widowfield
Tim is a retired vagabond who lives with his wife and multiple cats in a 20-year-old motor home. To read more about Tim, see our
About page.
Latest posts by Tim Widowfield (see all)
---
If you enjoyed this post, please consider donating to Vridar. Thanks!
---