Who killed Jesus and why?
With the Roman occupation of Palestine and its tense atmosphere of messianic hopefuls within the first century CE, the horrors of crucifixion were a real and ever present reality for messianic claimants like Jesus. A reality of which Paul and the first Christians would have been all too aware. Simply put, [Richard] Carrier inadvertently depoliticizes early Christianity. (Daniel N. Gullotta 2016, "On Richard Carrier's Doubts", Journal for the Study of the Historical Jesus, pp. 332-333, emphasis mine)
Do you know who else depoliticized early Christianity? Early Christians. Paul. The evangelists. The early Church Fathers. In short, everyone.
New Testament authors are clear about why Jesus died and who is responsible. According to "our oldest sources" (to invoke a scholarly term), Jesus had done nothing worthy of punishment. As Hyam Maccoby put it:
According to the Gospels, Jesus was the victim of a frame-up. His aims were purely religious, and in pursuing them, he had fallen foul of the Jewish religious establishment, who, in order to get rid of him, concocted a political charge, and managed to hoodwink the Roman governor, Pilate, into believing it. When Pilate still showed reluctance to execute Jesus, they pressed the political charge until he was left with no option: 'The Jews kept shouting, "If you let this man go, you are no friend to Caesar; any man who claims to be king is defying Caesar."' (John 19.7). (Maccoby 1984, "Who Killed Jesus?" London Review of Books, emphasis mine)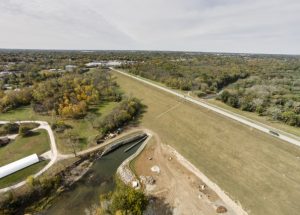 A narrow, precarious path
The story of Jesus' death, followed by the successful spread of Christianity as related in the gospels and Acts, reminds me of the road across Englewood Dam. The dam, located northwest of Dayton, Ohio, protects the area from flooding by the Stillwater River. A number of dams in the area, all built after the Great Dayton Flood, have a similar design. The levees on either side are enormous, allowing the reservoirs to retain billions of gallons of water.
The first time I drove across the levee, I was struck by how easy it seemed (if not for the guardrails) to veer slightly to the left or the right, tumbling 100 feet down the embankment into the trees. The story of the Passion follows a similarly narrow, but more circuitous path. If Jesus was a rebel, a brigand, then he really was an enemy of Rome. And that just won't do, will it? However, if Jesus did nothing but teach and heal, then why would Pilate have put him to death? Somehow, Jesus must have provoked someone to cause this chain of events, but who?
According to the New Testament, it was "the Jews." The Jewish leaders were jealous of his fame, or else they worried the people would believe in him and cause the Romans to come and destroy them. (See John 11:45-53.) And here we see one of the great uses of the hypothesized historical Jesus. A reconstructed Jesus allows NT scholars in the post-Holocaust world to reinterpret verses like these:
Jesus therefore no longer walked about openly among the Jews, but went from there to a town called Ephraim in the region near the wilderness; and he remained there with the disciples. (John 11:54, NRSV)

Then answered all the people, and said, His blood be on us, and on our children. (Matthew 27:25, KJV)

Jesus answered, "My kingdom is not of this world. If My kingdom were of this world, then My servants would be fighting so that I would not be handed over to the Jews; but as it is, My kingdom is not of this realm." (John 18:36, NASB)
The uncomfortably anti-semitic original story
I almost admire Johannine scholars for the mental contortions necessary to construct labyrinthine arguments that somehow reconcile a Jesus who is entirely Jewish with a Jesus who nonetheless is continually in conflict with "the Jews." They misunderstand him, hate him, shout at him, plot against him, and finally convince the Romans to kill him. (The skittish English translators of the NIV often replace "the Jews" with "the Jewish leaders." The NIV: Making the Bible say what Evangelicals want it to say since 1973!)
NT scholars explain that we need to read between the lines here. The gospels, they insist, contain a lot of real history. But not that part. The real story "must have" been different. And yet the original narrative hangs together with its own cruel logic. Jesus does things that are apparently meant to be interpreted in a spiritual, non-political context. "The Jews" bring him up on charges of sedition. Pilate seems to be onto their game. He tries to let Jesus go, but the Jewish crowd will have none of it.
The original story even contains a built-in explanation for the survival of his followers. The authorities had no interest in the disciples, because the accusation of insurrection was a trumped-up charge. Jesus was not political, and neither is Christianity. His kingdom is "not of this world." Not only was Jesus not a political messiah, not a pretender to the Earthly throne, and not a brigand, but everyone in our Passion Play knew it. As a result, only Jesus was killed, while his followers roamed about freely.
Sure, we have verses that relate their supposed hiding, but we see absolutely nothing about a concerted effort by the Romans or the Jewish authority to round up Jesus' disciples. Mark has them fleeing to Galilee, but the author of the Acts of the Apostles has them preaching in the streets of Jerusalem just a few days later. In Acts, Roman magistrates show little interest in stepping into an internal, schismatic debate among religious nuts.
Was Jesus a Zealot?
Gullotta's accusation that Carrier inadvertently depoliticized early Christianity precedes his valiant attempt at a written Gish Gallop, whose purpose is quickly to list Greek, Roman, Jewish, and even Christian reactions to the problem of Jesus' crucifixion, "due to its connections with criminality, Roman capital punishment, and shameful burial." While glancing at the footnotes for the Daniel Dash, one of his supporting references caught my eye. He cited a piece by William Horbury called "Christ as Brigand in Ancient Anti-Christian Polemic" found in Jesus and the Politics of His Day. If you're interested in reactions to S. G. F. Brandon's Zealot Jesus hypothesis (clumsily resurrected by Reza Aslan), you should probably buy this book.
If we drive off the narrow, precarious path of the New Testament Passion Story, in which Jesus threads the needle at every twist and turn, we will tumble down one side or the other. That is, we will end up with a meek-and-mild Jesus who did nothing worthy of execution or a political Jesus whose followers would have been slaughtered en masse.  The Zealot Jesus hypothesis represents the latter "wrong turn."
However, calling on another overworked metaphor, the porridge of the Zealot Jesus is too hot, which causes mainstream scholars to wince and slide back over to the bowl on the table that's "just right." Jesus and the Politics of His Day contains a collection of essays that examine the bowl of hot porridge, with the aim of leading us all back to the comfort and safety of warm gruel.
Horbury's essay looks specifically at the accusations of brigandage, and while he finds they could be damaging to the Christian cause he reminds us that they're relatively late.
Assertions about Christ such as this occur in polemic which is anti-Christian, concerned primarily not with history but with the contemporary church. (Horbury 1985, p. 184)
He agrees that pagan critics may have worked backward from effect to cause: "The crime of the crucified has been made to fit his punishment." (Horbury 1985, p. 193) But if we read all the way to the end of the essay, we find Horbury's remarkable conclusion.
Despite the innuendo of subversion in polemic on these points . . . and the recurrent charge of sedition . . ., polemical accounts of Christs's life continue to depict him as a false prophet rather than a bandit. W. Bauer's collection of material [ref. Walter Bauer, Das leben Jesu im Zeitalter der neutestamentlichen Apokryphen, 1909 (link leads to HathiTrust)] shows that, even allowing for possible loss, our passage [ref. Lactantius, Divine Institutes, (Of Justice) Book V, Chapters 3 and 4] is exceptional. (Horbury 1985, p. 195, emphasis mine)
In case you missed it, Horbury concluded that charges against Jesus of brigandage, insurrection, and sedition — political charges — were rare. They are the exception, not the rule. He continues:
There are instances, as we have seen, where polemical narratives of Christ seem to depend ultimately on traditions incorporated into the New Testament rather than the New Testament writings themselves. It is the more striking that pagan and Jew, no less than Christian, appear to have proceeded from data on the life of Christ in which practices definable as the sorcery and deceit of a false prophet predominated over activity which could be straightforwardly identified as insurrection. (Horbury 1985, p. 195)
In other words, the instances of charges against Jesus as a teacher who led the people astray and a magician who bamboozled the mob with sorcery far outnumber any we have for those that he was a brigand or a Zealot. Notice that neither the accusation of false teacher nor sorcerer focuses on Jesus' death or his means of execution, nor do they require any connection to his status as "failed Messianic pretender."
Gullotta has inadvertently referred to an essay by Horbury, which itself depoliticizes early Christianity. Here we see again the dangers of quote-fishing. Horbury does indeed mention Celsus and Lucian on the first page of his essay, which is admittedly quite useful for anyone not wishing to bother actually reading Celsus and Lucian.
Tertullian's illuminator and guide of humanity, is Lucian's crucified sophist and Celsus's charlatan and leader of sedition. (Horbury 1985, p. 183, emphasis his)
Yet the essay's main thrust is completely the opposite of what Gullotta attempts to prove. In fact, I would argue that the idea of a "failed Messianic pretender" is, for the most part, a modern idea, connected with the historical Jesus reconstructed as an apocalyptic prophet who somehow managed to get himself killed.
Crucifixion as a political stumbling block
Gullotta's point, as far as I can tell, is that Carrier underestimates the nature of crucifixion itself. Just admitting he was crucified meant that outsiders would think he must have been the worst kind of criminal. Let's look at his critique again.
While Carrier compares Jesus' crucifixion to other supposedly embarrassing stories about Greco-Roman gods, such as Attis' castration, he does not reckon with the normality of crucifixion within ancient Palestine. Josephus' works about Palestine and other ancient writers portrays crucifixion as a horrifically common feature of Roman punishment for Jewish rebels. With the Roman occupation of Palestine and its tense atmosphere of messianic hopefuls within the first century CE, the horrors of crucifixion were a real and ever present reality for messianic claimants like Jesus. A reality of which Paul and the first Christians would have been all too aware. Simply put, [Richard] Carrier inadvertently depoliticizes early Christianity. (Gullotta 2016, p. 332, emphasis mine)
First, cheers to Gullotta for describing Attis' castration as "supposedly embarrassing." That's bold. Beyond that, however, it remains unclear to me what it would mean to "reckon with the normality of crucifixion," let alone how much reckoning would satisfy him. He apparently thinks crucifixion is far more shameful, and thus more likely to have happened. But there's more:
While Hebrews 12.2 claims that Jesus disregarded the αἰσχύνης (shame) of the cross, evidently his earliest followers, despite their best apologetic strategies, had a difficult time doing so due to its connections with criminality, Roman capital punishment, and shameful burial. Given our sources concerning Jesus' death and knowledge about his executed contemporaries, the reality of a crucified Jesus as another failed messianic pretender from Palestine is remarkably more likely than a demonic crucifixion in outer space. (Gullotta 2016, p. 333, emphasis mine)
The wording here confuses me somewhat. And I will leave it to Carrier to defend whether a mythical crucifixion in the sublunar realm ("outer space" is a jarring anachronism that invites ridicule) is more likely than a legendary crucifixion on Earth.
Conclusion
I will only point out in closing that given what we know about other failed rebels, be they Messianic pretenders or not, Jesus is unique. The Romans normally intervened quickly and without hesitation, killing suspected rebels and their followers on the spot. In many cases, they found out what they were doing beforehand and acted ruthlessly — even, for instance, confronting a symbolic march to the Jordan and mowing down the participants. In most cases, they met any suspected danger head-on with massive force.
The Romans didn't fool around when it came to internal or external threats. They remembered the horrors of the rebellion of Spartacus and wars with Mithridates. Reaction had to be swift and brutal; anything else would invite even more trouble.
The idea of a Goldilocks Jesus who just managed to get himself (and only himself) killed is, therefore, an extremely dubious proposition from the outset. It becomes even less plausible when the historical reconstruction rejects (rightly, I think) the notion of making "the Jews" out to be the villain, while painting the Romans as nice, patient, rational observers. But without the cartoon bad guys and a sweet, sympathetic Pilate, we're truly left in the dark.
The following two tabs change content below.
Tim Widowfield
Tim is a retired vagabond who lives with his wife and multiple cats in a 20-year-old motor home. To read more about Tim, see our
About page.
Latest posts by Tim Widowfield (see all)
---
If you enjoyed this post, please consider donating to Vridar. Thanks!
---