Who killed Jesus and why?
With the Roman occupation of Palestine and its tense atmosphere of messianic hopefuls within the first century CE, the horrors of crucifixion were a real and ever present reality for messianic claimants like Jesus. A reality of which Paul and the first Christians would have been all too aware. Simply put, [Richard] Carrier inadvertently depoliticizes early Christianity. (Daniel N. Gullotta 2016, "On Richard Carrier's Doubts", Journal for the Study of the Historical Jesus, pp. 332-333, emphasis mine)
Do you know who else depoliticized early Christianity? Early Christians. Paul. The evangelists. The early Church Fathers. In short, everyone.
New Testament authors are clear about why Jesus died and who is responsible. According to "our oldest sources" (to invoke a scholarly term), Jesus had done nothing worthy of punishment. As Hyam Maccoby put it:
According to the Gospels, Jesus was the victim of a frame-up. His aims were purely religious, and in pursuing them, he had fallen foul of the Jewish religious establishment, who, in order to get rid of him, concocted a political charge, and managed to hoodwink the Roman governor, Pilate, into believing it. When Pilate still showed reluctance to execute Jesus, they pressed the political charge until he was left with no option: 'The Jews kept shouting, "If you let this man go, you are no friend to Caesar; any man who claims to be king is defying Caesar."' (John 19.7). (Maccoby 1984, "Who Killed Jesus?" London Review of Books, emphasis mine)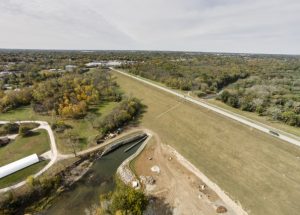 A narrow, precarious path
The story of Jesus' death, followed by the successful spread of Christianity as related in the gospels and Acts, reminds me of the road across Englewood Dam. The dam, located northwest of Dayton, Ohio, protects the area from flooding by the Stillwater River. A number of dams in the area, all built after the Great Dayton Flood, have a similar design. The levees on either side are enormous, allowing the reservoirs to retain billions of gallons of water.
The first time I drove across the levee, I was struck by how easy it seemed (if not for the guardrails) to veer slightly to the left or the right, tumbling 100 feet down the embankment into the trees. The story of the Passion follows a similarly narrow, but more circuitous path. If Jesus was a rebel, a brigand, then he really was an enemy of Rome. And that just won't do, will it? However, if Jesus did nothing but teach and heal, then why would Pilate have put him to death? Somehow, Jesus must have provoked someone to cause this chain of events, but who?
According to the New Testament, it was "the Jews." The Jewish leaders were jealous of his fame, or else they worried the people would believe in him and cause the Romans to come and destroy them. (See John 11:45-53.) And here we see one of the great uses of the hypothesized historical Jesus. A reconstructed Jesus allows NT scholars in the post-Holocaust world to reinterpret verses like these: Continue reading "Who Depoliticized Early Christianity?"