Short answer, the one I would give if I had to bet my house on being right: I don't know.
Short answer, but one I would offer at no risk of damages to myself if I am wrong: Probably.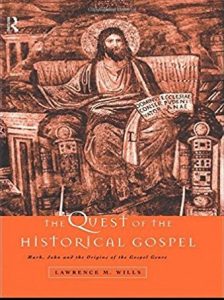 In two recent posts I was commenting on thoughts arising as I was reading about the Life of Aesop in Tomas Hägg's The Art of Biography in Antiquity (2012). I first learned about the Life of Aesop in another work, one exploring the origins of gospel genre, The quest of the historical gospel: Mark, John, and the origins of the gospel genre by Lawrence M. Wills (1997): Wills does not suggest that the Gospels of Mark and John (the two canonical gospels most similar to Life) borrowed from or were influenced by the Life of Aesop, but that the gospel genre was derived from a type of narrative about hero-cults of which Life and the gospels are examples. Both kinds of literature told the tale of a hero founder of a cult who
is introduced to the narrative as an adult (no birth or childhood details)
undergoes a dramatic change in personal identity or abilities and role (baptism and the Holy Spirit; being miraculously given the gift of speech)
tells a long tale of short episodes in which the hero challenges those about him and "turns the world upside down" with his superior wisdom and parables or fables
is often described through the literary technique of inclusio or sandwiching one story between two parts of another
travels to the site of a major national temple (Jerusalem, Delphi)
offends hearers by his "truth telling"
utters parables or fables to convey lessons for his audiences, some of them condemning his hearers
is condemned for blasphemy and arrogant claims
was such a help to others with his wisdom but cannot save himself
is condemned to execution, and so dies
After the deaths of both Jesus and Aesop many people are remorseful and a cult was established in honour of the wronged hero. Both Life and the gospels are believed to have been written around the same time — the first century CE or possibly second century CE.
It is little wonder, then, that Wills begins his discussion with
The most important novelistic biography for the comparison with the gospel genre is the anonymous Life of Aesop. (Wills, 1997. p. 23)
If we are doing comparisons one question that will interest many of us will be just how historical the respective narratives are. I won't attempt to discuss that question in relation to the gospels and Jesus in this post for obvious reasons, so let's look at Aesop. Wills is looking at origins of gospel genre but Tomas Hägg gives us a more comprehensive survey of Life as an ancient biography so from this point on I rely upon Hägg.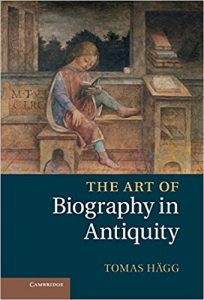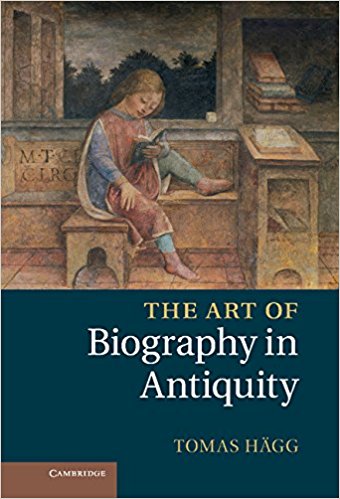 Tomas Hägg informs us that the Life of Aesop has been drawn from a number of sources that have somewhat less than perfectly been combined to make the single narrative. One piece of evidence for the diversity of the source material is that different sections of Life give us quite different characters of Aesop. In one section he is sensitive and caring for those around him but in another he is caustic, even abusive. This lack of coherence of character is one sign of quite disparate sources being collated in order to compose the biography.
The characterization of Aesop . . . differs considerably between the various structural parts, a natural consequence of the amalgamation of different traditions. This goes for the explicit characterization . . . and for the figure's own speech and action. He changes from pious to irreverent to diplomatic to wise to tactless. Common to all parts, though, are his sharp wit and mastery of speech, even if his intelligence and problem-solving ability finally fail him in Delphi. (Hägg, 2012. p. 114)
One recalls the scholarly view that the gospels themselves have been stitched together from different sources. The evidence cited is of a different kind, though, I think.
In the case of Aesop it seems that different places have had time (if time was what was needed) to produce quite different characters or personalities of the hero. Is any one of these historical or are they all developed to meet the literary agendas of the stories composed in different places?
Is the Life itself historical in any of its narrative details? Hägg's answer:
The historicity of the Life is therefore slight; a blatant example of its disregard for historical fact is that Aesop meets both Croesus, who ruled Lydia in the sixth century, and Nectanebo, the fourth-century Pharaoh. (p. 113)
It does not follow, notice, that Aesop himself did not exist. Hägg continues:
Yet it seems overcritical to doubt that Aesop the fabulist was a historical person at all. (pp. 113f)
Is Hägg being an Aesop apologist, determined to believe even though he concedes the Life is for most part fictional? No, because he continues further
Independent early sources call him a Thracian, while Anonymous and other later writers make him come from Phrygia, perhaps because that country was a typical origin for slaves. That he was in fact a slave on Samos belongs to early tradition, but Herodotus says that his owner was called Iadmon (2.134.3-4), while 'Xanthes . . . the Samian' plays a different role in his story (2.135.1). There are more details of the same kind in early sources, but those mentioned are enough to demonstrate that elements of the biographic tradition were used quite freely bu our first-century author. (p. 114)
Independent early sources. Hägg does not do "triangulation" or "memory refraction" or other types of analysis or literary archaeology to espy a "historical Aesop" behind or beneath the text of the Life of Aesop. I wonder if biblical scholars might suggest to him some of their techniques to see if he can learn more about the "historical Aesop" from the Life alone, without resorting to contradictory independent sources.
The Wikipedia article includes among other early sources Aristotle, Callimachus, Plutarch, Phaedrus — though the latter two belonged to the same first century in which Life appears to have been written.
As for independent sources, Hägg discusses them more generally earlier when he says that the roots of the traditions about Aesop. I don't know all of the details of the evidence for Aesop — I have only read the brief overview by Hägg. What is significant to me is the fact that he states that he relies upon independent earlier sources for his belief in the historicity of Aesop and not on the first century "biography".
apparently go back, more or less, to the times in which [Aesop] was active and first achieved . . . fame. (p. 99)
Hägg believes that the stories of Aesop therefore "grew, coalesced, and diversified" for "some six hundred years or more" before being set down in our first century Life of Aesop. Stories about Aesop mushroomed and accordingly the character of Aesop himself lost all consistency as storytellers were keen to add as many new exciting tales as they could. The tales were passed on orally and in prose, not poems, it appears, since Plato describes Socrates attempting to write them out in verse as if that had not been done before.
I think it is interesting to see what scholars of ancient persons who were not high and mighty political or military figures have to say about their historicity. Aesop was by all accounts a slave at the start of his career. Not only a slave but a very ugly one, so misshapen that people who saw him for the first time would sometimes publicly laugh at him. So it is interesting, I think, to see the grounds on which they tend to think such a person to be historical or not, notwithstanding the essentially fictional character of a biography that has so much in common with two of our gospels.
The following two tabs change content below.
Neil Godfrey
Neil is the author of this post. To read more about Neil, see our
About page.
Latest posts by Neil Godfrey (see all)
---
If you enjoyed this post, please consider donating to Vridar. Thanks!
---