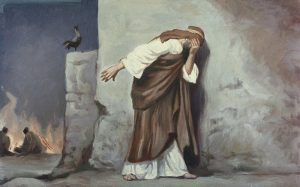 Especially since reading Theodore J. Weeden's Mark — Traditions in Conflict, and several other works influenced by Weeden's thesis, I have tended to assume that the Gospel of Mark seeks to denigrate Peter and the Twelve. They are nothing but failures, "obtuse and wrongheaded" (John Drury's phrase) in every way. Was the author of the gospel (let's call him Mark) firing shrapnel at Peter and his associates as part of some sort of ideological battle involving Paul?
But if Mark wanted to condemn Peter then why is it so easy to read the gospel and feel sympathetic towards him? Are we really unconsciously reading Mark through the later evangelists?
Before continuing, I must admit that I am conscious of the fact that I am relying entirely upon the Gospel of Mark as we have it in its canonical form and that the original composition may well have contained significant differences. Be that as it may, to continue…..
Finn Damgaard raised and answered my question in "Persecution and Denial – Paradigmatic Apostolic Portrayals in Paul and Mark", a chapter at the end of Mark and Paul, Comparative Essays Part II. For and Against Pauline Influence on Mark (2014).
Mark singles out Peter for special mention throughout his gospel so we naturally take a particular interest in him:
Peter is the first disciple to appear in the gospel and the first to be called, the first to confess Jesus is the Christ (in the middle of the gospel) and the last disciple mentioned in the gospel;
We learn more about Peter than any other disciple: he has a mother-in-law so is or has been married; he has a house in Capernaum that he shares with his brother Andrew;
Peter is the first listed of the apostles and the first to be renamed by Jesus, and his words are used to initiate teachings by Jesus on discipleship;
He appears to be more "rounded" as a character than the others in his arguments with Jesus and his three denials and subsequent tears.
Peter's failings are certainly many:
he denies Jesus three times
he is forgetful and uncomprehending
Jesus calls him Satan
But notice how the author also leads us to sympathize with Peter. Peter may be a foil to Jesus but he is not portrayed as wicked. Mark keeps the readers on Peter's side by letting the readers see into Peter's well-meaning nature, his good intentions and genuine bafflement and tearful remorse over his most serious failures.
His tears may be seen as indicating a growing self-knowledge, and the audience may assume that he now sees clearly his own failings and shortcomings. He remembers that Jesus had predicted that he would deny him and that he had himself asserted that even if everyone else would become a deserter, he himself would not (Mark 14:29).
His babbling nonsense at the transfiguration is not motivated by evil but by genuine confusion:
because he did not know what to say, for they were greatly afraid. (Mark 9:6)
Similarly, it is "weakness of the flesh" that leads him to sleep instead of keeping watch with Jesus, but Jesus' words express sympathy and concern, not unqualified condemnation:
Then He came and found them sleeping, and said to Peter, "Simon, are you sleeping? Could you not watch one hour? Watch and pray, lest you enter into temptation. The spirit indeed is willing, but the flesh is weak." (Mark 14:37-38)
And this is followed two verses later by another insight into Peter's sense of shame:
And when He returned, He found them asleep again, for their eyes were heavy; and they did not know what to answer Him. (Mark 14:40)
As Damgaard says,
In both these scenes, however, the omniscient narrator uses an inside view in order to gain the audience's sympathy for Peter.14 Though Peter fails in his endeavours, the result is not, in my view, that the listeners dissociate themselves from him. On the contrary, it seems to me that they become painfully aware of how difficult it is to be Peter.
Footnote 14 elaborates and concludes with the same point:
Just as in the transfiguration scene, Peter fails in his endeavours, but that does not mean that the listener becomes estranged from him. In my view, the author's use of the inside view has the opposite effect: the listener will now begin to with Peter.
The readers are informed by the omniscient narrator that Peter's failings are not willful but arise from genuine weakness. In this way the author elicits sympathy for Peter, not anger, in the readers/hearers of his narrative.
At the end of the gospel the narrator also shows that there is continuity between the readers' sympathy for Peter and Jesus' final assessment of him. In the final reference to Peter the suspense (if there ever was such a thing) concerning his fate is resolved. Peter is not cursed; on the contrary, he is, once more, singled out from among the other disciples (Mark 16:7) and asked to follow Jesus, who is headed for Galilee. The reference to Peter in Mark 16:7 could also be read as a subtle reference to Peter's function as the first witness to the resurrection (compare 1 Cor 15:5 and Luke 24:34). Though Mark's portrayal of Peter primarily focuses on his mistakes, the narrator does not turn his readers against Peter, nor does he portray Jesus as someone who parts company with Peter.
Damgaard follows Bauckham's argument in suggesting the possibility that Mark is subtly setting up Peter as the source of the tradition being told in the gospel. Perhaps, but even if the author did not have such a plan in mind that was clearly the effect of his sympathetic portrayal of Peter as the lead disciple. Traditions soon emerged that Peter drew upon his recollections to dictate the gospel to Mark.
But why? 
But why would Mark present Peter as a failure, even if sympathetically?
Damgaard turns to the influence of Paul's letters, here. Paul himself used to loudly advertise his "failure" before his conversion. Not that Paul ever expresses any hint of genuine remorse or a guilty conscience. Indeed, Paul appears to even boast in his "worthless" life before being called by God. It is a rhetorical device. The same has been used by countless Christians in their conversion stories ever since: look how bad and lost I was, so you can now see how wonderful Jesus is and what he can do! All power to Jesus!
Damgaard astutely points out the specific reason for Paul's apparent self-effacement in Galatians:
Paul's reference in Galatians to his former lifestyle is his way of defending the point made in Gal 1:12 that his gospel did not come from a human source, but from direct revelation of Jesus Christ. 
Similarly in 1 Corinthians 15:9 Paul says he is the least worthy of the apostles because he persecuted the church. But notice:
Paul does not refer to any guilty conscience because of his persecution of the church. Instead, his portrayal is meant to present himself in accordance with the fundamental theme of the letter, namely that "what is low and despised in the world" was chosen by God (I Cor 1:28).
Biography of reversal
It is the "biography of reversal" and it is written for rhetorical effect to strengthen his arguments about the true source of his authority and message. By pointing to his pre-conversion failure he is presenting himself as the post-conversion mouthpiece and agent of God. Others quickly cottoned on to the psychology at work:
As is well attested, Paul's "biography of reversal" [John Howard Schütz's phrase] was developed further in later Christian literature such as Ephesians, Colossians, and the Pastorals. As Martinus C. de Boer has argued, the picture of Paul as the "redeemed persecutor" becomes paradigmatic for all Christians in these letters. In I Timothy, for instance, Paul is portrayed as the prototypical sinner and receiver of God's grace (1 Tim 1:16). Paul's self-portrayal as a persecutor of the church has here been generalized. It is never specified what it is that he had persecuted and there is no mention of his Jewish past. Instead, it is claimed that Paul was a "blasphemer" and a "violent man" (1 Tim 1:13), both of which are common entities in catalogues of vices. By transforming Paul's offence, his persecution of the church, into more general vices, the author made Paul's story applicable to his Gentile readers. Paul became a model with whom they could identify. For just like Paul, the converted Gentiles had to abandon their wicked ways and give their lives to the service of virtue.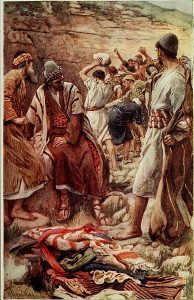 The Book of Acts goes much farther than anything we read in Paul's letters themselves by depicting him as a literally violent persecutor of the church. The author is using literary licence to take the biography of reversal to an extreme for narrative and paradigmatic purposes:
According to Hultgren, "Paul does not understand persecution as a procedure which ends in the death of the victim"." He does not himself claim that he persecuted the church "violently" as καθ' ὑπερβολὴν (Gal 1:13) has been translated in the NRSV. The expression probably refers not to the intensity of the persecution, but rather to the intensity of Paul's zeal (see also Phil 3:6). Luke not only exaggerated Paul's brutality in order to emphasize God's transforming power, the exaggeration also creates an important contrast between Saul the persecutor (Acts 9:1-2) and Paul the persecuted (Ac!S 9:23-29): from now on Paul is persecuted for the same reasons as those for which he had himself persecuted." While in the first account of Paul's 'conversion' Luke focuses on the transformation of Paul: his change from persecutor to persecuted, Luke turns to an autobiographical discourse in the two other accounts of the 'conversion'. As Landolt has emphasized such a turn indicates "a stronger focus on Paul's character". Paul here recalls the circumstances of his own 'conversion' in order to appeal to his listeners to recognize the need for repentance (Acts 26:19-20, 29). Luke thereby turns Paul into a paradigmatic figure by making his journey of conversion "representative of the conversion of all believers" (Landolt 2012, 307).
Back to Peter
Finn Damgaard rejects attempts to bracket Peter with the thoroughly negative portrayal of Jesus' family in the Gospel of Mark. Peter is a character singled out for attention and sympathy. The author has applied the same psychology that Paul used in his letters. Pre-conversion failure is all the stronger testimony to the source of one's post-conversion authority.
Damgaard accepts the view that Mark may well have been a "Paulinist", but adds that that did not set him up in opposition to Peter despite Paul's argument we read about in Galatians. (I am reminded of 2 Peter's conclusion that had Peter declaring Paul to be his "beloved brother".) If so, then according to Damgaard Mark is declaring the joint authority of Peter along with Paul, not unlike the plan of the Book of Acts.
If we go this far with our interpretation, then our canonical Gospel of Mark becomes a thoroughly orthodox narrative on a par with the Book of Acts and the later letters claiming to be authored by Peter.
The following two tabs change content below.
Neil Godfrey
Neil is the author of this post. To read more about Neil, see our
About page.
Latest posts by Neil Godfrey (see all)
---
If you enjoyed this post, please consider donating to Vridar. Thanks!
---