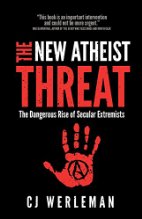 My recent exchanges with Jerry Coyne and one of his followers eerily reminded me of previous exchanges I have had with a few biblical scholars: Larry Hurtado, Chris Keith, James McGrath, and others, as well as follows of Acharya S / D.M. Murdock.
Then last night I happened to read the following:
The American Family Foundation says the following attributes are characteristic of a cult:

The group members display an excessively zealous, unquestioning commitment to an individual.

The group members are preoccupied with bringing in new members. Members are expected to devote inordinate amount of time to the group.

Members are preoccupied with making money.

Members' subservience to the group causes them to cut ties with family and friends, and to give personal goals and activities that were of interest to the group.

Members are encouraged or required to live and/or socialize only with other group members.

Most of these attributes, as we will see, are characteristic of the cult of New Atheism.
[There are other lists of characteristics. Understandable since "cult" covers a wide range of groups in the common usage of the term. I wonder if some of the less overtly authoritarian types are better described as "tribalism" — but we know what we don't like when we see it, however we define it, I guess. The above characteristics are closer to what I meant by describing D.M. Murdock /Acharya S's astrotheology advocates as "cultish".]
Brown lists a collection of comments that were collected by one of Dawkins' followers at a book signing. Dawkins tweeted to his followers the list:

"You've changed the very way I understand reality. Thank you Professor."

"You've changed my life and my entire world. I cannot thank you enough." "I owe you life. I am so grateful. Your books have helped me so much. Thank you."

"I am unbelievably grateful for all you've done for me. You helped me out of delusion."

"Thank you thank you thank you thank you Professor Dawkins. You saved my life."

"With this kind of incense blown at him, it's no wonder he is bewildered by criticism," writes Brown. Like any religious text, Dawkins' book The God Delusion contains contradictions that are ignored by his followers:

In The God Delusion itself he moves within 15 pages from condemning a pope who had baptized children taken away from Jewish parents to commending Nick Humphrey's suggestion that the children of creationists be taken away because teaching your children religion is comparable to child abuse. So believers can always find a scripture where he agrees with them, which naturally cancels out the one where he doesn't.
[Isn't that what we've seen in some of the recent exchanges here over what Coyne and Harris are supposed to have said.]
Whether he means that religious believers are despicable 'stumbling, droning inarticulate, yammering fumblewits' who are 'likely to be swayed by a display of naked contempt' (that's from a 2009 blog post) or 'I don't despise religious people. I despise what they stand for' (from a 2012 speech) can lead to arguments as interminable as those over the peaceful or otherwise character of the Prophet Mohammed.

Werleman, CJ (2015-09-07). The New Atheist Threat: The Dangerous Rise of Secular Extremists (Kindle Locations 548-572). Dangerous Little Books. Kindle Edition.
I continued my reading this morning and came across this (I've added the links and bolding):
A 2014 survey conducted by the University of Tennessee found that New Atheists (anti-theists) scored highest out of any other non-believer when measured in terms of anger and dogmatism. In another survey, Gawker revealed how anti-theists rated as "the third most toxic group on Reddit," the online blog aggregator. "Toxicity" was measured on the following basis:

What is Toxicity? Before we could do any analysis around which subreddits were the most Toxic, we needed to define what we would be measuring. At a high level, Toxic comments are ones that would make someone who disagrees with the viewpoint of the commenter feel uncomfortable and less likely to want to participate in that Reddit community. To be more specific, we defined a comment as Toxic if it met either of the following criteria:

Ad hominem attack: a comment that directly attacks another Redditor (e.g. or otherwise shows contempt/disagrees in a completely non-constructive manner).
Overt bigotry:  the use of bigoted (racist / sexist / homophobic etc.) language, whether targeting any particular individual or more generally, which would make members of the referenced group feel highly uncomfortable.

The echo chamber is not only toxic; it is also devoid of subject matter expertise. Actual foreign policy experts, scholars of Islamic studies, long time residents, journalists and war correspondents of the Middle East, or any data point or individual that clashes with the idea that "Islam is one of the world's great evils" are routinely ignored and silenced. In fact, there is almost no intellectual support of celebrity New Atheists outside of the echo chamber. Many of the West's leading thinkers, from Finkelstein to Chomsky, from Gray to Hedges, have publicly denounced New Atheism as "idiotic," "imbecilic," and "racist." Max Blumenthal told me, "I think they're become more isolated now. They've been sufficiently exposed." Hedges said, "I started Harris' book when it was published but put it aside. His facile attack on a form of religious belief we all hate, his childish simplicity and ignorance of world affairs, as well as his demonization of Muslims, made the book [End of Faith] tedious at best, and often idiotic and racist. His assertion, for example, that the war in the former Yugoslavia was caused by religion was ridiculous."

Werleman, CJ (2015-09-07). The New Atheist Threat: The Dangerous Rise of Secular Extremists (Kindle Locations 584-602). Dangerous Little Books. Kindle Edition.
Now why does the definition of toxicity remind me of my other current postings on the response of a mainstream biblical scholar towards "mythicists"? Maybe it's because I've had more exchanges with biblical scholars but I do think there are, amidst the many toxic ones, those who are professional (meaning civil and respectful) in their exchanges with those raising radical viewpoints. So I can never say that all biblical scholars are toxic or tribal or cultish.
What atheism means to me
To be an atheist has the same meaning for me as it does for the author of The New Atheist Threat, C.J. Werleman:
Atheism is a non-positive assertion. Wholly and solely atheism means non-religious belief. It's not anti-anything or anyone.

Werleman, CJ (2015-09-07). The New Atheist Threat: The Dangerous Rise of Secular Extremists (Kindle Locations 42-43). Dangerous Little Books. Kindle Edition.

Whenever I use the label "New Atheism," I'm invariably asked, "What is that and what is old atheism?" So allow me to clarify.

New Atheism is evangelical atheism. Nay, it's not even atheism. Wikipedia defines New Atheism as a "social and political movement" that advocates the view religion should not simply be tolerated, but should be confronted and criticized. The Internet Encyclopaedia of Philosophy says it's specifically the anti-religious views ascribed by Richard Dawkins, Sam Harris, and Christopher Hitchens. So, are any of these Internet based definitions doing anything for you? Me neither.

Werleman, CJ (2015-09-07). The New Atheist Threat: The Dangerous Rise of Secular Extremists (Kindle Locations 96-101). Dangerous Little Books. Kindle Edition.

It's important to discern between atheism and New Atheism, because atheism, on its own, is a non-positive assertion. My atheism, for instance, means I believe there are no gods. Atheism is indifferent to whether or not gods and religion are bad or good. Once an atheist steps outside of that prism, however, and embraces the aforementioned definitions of New Atheism, then one ceases to be a mere atheist. One is then an anti-theist.

The emergence of Hitchens, Dawkins, and Harris as household names has allowed atheism to be entirely hijacked by anti-theists. The media refers to the aforementioned as both atheists and voices of liberal reason. They are neither. They are anti-theists who are as equally hostile to any piece of new information that contradicts their worldview as the religious fundamentalists they scorn. Amusingly, Dan Harmon, the creator of television's 'Community,' chided New Atheists in a tweet, "You're confusing atheism (I have no god) with antagonism (you have no god)." Stand up comic and television star Patton Oswalt said in a 2015 interview, "It's ok to be an atheist, but it's not ok to be a jerk." He told Salon's David Daley, "I feel, as an atheist, about people like Richard Dawkins and Bill Maher the way that Christians must feel about Fred Phelps. Look, being an atheist means you don't give a fuck about what anyone believes in. I don't think any of it's real, but you can go ahead and do it. I'm not trying to destroy religion. I just don't care about it."

Werleman, CJ (2015-09-07). The New Atheist Threat: The Dangerous Rise of Secular Extremists (Kindle Locations 114-125). Dangerous Little Books. Kindle Edition.
The following two tabs change content below.
Neil Godfrey
Neil is the author of this post. To read more about Neil, see our
About page.
Latest posts by Neil Godfrey (see all)
---
If you enjoyed this post, please consider donating to Vridar. Thanks!
---